Fun, Feast and Adventure at Pirates Voyage Dinner & Show
Celebrate The Pirate Spirit!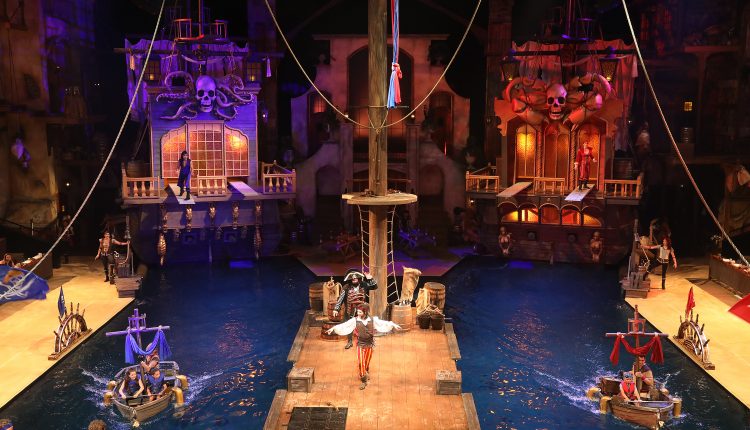 Ahoy Mateys! Visit Pirates Voyage Dinner & Show in Pigeon Forge, TN and join the most famous pirate, Blackbeard, and his quarter master, Calico Jack as they lead the Crimson and Sapphire crews in an epic battle on land, on deck, in water and high above full-sized pirate ships in an indoor hideaway lagoon. You'll be amazed by beautiful mermaids, tropical birds and much more all while you enjoy a fabulous four-course pirate feast.
It's Fun, Feast & Adventure for the whole family at Pirates Voyage Dinner & Show! Cheer for yer favorite crew as an epic battle breaks out with sword fighting and cannons blazing, while pirates swing from ship to ship and leap from mast to mast while fighting to win the coveted Davey Jones sunken treasure. The sight of mesmerizing mermaids, live animals and a salty surround filled with dramatic lighting effects, realistic soundings and powerful pyrotechnics are sure to amaze the entire family.
PARLEY WITH THE CREW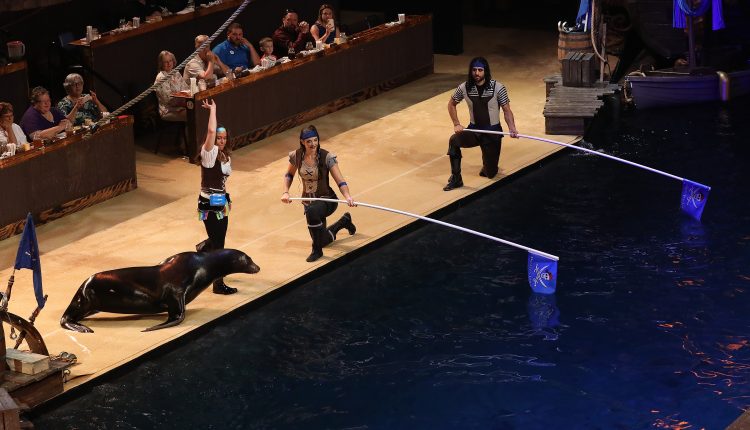 No trip to Pirates Voyage in Pigeon Forge is complete without a makeover for the kids. Watch their faces light up as Captain Blackbeard's crew transforms them into a swashbuckling pirate or a beautiful mermaid with facial make up, costume accessories and flags. And why not have the whole family join in on the swashbuckling fun? Makeovers are available for all ages.
We suggest ye pre-purchase your make-up session in advance! Call 865-505-2469 today.
MAKE IT A CHRISTMAS TO REMEMBERRRR!
Make it a Christmas to rememberrrr at Pirates Voyage Dinner & Show! The whole family will be delighted during an epic battle between the Crimson and Emerald pirates as they compete for the coveted Christmas treasure on land, on deck, in water and high above two full-sized pirate ships. All while enjoying a delicious Four-Course Holiday Feast.
SET YE COURSE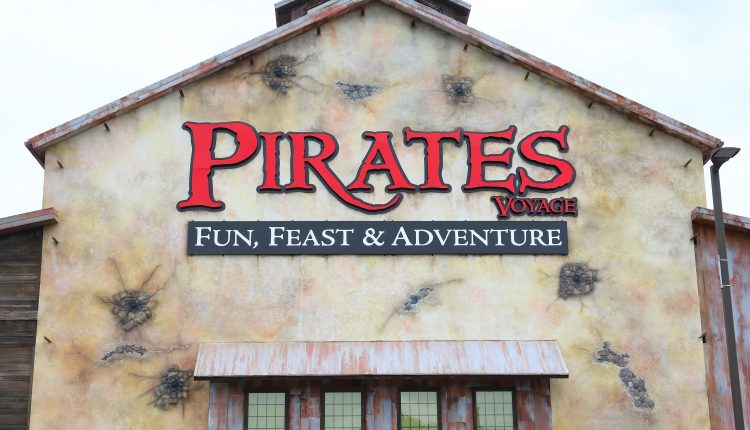 Pirates Voyage in Pigeon Forge is conveniently located at 2713 Parkway, adjacent to The Island in Pigeon Forge and only minutes from Dollywood and Dolly Parton's Stampede. Landlubbers of all ages agree that Pirates Voyage Dinner & Show is an exciting, inspiring, and swashbuckling experience for all hands on deck. Aye, me hearties! The fare is fit fer families, friends and groups of any size!
Purchase tickets to Pirates Voyage Dinner & Show today!