Great Smoky Mountains National Park — The Citizens' Gift to the Nation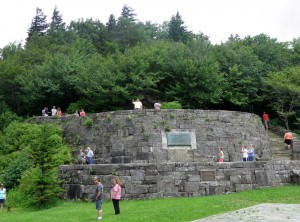 Next Monday, Feb. 17 is Presidents Day, a celebration of the former presidents of our great nation. In honor of this event national parks all across the country are celebrating by waiving all admission fees for the entire weekend (Feb. 15-17).
However, as many of you know, Great Smoky Mountains National Park (GSMNP) has never had an entrance fee, thanks in part to the actions of President Franklin D. Roosevelt. As you celebrate Presidents Day this coming week, take time to remember those who helped establish and dedicate this beautiful place.
GSMNP was the first park to be established in part by federal funds. More than $4 million was contributed by the states of Tennessee and North Carolina and another $1 million was raised by individuals and private groups. The remaining $5 million needed to purchase the land was donated by the Laura Spelman Rockefeller Memorial Fund.
By 1934, 300,000 acres of land had been transferred to the ownership of the federal government and the process for opening Great Smoky Mountains National Park began. In the following years much of the work on roads, trails and structures within the park was completed by the Civilian Conservation Corps (CCC), a work relief program established by President Roosevelt.
In 1940 the park was ready to be formally dedicated. President Roosevelt gave a dedication speech from the Rockefeller Monument at Newfound Gap, stating that the Smokies would be a national park "for all the people of the country and the rest of the world to enjoy." Watch an archived video of the dedication ceremony!
Today the Rockefeller Monument still stands, despite the effects of time, and looks largely the same as it did more than 70 years ago.