Pigeon Forge Museums Perfect for Kids of All Ages
Once school is out, most kids want to check out from class and enjoy a summer full of fun. Who said summer vacations can't be both fun and educational? Pigeon Forge has the perfect attractions for making memories, having fun and learning new things. Here are a few of the best museums in Pigeon Forge for kids.
Go on an upside-down adventure at WonderWorks
For an over-the-top adventure that will turn your world upside down, a visit to WonderWorks should be at the top of your summer to-do list. Pigeon Forge is home to one of only six WonderWorks locations in the United States. This once top-secret laboratory from the Bermuda Triangle was carried to Pigeon Forge where it landed upside down after an experiment went awry. Thankfully, everything inside remained intact for guests of all ages to enjoy.
Upon entering the building, you'll find that everything is upside down. You must pass through the inversion tunnel to be turned right side up. Once you are properly aligned, the adventure begins as you explore the six different Wonder Zones. This four-story interactive museum for the mind features over 100 hands-on exhibits that will amaze, mesmerize, and challenge everyone in the family!
Design your dream coaster, then take a virtual ride and feel the adrenaline as you dip, flip and turn. Become a human lightning rod as you place your hand through the mesh, steel armor glove and watch while a Tesla coil emits 100,000 volts. Create a bubble big enough for you to fit inside. Experience the feeling of weightlessness, along with the rolls and tumbles, that astronauts feel when they are in space. The kids will have so much fun, they won't even realize that their brains are being challenged!
Take a photo with dinosaurs at Beyond the Lens!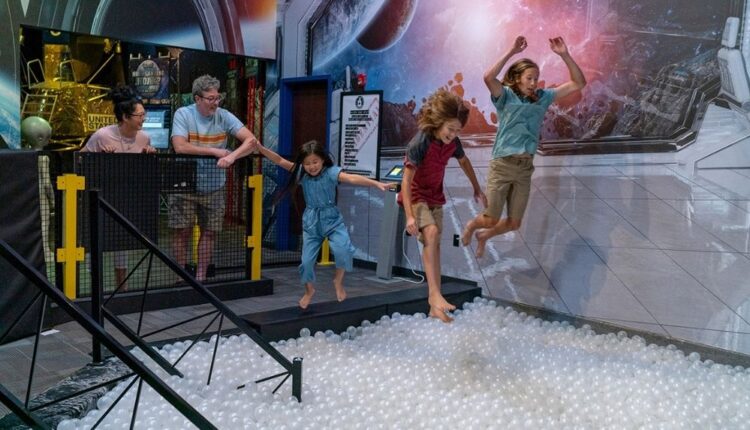 Beyond the Lens! is a unique and interactive attraction filled with immersive exhibits that offer fun for the whole family. From endless photo ops and virtual reality rides to a hunt for Bigfoot and a pop culture walkthrough, this exciting museum takes learning to new levels!
When you arrive at the museum, you will be handed a card to take with you and scan at different photo stations. Walk the red carpet and appear as a contestant on your favorite Hollywood game show, take a photo with dinosaurs, get a closeup with Bigfoot and more. At the end of your journey, keep only the photos you want. You can purchase prints or download them for free online.
Beyond the Lens! features more than 150 interactive exhibits. Discover amazing virtual reality experiences where you can walk the famous plank 60 stories high or out-run dinosaurs. Take a trip through pop culture and try a variety of techno-sports games like AR racing and skee ball. There are also two mini escape games. The kids are sure to love jumping in the alien egg pit and examining alien eggs while Mama Alien is away. It's a great opportunity for the entire family to learn something new and explore the wonders of the world!
Coming soon, Beyond the Lens! will also be home to the new FlyRide, a state-of-the-art, fully immersive adventure. Soar above 22 national landmarks on full motion seats that dip, turn and soar. You will feel wind, mist and other amazing effects!
See the World's Largest Titanic ship built with LEGO® Bricks at TITANIC Museum Attraction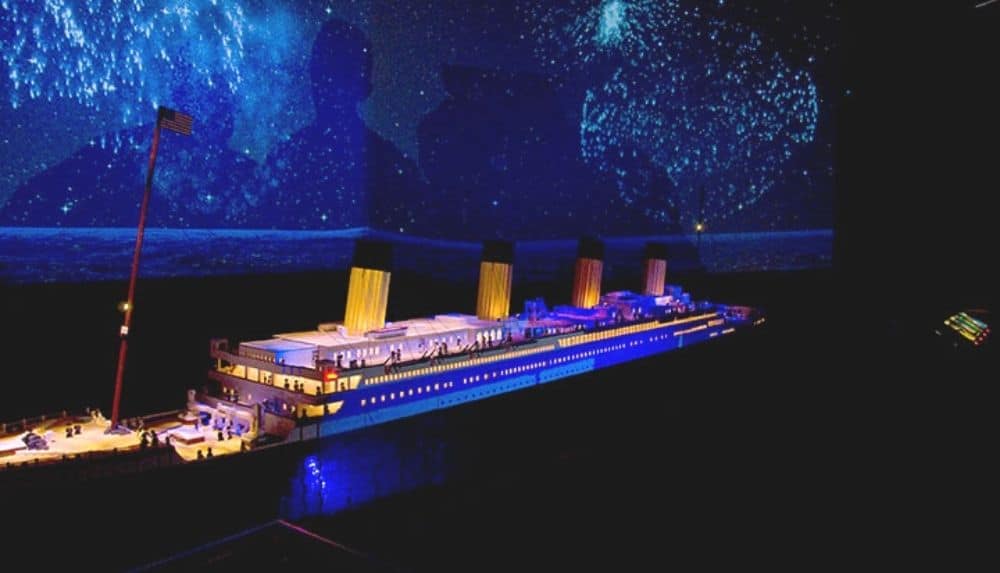 TITANIC Museum Attraction in Pigeon Forge is one of only two within the United States! This museum honors the history and legacy of the grand RMS Titanic ship and houses one of the largest permanent collections of Titanic artifacts and memorabilia. The outside of the ship was built at half the size of the original ship and offers a very realistic idea of what it was like to be on board.
Climb an exact replica of the Titanic's famous hand-crafted Grand Staircase. Grasp the wheel on the captain's bridge. Learn how to send an SOS signal by tapping out messages on the ship's wire. Touch an iceberg and feel how cold the water was.
In addition to the permanent collection of artifacts you'll find on display, TITANIC Museum Attraction also features special and rotating exhibits the kids are sure to love! See the World's Largest Titanic ship built with LEGO® Bricks. This Titanic masterpiece was built by a 10-year-old autistic boy from Iceland over the course of 11-months, using a total of 56,000 LEGO® Bricks. Then, explore the enchanted Irish fairy cottages that have made TITANIC Museum Attraction their home until August. These whimsical dwellings that pay tribute to the 187 Irish on board the ship can be found throughout the ship.
Upon arriving, guests receive a boarding pass with the name of an actual passenger. Through the exhibits, you will learn more about your passenger and learn their fate at the end of your visit. Children receive a special boarding pass of a youngster who sailed on Titanic that they can relate to. There's even a special audio tour for kids that brings the Titanic story to life and an onboard Scavenger Hunt!
See rare artifacts that belonged to some of the nation's most notorious criminals at Alcatraz East Crime Museum
Whether you're a fan of true crime stories or interested in learning more about crime fighting, you're sure to enjoy a visit to the Alcatraz East Crime Museum on your family vacation. This one-of-a-kind museum explores the history of crime and crime fighting in America. Guests to the museum have the unique opportunity to see rare artifacts that belonged to some of the nation's most notorious criminals.
The museum's design is inspired by two iconic prisons, Alcatraz Island in San Francisco Bay and the first Tennessee State Prison just outside of Nashville. Inside the museum, encounter a unique journey through five galleries that examine criminal profiles, the penal system, victim's stories, crime prevention, forensic science, law enforcement and our justice system. The museum is spread over two floors and includes over 100 interactives.
See the white Ford Bronco that was involved in the infamous car chase from the O.J. Simpson case. Venture inside a surveillance van and check out the equipment used to monitor suspects during criminal investigations. See Ted Bundy's famous Volkswagen Bug and Al Pacino's machine gun from Scarface. You'll love learning about some of the most famous crimes in America!
There are also exhibits for the junior detectives. Kids will love learning about pirates and famous outlaws from the Old West, trying to break into a locked safe and getting up close and personal with McGruff the Crime Dog. Fun computer interactives include escaping from jail and deactivating a bomb. Alcatraz East Crime Museum is an entertaining and educational experience for all ages!
Pose with your favorite celebrities at Hollywood Wax Museum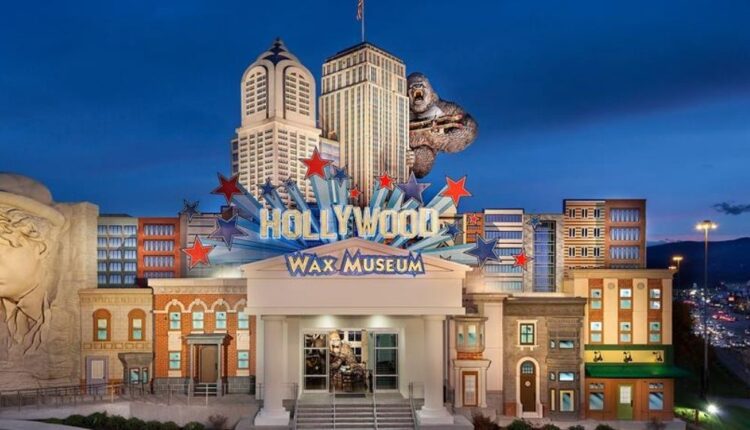 If you've ever dreamed of meeting your favorite stars or pop culture icons, then a visit to the Hollywood Wax Museum in Pigeon Forge is a must! Just look for the building with the gigantic King Kong hanging onto the tower along the Parkway. You can even get your picture taken with him once you get inside!
If you've ever dreamed of posing with your favorite movie stars or other Hollywood celebrities, now's your chance! The two-level museum is filled with dozens of wax figures that are out in the open so that you can pose with them and touch the interactive displays. The incredible life-like qualities of the figures make it hard to believe they're not real!
Take the stage with Johnny Cash. Dance with Michael Jackson. Walk the red carpet with Morgan Freeman. The photo ops are endless! And props are provided to make posing for pictures even more fun! You'll also get to know more about your favorite stars with interactive games that are spread throughout the museum.
The Hollywood Wax Museum is also home to three other fun-filled attractions. Step inside the Pigeon Forge Castle for an action-packed 5D adventure that will make you feel as if you're really inside the game. Use your handy laser blaster to shoot and find out who has the highest score at the end of this thrilling ride!
Hannah's Maze of Mirrors takes you on a gallant quest to break the spell and free the royal beauty before it's too late. Work your way through the mirrored corridors filled with dead ends, hidden rooms and surprises!
Outbreak Dread the Undead takes you on a journey through a ransacked lab, ruined morgue and rotting basement to assure that the undead are contained. You must avoid being affected by hordes of the undead after an experiment went terribly wrong, turning soldiers into aggressive zombies. See if you can contain your fear!
Make the most out of your visit with an All-Access Pass that includes admission to all four attractions for only one ticket price.
Get your picture taken in the General Lee at Cooter's Place & Museum
If you're a fan of the hit TV show The Dukes of Hazzard, then Cooter's Place & Museum is another must-do museum in Pigeon Forge to add to your to-do list. The museum is owned by Ben Jones, the actor who played Cooter on the show, and features a replica of the interior of Cooter's Hazzard County Garage.
Fans will be taken back to the good ole days when the Duke boys were pulling off wild stunts and trying to outrun the law in the famous General Lee. During your tour, you'll get to see the iconic 1969 Dodge Charger in person. And if getting to see the car weren't exciting enough, you can even have your photo taken inside the General Lee! Just purchase one of the photo packages that are available.
There's also a replica of the Hazzard County Sheriff's Office that make for some great fan photos when Etus and Cletus come to visit. And the General Store features a great assortment of Dukes of Hazzard memorabilia including t-shirts, coolers, miniature versions of the General Lee and so much more.
Keep your summer full of fun and educational things to do with the kids like visiting these great museums in Pigeon Forge! Discover even more fun activities and things to do during your summer family vacation to the Smoky Mountains.
You May Also Like:
Top 10 Summer Activities in Pigeon Forge
Best Ways to Experience Summer in the Smoky Mountains
5 Fun Things to Do on the Little Pigeon River this Summer