Roaring Fork Motor Nature Trail to Close for Construction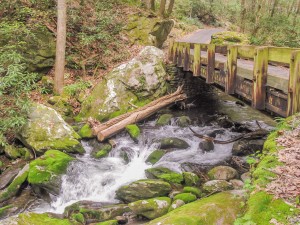 One of the most popular places in Great Smoky Mountains National Park, Roaring Fork Motor Nature Trail, is closing starting October 31, 2014 and is expected to be reopened April 30, 2015.
The motor nature trail closes each winter, but due to the scheduled replacement of eight bridges along the road the closure is coming earlier and will last longer this time. No access to the road will be permitted during the closure. Hikers wanting access to the Trillium Gap (Grotto Falls) or Baskins Creek trailheads will have to park at the Rainbow Falls trailhead on Cherokee Orchard Road and hike the connector trail to get there.
If you've never been on Roaring Fork Motor Nature Trail before, we encourage you to go and check it out either before the closure or after the reopening. The 5.5-mile trip is regarded as one of the best places to see wildlife native to the Smokies in addition to many historic cabins, cemeteries and old home sites.
Photo is courtesy of the GSMNP Public Affairs Office