Where to See Spring Wildflowers in the Smoky Mountains
Springtime is a time of renewal. The spring wildflowers begin to bloom, the trees begin to fill with green foliage again, and the fields of green grass return. For the Great Smoky Mountains, this is a beautiful sight to see! Spring in the Smoky Mountains offers beautiful scenery and refreshing weather, making Pigeon Forge the perfect location for a spring family vacation.
If you're planning on coming to Pigeon Forge over the next few weeks, taking a trip to see the spring wildflowers that bloom in the Smoky Mountains is a must.
What Wildflowers Bloom During Spring in the Smoky Mountains?
Some of the earliest spring wildflowers to bloom in Great Smoky Mountains National Park (GSMNP) don't even wait for spring. Ephemerals like daffodils, jonquils, chickweed and violets start blooming in late winter, sometimes as early as February.
Early Spring Wildflowers
Wild daffodils (Narcissus pseudo narcissus) and jonquils (Narcissus jonquilla) are some of the most common wildflowers you'll see in Great Smoky Mountain National Park. These flowers are closely related. Daffodils have white/pale yellowish petals and a yellow trumpet, and jonquils have bright yellow petals and a matching yellow trumpet.
Wild daffodils and jonquils are unique because, once planted they tend to come back every year in bigger numbers than before. They were very common around households in the pre-park days. If you come across a patch today, you're likely standing where an old home site once stood.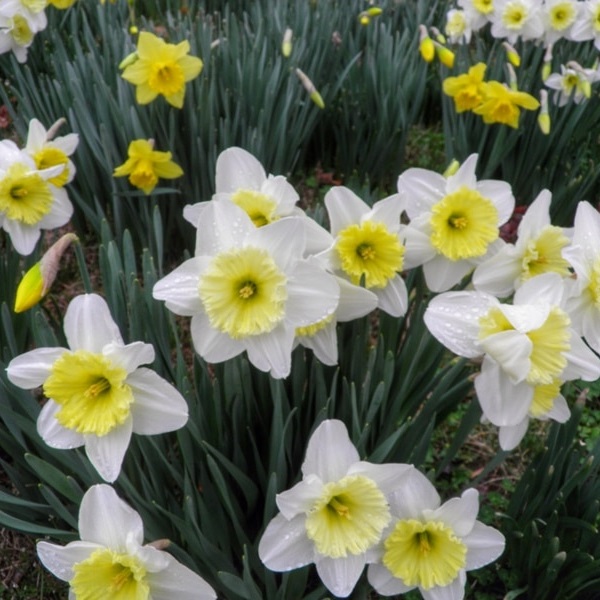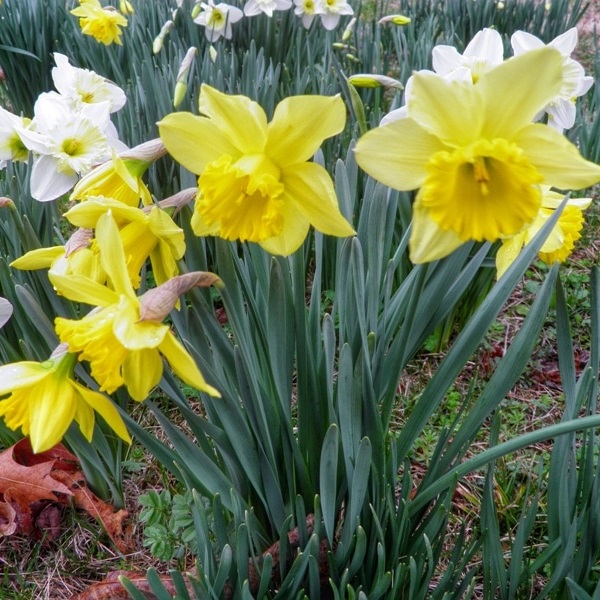 In addition to names like "daffodils" and "jonquils", these flowers were also referred to as "Easter flowers" by inhabitants of the Smokies. This is because the blooming period of these flowers peaks around the same timeframe as the Christian holiday Easter.
Greenbrier and specifically the Porters Creek area is famous for its wildflowers. Trilliums, lady slippers, and the famous fringed phacelia will begin to sparkle throughout the Greenbrier area sometime in March or April.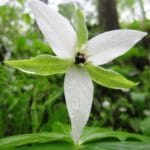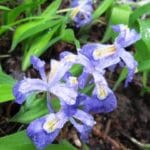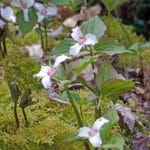 Late Spring Wildflowers
You've heard the saying, "April showers bring May flowers." Well, that saying is certainly true in Great Smoky Mountains National Park. Higher levels of precipitation mean even more rainfall accumulation at higher elevations up in the mountains. The additional rainfall results in even more spectacular wildflower displays during spring in the Smoky Mountains.
Several species of wildflowers that typically reach their peak during May include: foam flower, rue anemone, yellow trillium, painted trillium, catesby trillium and little brown jugs.
You may also see the beautiful purple and yellow crested dwarf Iris and pink showy orchis during the early parts of May. And make sure to keep your eyes open for lady slippers of both the pink and yellow variety as the month wears on.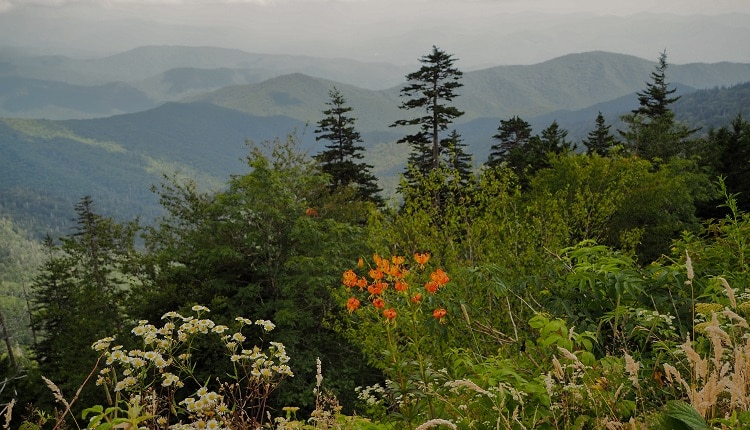 Best Places to See Spring Wildflowers in the Smoky Mountains
Cades Cove is one of the best places to see daffodils and jonquils. After you enter the "loop" in Cades Cove, you'll pass one of the Civilian Conservation Corps (CCC) camps that were active in the 1930s. The flowers were planted in a pattern that spelled out "CO 5427"- the official name of the CCC camp. Today, these jonquils have multiplied and spread across the field, but if you look closely, you can still see the name of the camp spelled out by the patches of bright yellow flowers.
Schoolhouse Gap Trail features many early blooming spring and summer wildflowers. This scenic 2.2-mile trail starts at Laurel Creek Road and gradually inclines in elevation to School House Gap. You'll see Virginia bluebells along the lower portions of this trail. And then pink lady's slippers, golden aster, trillium and many more beautiful wildflowers as you proceed higher.
Little River Trail is a wide and flat graveled trail in Elkmont that parallels the Little River. Along the lower portions of the trail are patches of rhodendron. And during spring, from mid-March through May, you'll also see spring beauties and trailing arbutus.
Porters Creek in the Greenbrier area of the park has some of the most beautiful displays of spring wildflowers anywhere in the world. The fringed phacelia blanket the ground during peak bloom. And purple dwarf Irises grow in large clumps throughout the area. It's a great spot for taking some photos, especially after a recent rain when there are still drops on the petals. White trilliums begin to bloom in this area, but typically don't peak until May. The same goes for the little white squirrel corn and Dutchman's breeches. Mayapples, which are large umbrella like plants, are plentiful here. And you'll see the tall skinny bishop's cap pretty much everywhere.
Gregory Bald, accessed via Gregory Ridge Trail in Cade's Cove, is known for its spectacular flame azaleas that reach peak bloom around mid-to-late June. The trailhead is located at the end of Forge Creek Road.
Middle Prong Trail, located in Tremont, near Townsend, is an amazing waterfall hike. This trail passes three major waterfalls, in addition to smaller falls and cascades. During spring and early summer, you'll see violets, crested dwarf iris, wood sorrel and trilliums on the first two miles of this trail .
You May Also Like
Best Smoky Mountain Hiking Trails To Visit This Spring
4 Smoky Mountain Hiking Trails Perfect For Kids
4 Historic Sites and Landmarks to Visit in Great Smoky Mountains National Park