Top 5 Things To Do in December in Pigeon Forge
If you are planning on visiting Pigeon Forge during the month of December, there are definitely some things that you just don't want to miss out on. From new and exciting holiday shows to decked out attractions, plenty of shopping, and the glowing lights of Winterfest, the Smoky Mountains offer plenty of ways to entertain your family during the holiday season.
To make your visit as enjoyable and memorable as possible, add these top 5 things to do in Pigeon Forge in December to your to-do list.
See Millions of Holiday Lights on the Winterfest Lights Driving Tour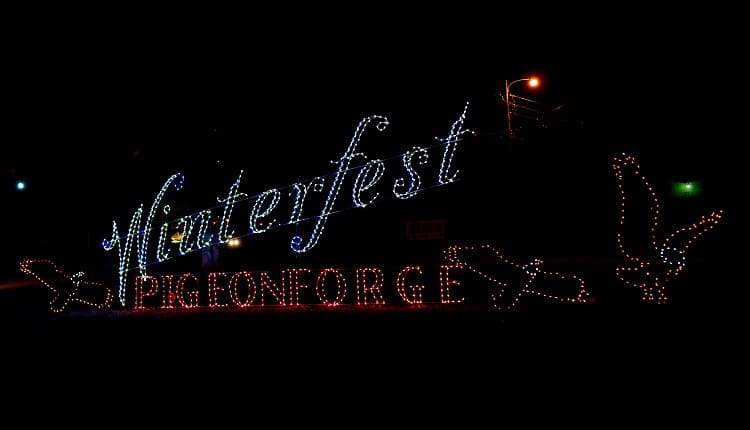 Pigeon Forge is decked out with over 5 million twinkling Winterfest lights that can be seen throughout the city this time of year. Whether you prefer to enjoy the holiday lights and décor while strolling through town visiting shops and attractions or go on the Winterfest Lights Driving Tour, you will feel the spirit of the season all around. The driving tour is a great way to spend some quality time with the family while taking in the splendor of all the holiday light displays. Simply download the Winterfest Driving Tour Map and enjoy the drive! If you are not able to visit during December, don't worry, the Winterfest lights shine bright from mid-November through mid-February each year.
Celebrate the Holiday Season at Dollywood's Smoky Mountain Christmas
In addition to Pigeon Forge's Winterfest lights, Dollywood strings up another 5 million lights throughout the inside of the park. If you've never seen Dollywood's Smoky Mountain Christmas, this will truly be a special treat for your family. You are sure to be delighted by the holiday lights, spectacular holiday performances and special visitors roaming the park. Enjoy a hot wassail while admiring trees with every branch glowing with lights. Take the kids to get a peek inside Santa's cabin to see if their names are on the naughty or nice list, and have their photo taken while peering inside. It is a special time of year at the theme park and you will feel it everywhere you turn.  The kids are sure to love the magic feel of the season and the adults will love watching them soak it all in.
Wrap Up Your Holiday Shopping at The Incredible Christmas Place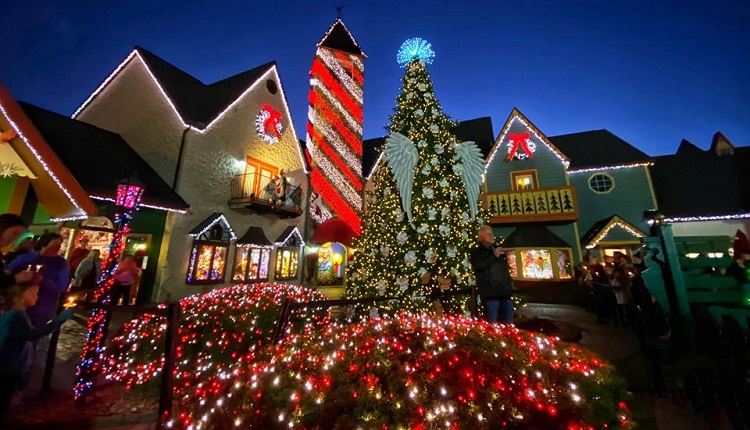 For most of us, December is spent counting down the days until Christmas, and no place will get you more excited for the holidays than The Incredible Christmas Place. Whether you are looking for a special gift, an addition to your family Christmas tree, or just wanting to bask in all things Christmas-related, this is the place! There is something for all ages, boys and girls, kids and adults.   You will love the look on their faces on Christmas morning as they open their Smoky Mountain treasures.
Enjoy Spectacular Holiday Shows at Local Theaters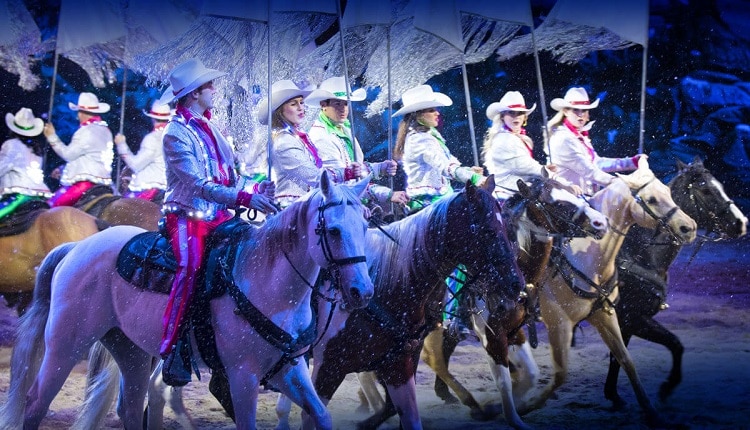 Many of the theaters in Pigeon Forge transform their shows just for the holiday season, beginning around the first of November, and continuing through Christmas and New Year's Eve. Get into the spirit of the season by taking the family to see a different holiday show each day during your stay in Pigeon Forge. From holiday twists on sporting competitions at Paula Deen's Lumberjack Feud Christmas Show to crazy Christmas fun at the Comedy Barn Christmas Show to a battle between the North and South Pole at Christmas at Dolly Parton's Stampede, holiday shows in Pigeon Forge are ready to entertain you with their best. And most are offering several shows a day so it will be easy to fit into your daily itinerary.
Plan a visit to Great Smoky Mountains National Park
A visit to Great Smoky Mountains National Park is one of the best things to do in December in Pigeon Forge. The leaves have all fallen which makes for some incredible mountain views. Who knows, you may even get to see a little snow! So be sure to bring your camera for those photo opportunities. Experience the winter season and all the natural beauty it brings with a winter hike in Great Smoky Mountains National Park. It is also the perfect way to spend a relaxing day away from the hustle and bustle and enjoy some quiet time with the family to reflect on what the year has brought.
The holiday season is such a fun and exciting time of year and a visit to Pigeon Forge is the perfect addition to your celebration.  Spending quality time with family and friends and sharing gifts, all while celebrating the true meaning of the season, will be easy and memorable.
Explore even more fun and exciting things to do with your family during the holidays in Pigeon Forge.
You May Also Like:
The Best Spots for Holiday Shopping in Pigeon Forge
Make Christmas At Dolly Parton's Stampede Part of Your Family Tradition