Best Places to See Fall Foliage in Pigeon Forge
Autumn is a wonderful time of year to visit Pigeon Forge because it's surrounded by the beautiful fall foliage of the Smoky Mountains. To enjoy the best views of this colorful display, visit one (or more) of the best places to see fall foliage in Pigeon Forge.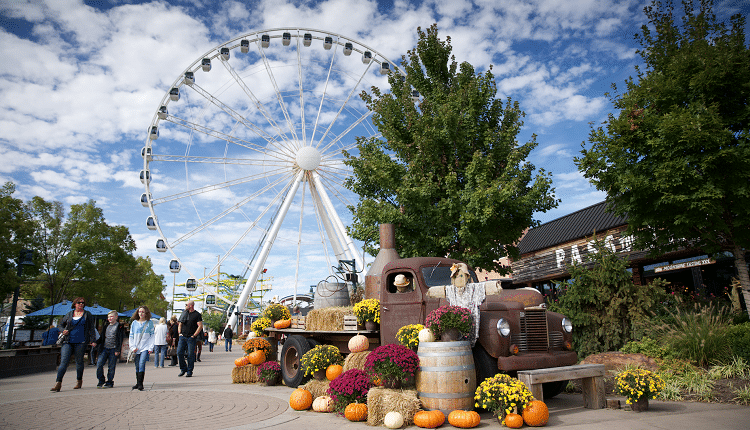 This 200-foot attraction at The Island in Pigeon Forge looms large on the Pigeon Forge landscape and offers a commanding view of the entire area, including a large swath of the Great Smoky Mountains. The 6-person, climate-controlled gondolas will keep your family comfortable as you admire the beautiful colors of the surrounding landscape.
If you want to enjoy the fall foliage of Pigeon Forge as a backdrop to a fun day of family memories, spend the day at Dollywood. The theme park is nestled within the Great Smoky Mountains and provides rides, shows, shopping, dining, and special events.
Located adjacent to Old Mill Square, this 16-acre park is a charming place to get away from the hustle and bustle of the attraction-lined main thoroughfare.
From Patriot Park, you can discover even greater serenity and views of nature on this quiet, paved trail that follows the Pigeon River. If you want to explore the great outdoors without wandering far from the city center, you'll be delighted with this peaceful path!
When you want to completely immerse yourself in the beauty of autumn, head to the park and choose a trail. For the best view, head to Clingmans Dome, which sits at the highest point of the Smoky Mountains.
Colors will begin to change in September, but The Pigeon Forge fall foliage peak occurs in mid to late October. Don't despair if you miss the peak, beautiful colors will be visible as late as mid-November.
About the Author
Corinne Schmitt is the blogger behind Wondermom Wannabe, where she shares tips, resources, and advice to help busy moms create happy homes.