Fun Ways to Tour Pigeon Forge and the Great Smoky Mountains
Nothing beats the excitement of a memorable family vacation in the Great Smoky Mountains. With so much to see and do, make the most out of your experience by touring Pigeon Forge and the Great Smoky Mountains in a few of the most unbelievable ways that you and the whole family are sure to enjoy.
Soar Above the Smoky Mountains on a Helicopter Tour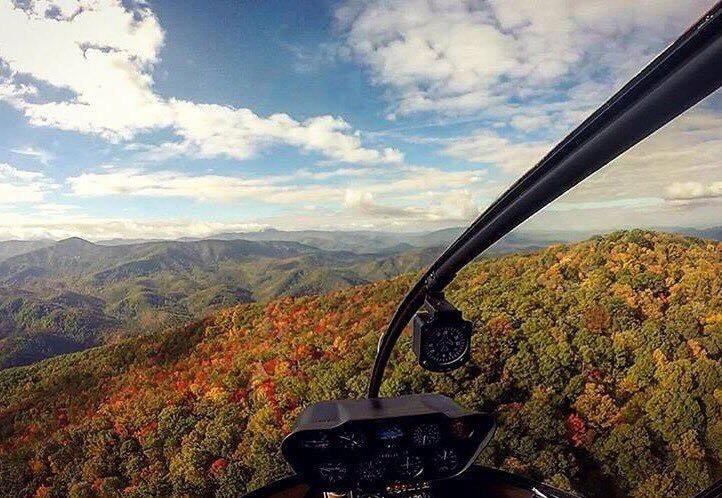 Get a birds-eye view of the Smoky Mountains on a Scenic Helicopter Tour. One of their highly skilled pilots will take you on a journey filled with amazing views of local landmarks such as the French Broad River and Douglas Lake, as well as the rolling farmland around Pigeon Forge. One of the most popular tours takes you beyond Gatlinburg and the surrounding ridges and valleys and finally over Great Smoky Mountains National Park.
This award-winning Pigeon Forge helicopter tour is one of the most unforgettable and top-notch aerial experiences you can be a part of when going on a Pigeon Forge tour. Come take a ride and experience the scenic beauty of the Smoky Mountains in a whole new way.
Tour the Smokies on a Jeep or ATV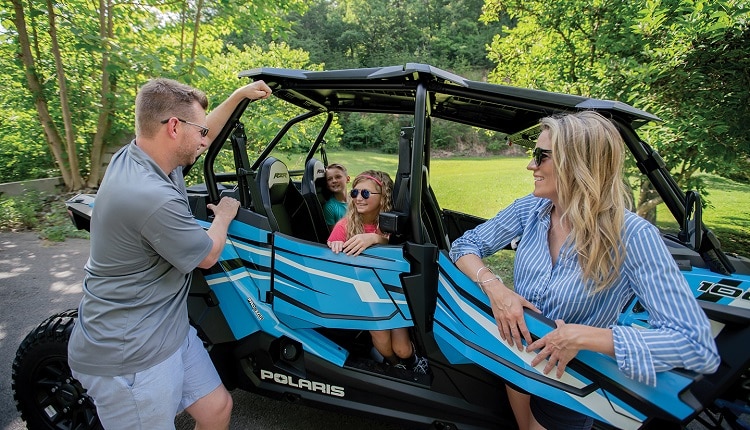 Experience the Smokies in a sleek UTV or Jeep rental! You're in for an incredible sightseeing tour of Pigeon Forge and the Great Smoky Mountains in one of these polished vehicles. Choose from Wranglers, Razors, Jeeps and UTVs.
Tour in style when you buckle up in a 4-door Jeep Wrangler with Smoky Mountain Jeep Rentals. It's the perfect way for families to ride together and see the serene views of the Smoky Mountains. This adventure vehicle provides you with a rugged, yet comfortable way to get outdoors and enjoy the kind of adventures that only East Tennessee has to offer.
From 2-door and 4-door Jeep rentals to street-legal Razors and Slingshots, Wranglers and Razors offers a variety of Jeep and UTV rentals to choose from during your Smoky Mountain vacation. If you're touring Pigeon Forge with a slightly smaller crowd, a Street Legal Razor is a great option. These 4-seaters are available for 2 hours or more and give you the ride of a lifetime around the Smoky Mountains. For those wanting something with a little more kick in the gas pedal, try a Slingshot! You'll feel like you're driving around in the Batmobile as you maneuver your way around in one of these awesome three-wheeled UTV rentals.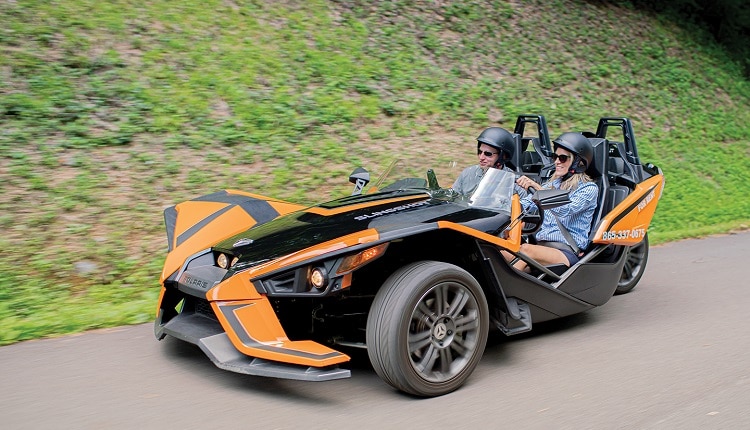 Take a super fun, super unique ride in one of the many high terrain and speedy vehicles offered by ExoRent ATV and Dune Buggy Rental. Exo Drive in the Smokies for an unforgettable experience! These sleek and powerful rides will have you touring through the Smokies in style for a one-of-a-kind experience.
Take adventure to another level and strap on your helmet for a ride in your very own ATV with Bluff Mountain Adventure. Take part in a guided ATV trail ride on 6,000 acres of foothill wilderness and mountain trails!
Explore the area on a carriage ride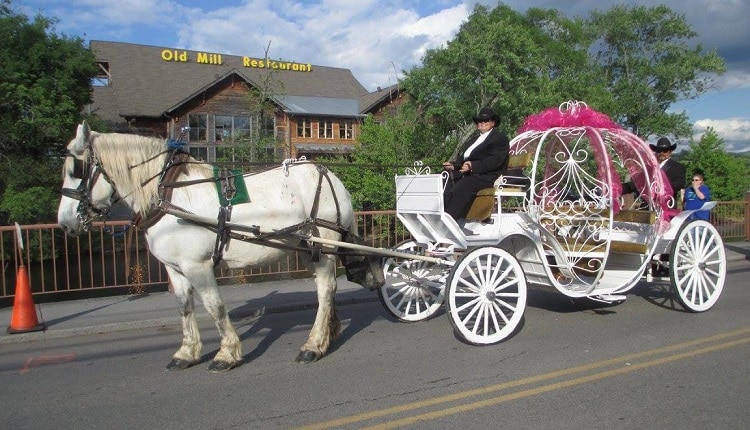 Making a unique, romantic gesture in Pigeon Forge is easy! A horse drawn carriage ride with Heritage Carriage Rides is the perfect way to tour Pigeon Forge in a way that will be remembered for years to come. Enjoy an unforgettable outing with your special someone as you sit back, relax and breathe in the crisp, fresh Tennessee air. There are also carriage services for weddings and special occasions, making it the perfect choice for a couple's adventure. Make sure to browse The Shops and Lumberjack Feud before you leave as well!
Go for a scenic drive through the Smoky Mountains
Cades Cove, one of the most visited spots in Great Smoky Mountains National Park, offers some of the most scenic and beautiful views you'll find anywhere in the Smoky Mountains. One of the best ways to see the area is on a scenic driving tour. Cades Cove Loop Road winds through the park for 11 miles, offering picturesque views of the lush, rolling green valley with the mountains in the backdrop. The Cades Cove area is home to a large variety of historic buildings and structures including churches, log homes and a working mill, that visitors can get out and explore along their scenic drive. During your drive, keep your eye out for a chance to spot wildlife such as white-tailed deer, coyote, elk and black bears.
Newfound Gap Road is a 31-mile road that is well-known for being the lowest point to pass through the Great Smoky Mountains. The paved road travels directly through the center of Great Smoky Mountains National Park, passing through a variety of forest ecosystems along the way. This scenic drive provides distinct mile-markers to easily identify sites like the Oconaluftee Visitor Center and Newfound Gap.
Another stunning scenic drive within Great Smoky Mountains National Park is Roaring Fork Motor Nature Trail. Roaring Fork is one of the largest and fastest-flowing mountain streams. The winding trail offers stunning views of the forest, rushing streams and historic buildings such as grist mills and log cabins.
See the sights on a guided bus or jeep tour
Jeep tours in Pigeon Forge have never been more fun and exciting than when you take a ride with Pink® Jeep® Tours. Pink Jeep Tours is one of the most popular and well-known guided jeep tours in Pigeon Forge. As one of the premier tour guides across the nation, Pink Jeep Tours prides itself on creating personal and intimate Jeeps that seat 7 lucky guests. Buckle up for memorable stories, adventure and fun!
Tennessee Mountain Tours takes you on a trip through time, with true stories told by local guides. For a fun and entertaining way to explore the rich history of the East Tennessee region, this shuttle tour in Pigeon Forge is second-to-none. You're sure to enjoy the variety of comical, educational and enlightening stories that have been passed down from several generations.
For larger groups, a guided bus tour in Pigeon Forge is another great way to get out and explore the Smokies without having to drive. Experience the beauty of the Smoky Mountains through the windows of a mini-coach with Rocky Top Tours. This step-on service offers guided bus tours through some of the most breathtaking scenery in the Smoky Mountains, while your guide provides the history and background of the surrounding landscapes.
Your adventure awaits! Experience the Smoky Mountains in a unique and incredible way on one of these Pigeon Forge sightseeing tours.
You May Also Like:
4 Historic Sites and Landmarks to Visit in Great Smoky Mountains National Park
See the Best Views of the Smoky Mountains on this Photo Tour
Best Scenic Drives in the Smoky Mountains to View Fall Colors