Restaurants with Live Music in Pigeon Forge
From gospel and country to bluegrass, rock and beyond, the Great Smoky Mountains have long been known for their rich musical heritage. And there's no better place to enjoy an authentic Smoky Mountain experience than Pigeon Forge, Tennessee. No matter where you stay, you don't have to go far to experience world-class entertainment.
In addition to the amazing music shows that keep visitors returning to the area year after year, there are also a lot of great restaurants with live music in Pigeon Forge. Throughout the season, these venues are brimming with up-and-coming local artists and bands showcasing all genres of music. Here are a few you'll definitely want to check out during your next visit.
Margaritaville Restaurant Pigeon Forge
The Margaritaville Restaurant at The Island in Pigeon Forge is the perfect spot to escape and enjoy an island adventure. The laid-back tropical atmosphere is complemented by unique dining spaces, a concert stage and multiple bars. Enjoy a tasty menu featuring everything from seafood entrees, inspired by Jimmy himself, to cheeseburgers in paradise. Listen to live music and enjoy the view at the 5 O'clock Somewhere Bar, located on the large exterior deck that overlooks the Little Pigeon River. During the busy season, patrons can hear live music most nights of the week.  
Puckett's Pigeon Forge
For authentic comfort food classics and a down-home atmosphere, Puckett's is the place to be. In addition to Southern staples such as their meat & 3 specials and famous slow-smoked BBQ, Puckett's has built a name on hosting live, local musical acts. Enjoy a night filled with tasty fare and excellent live music and entertainment. There's always something going on at Puckett's!
Hard Rock Café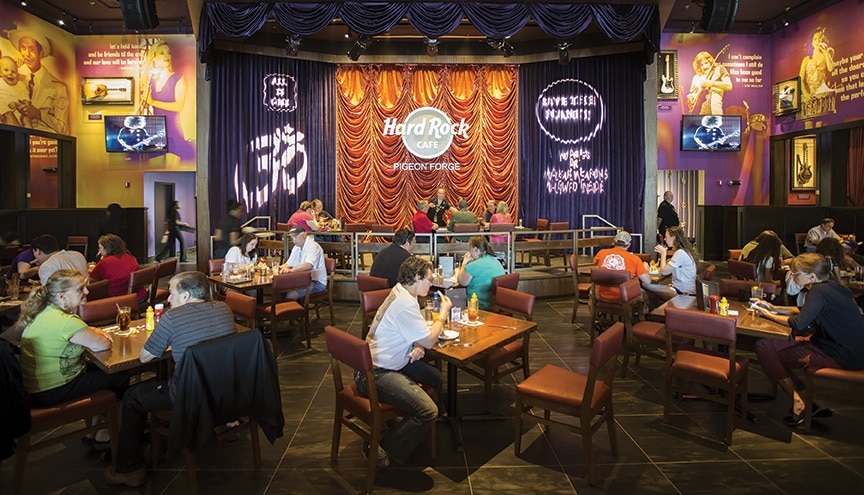 For those rock and roll fans, an evening at Hard Rock Café offers a live music experience that is sure to please! From the exceptional made-from-scratch menu options to the awe-inspiring music memorabilia that lines the walls with items from Taylor Swift, Shania Twain, Pricilla Presley and of course the legend herself, Dolly Parton. The live music stage features various bands performing throughout each month. And there's even an interactive touch wall that lets fans virtually explore some of the best music memorabilia collections in the world. 
Smoky Mountain Brewery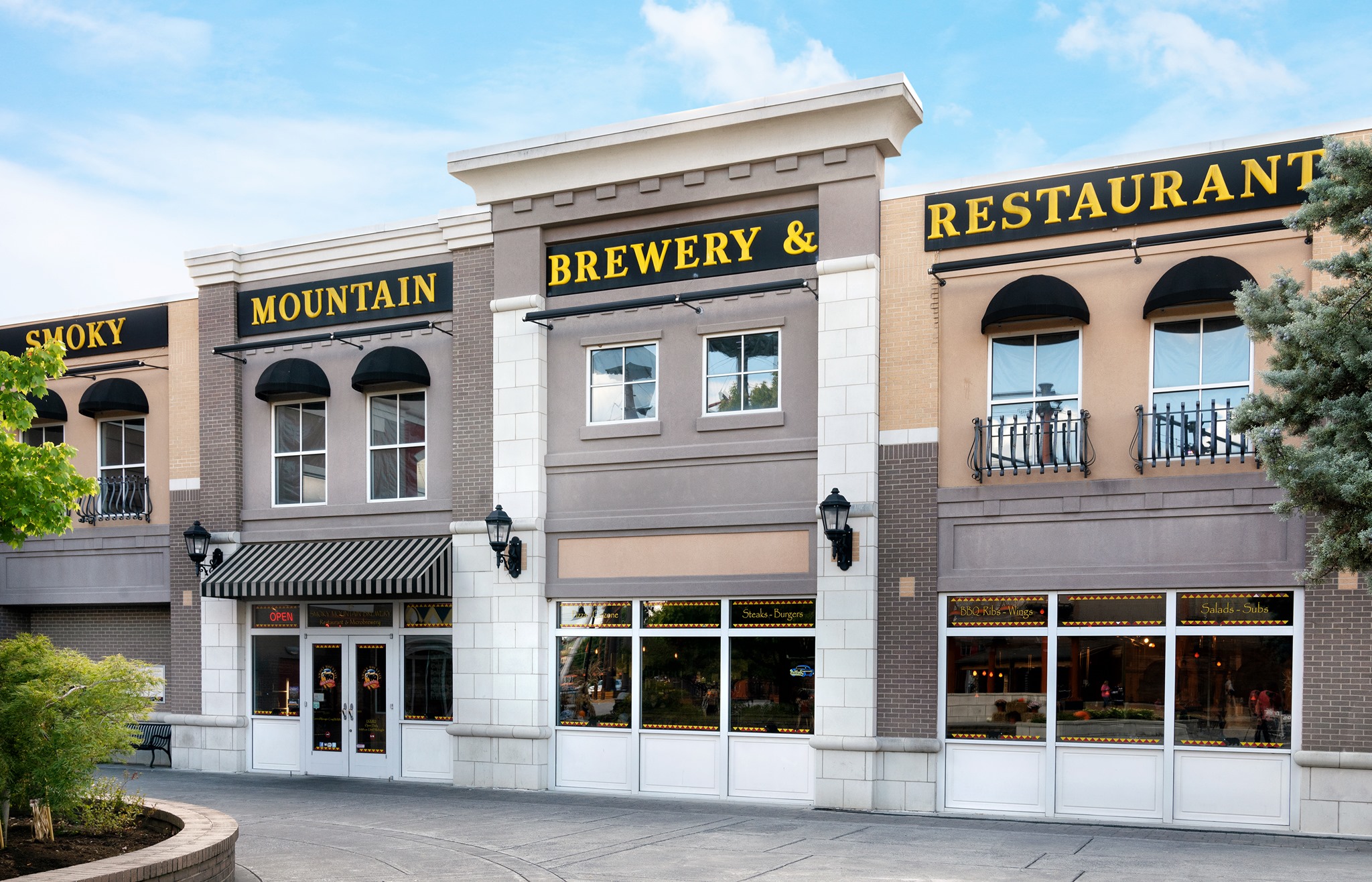 Another great restaurant with live music in Pigeon Forge is Smoky Mountain Brewery, located in Lumberjack Square. Enjoy a wide menu selection featuring everything from steaks and pizzas to burgers and sandwiches. Pair that with one of their hand-crafted beers that are always on tap and served ice cold. There are nightly live music performances to entertain you while you enjoy a delicious meal.
Iron Boar Saloon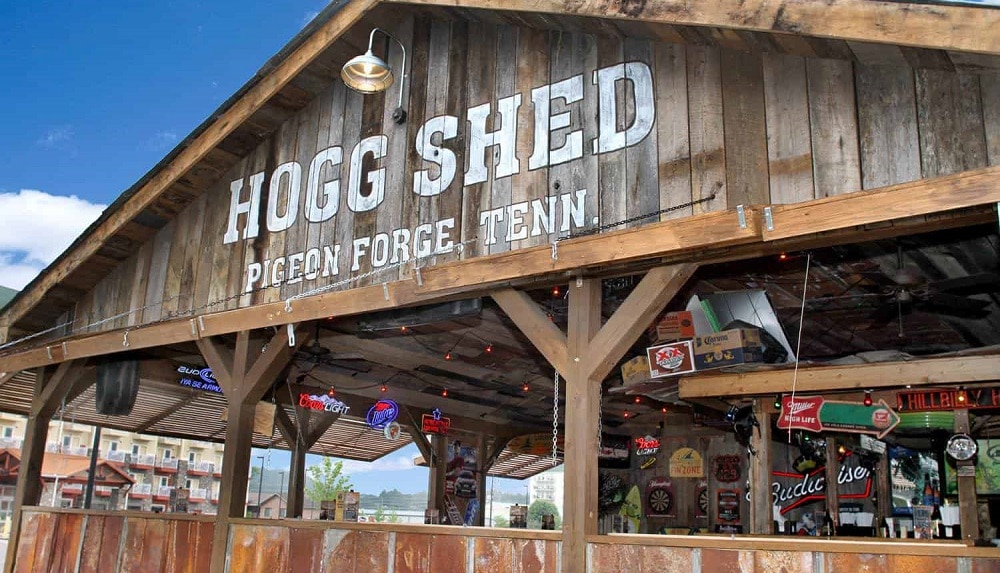 For motorcycle enthusiasts, the Iron Boar Saloon might just be your new favorite hangout! Located in Walden's Landing across from Smoky Mountain Harley Davidson, the Saloon is a great place to pull up a chair, order your favorite appetizers and settle in. Have a seat on the patio and listen to live music featuring rockin' bands every weekend! 
Listening Room Café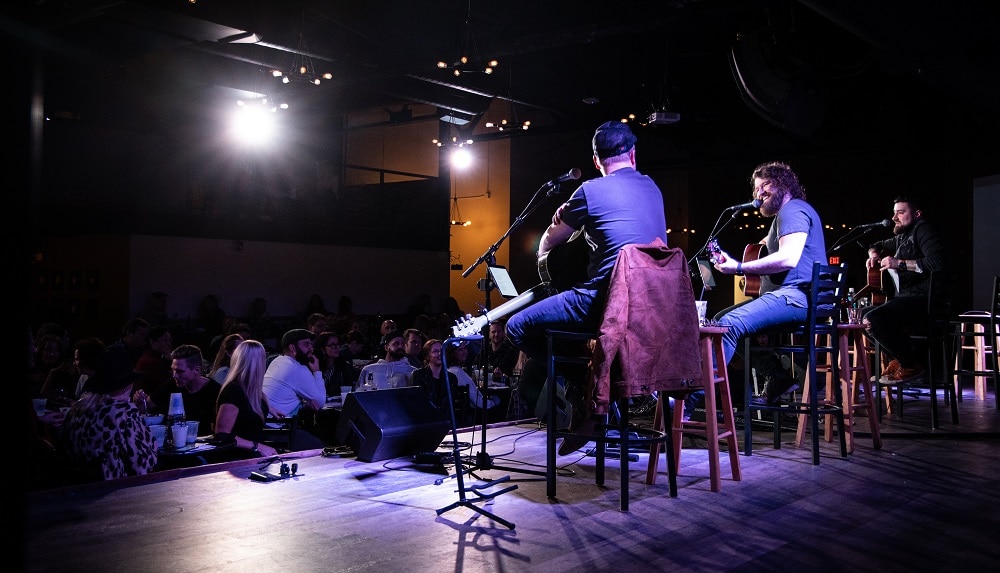 The Listening Room, one of Nashville's iconic music and dining venues, has opened a new location in Pigeon Forge this summer at Mountain Mile. In addition to live music rounds each night on a large stage and a full menu of American cuisine, this spacious new restaurant will feature both indoor and outdoor seating and two full-service bars with a robust cocktail list. For a fun night out with great music, food and drinks, the Listening Room Café is one new live music restaurant in Pigeon Forge you won't want to miss out on!
Enjoy an authentic Smoky Mountain experience on your next trip to Pigeon Forge with these fun live music restaurants! You'll also find a wide selection of Pigeon Forge restaurants on or near the Parkway with even more great food options to satisfy every craving and budget.
You May Also Like:
Kid-Friendly Dinner Shows in Pigeon Forge the Whole Family Will Love
New Restaurants in Pigeon Forge with Even More Great Food Options
Must-try Foods in Pigeon Forge