Seasonal Roads Reopen – Roaring Fork Motor Nature Trail
If you've been waiting for the seasonal reopening of specific roads to take a visit to Great Smoky Mountains National Park, you're in luck!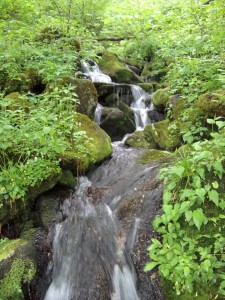 As of Friday, April 11 most all of the seasonal roads were opened including: Roaring Fork Motor Nature Trail, Little Greenbrier Road, Parson Branch Road (Cades Cove) and Rich Mountain Road (Cades Cove). Clingmans Dome Road opened at the end of March but is still subject to closure depending on weather conditions.
To get to Roaring Fork Motor Nature Trail turn off of U.S. Highway 441 in downtown Gatlinburg onto Cherokee Orchard Rd. After approximately 3.8 miles, turn right onto the Roaring Fork Motor Nature Trail. This one-way road winds 6 miles deep into the Smokies at the base of Mt. LeConte and offers some of the best sightseeing in the park.
At the entrance of the motor nature trail you can purchase a booklet with a map that details landmarks along the road, which takes its name from the Roaring Fork stream flowing alongside it. The stream itself is named for the loud noise it produces due to its relatively fast flowing speed, particularly during times of heavy rain.
Multiple hiking trails are accessed off this road including Baskins Creek Trail (Baskins Creek Falls), Grapeyard Ridge Trail and Trillium Gap Trail (Grotto Falls). There are also several old barns, homesteads and grist mills located on the motor nature trail.
Towards the end of the motor nature trail (which concludes at US 321 just east of downtown Gatlinburg) you'll pass the "Place of a Thousand Drips"- a unique waterfall which splits and cascades around piles of rocks stretching a considerable distance.
Whether it's the famous Roaring Fork Motor Nature Trail or one of the secluded Cades Cove Roads, the recent reopenings mean it's officially spring time in the Smokies.