Smokies News: Winter Hiking & Sightseeing in the Smokies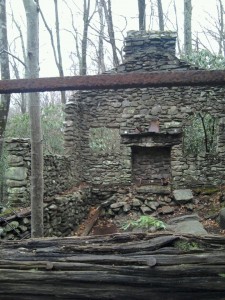 It's well documented that the Great Smoky Mountains National Park is the most visited park in the nation, drawing millions and millions of sightseers, hikers and campers each year. The winter months are the least busy time of year in the Smokies, making it one of the best times to hike some of the more popular trails if you're looking for less trafficked hiking and sightseeing opportunities.
Winter is also a great time to take historical hikes because there's less foliage to camouflage old home places and farmsteads making them much easier to spot. Prior to the creation of the national park in 1934 hundreds of families lived in the Smokies and many remnants of their legacies are still standing today.
Old engine wrecks can be found from a time when railroads were one of the primary methods of transportation through the mountains. The Grapeyard Ridge trail in Greenbrier is an excellent place to see one of these wrecks as the old engine, which turned over in the creek, is still largely intact.
Unlike some of the other areas of the park, most home places in Greenbrier were torn down following the parks creation. Today only remnants like chimneys, rock walls and scattered cemeteries are left. A good place to see some of these are along the aptly named Old Settlers trail.
The Elkmont and Treemont areas were hotbeds for logging communities and many of the places and trails in these areas get their name from that time period. Cabins are scattered throughout the park, especially in the Cades Cove and Elkmont areas. Many of them have been restored and look quite similar to how they looked over 150 years ago.
View the Great Smoky Mountains National Park map for trail locations.