Thanksgiving in Pigeon Forge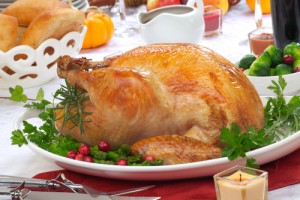 Thanksgiving is a time of the year when being with families is of the utmost importance. It's an opportunity to spend time with your loved ones and enjoy great food.
There's no better place in the world to do either of those things than right here in Pigeon Forge! This year many local restaurants will be open this Thanksgiving, November 22nd, to allow vacationers the opportunity to have a traditional Thanksgiving meal.
Families might enjoy visiting the Old Mill Square where the Old Mill Restaurant and Pottery House Café will offer a Traditional Thanksgiving Feast. Or for an interactive and most likely unforgettable meal Dixie Stampede will have their Thanksgiving dinner shows at 3:30, 6:00, and 8:30.
Partridge and Pear Restaurant at Christmas Place is also highly recommended for a holiday dinner. The delicious signature seasonal dish, Cake from Christmas Past, is especially an item not to be missed. Wood Grill Buffet is an excellent choice for those who want a large variety in their Thanksgiving meal.
Thanksgiving is one of the most beautiful times of the year to visit Pigeon Forge because of the seasonal decorations. The whole city comes to life with millions of Winterfest lights on display.
Speaking of light displays, one of the city's most popular attractions, the world famous Titanic Museum Attraction, will feature a fireworks show on Thanksgiving night this year. At 7:30 pyrotechnics will fire off of the main deck.
With all the different activities planned for Thanksgiving this year in Pigeon Forge, you'll wonder why you ever spent the holiday anywhere else!