3 Reasons We Love October in Pigeon Forge
Pigeon Forge is an easy place to love, and the month of October brings even more reasons to love it! The city delights in bringing its guests the best of each season.
Fall fills the air throughout Pigeon Forge as the Smoky Mountains come alive with their magnificent fall colors. Come join us in Pigeon Forge as we celebrate this special time of year with the best fall festivals and events, savory foods and fun-filled activities.
Here are just a few of the reasons we love October in Pigeon Forge.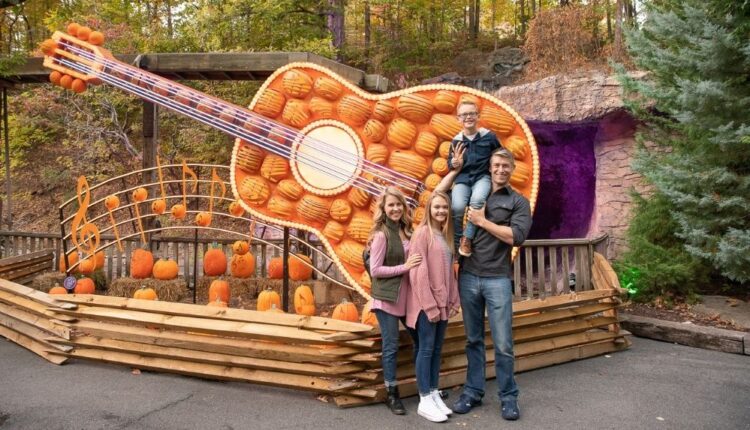 Fun Fall Festivals and Halloween Events
What better way to celebrate the fall season than with fun fall festivals and plenty of spook-tacular Halloween events taking place throughout the month.
Dollywood's Harvest Festival celebrates the bountiful harvest season with award-winning rides, savory seasonal treats and the sounds of Southern gospel, bluegrass and country wafting through the mountain air.
When the sun sets at Dollywood, Great Pumpkin LumiNights transforms the park into a glowing display of autumn splendor with thousands of carved pumpkins and larger-than-life pumpkin icons. Stroll through the large crop of sunflowers that sprouted in Wildwood Grove and take pictures in front of the towering Pumpkin Tree.
The Southern Gospel Fall Festival takes place starting October 6th and features Southern Gospel groups from around the country. One of the highlights of this event is the Talent Search to find the next big Christian artist.
Enjoy a three-day classic rock experience with Monsters on the Mountain. Come out and see some of your favorite classic rock music artists with headlining acts such as Tesla, Night Ranger, Vince Neil and more.
Make plans to check out Rocky Top Mountain Coaster's Coasts & Goblins event featuring Fright Nights each weekend in October. Prepare yourself for a spooky coaster ride complete with lights, goblins, ghouls and ghosts!
The Safety Day Halloween Spooktacular will be held at the Pigeon Forge Community Center on October 28th. Local businesses will be handing out candy at this free drive-thru Halloween event. Each car will also receive a scavenger hunt map with clues to find more candy. It's a great way to enjoy a fun night with the kids!
Check out even more fun fall festivals and Halloween events taking place during October in Pigeon Forge.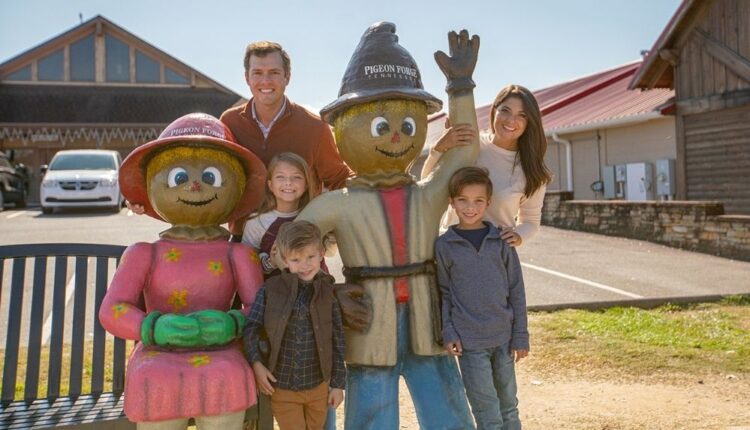 Fall Flavors and Décor Around the City
The beauty of the fall season abounds throughout Pigeon Forge! Businesses throughout town change things up for the season by showcasing fun and creative fall displays. Pumpkins, mums, scarecrows, and all things fall will be everywhere you look.
From seasonal desserts and moonshine flavors to custom décor and fun photo ops, The Island in Pigeon Forge pulls out all the stops. And of course, Dollywood puts on a spectacular display for fall with colossal pumpkins, seasonal dishes and world-class artisans sharing beautiful handmade crafts. Go on an autumn adventure with Pigeon Forge's fall scarecrow scavenger hunt. See how many scarecrow people you can spot along the Parkway and stop to snap photos with as many as possible!
And you won't be able to go far in Pigeon Forge without the tempting smells of pumpkin and cinnamon turning your head. Pigeon Forge offers a wide array of restaurants serving up your favorite seasonal fare. Try the Pumpkin Gooey Butter Cake at Paula Deen's Family Kitchen. The Old Mill Pottery House Café & Grille will be selling their homemade cranberry walnut bread by the loaf all season long. And make a stop at the Old Mill General Store to take the taste of fall home with you with Old Mill's Pumpkin Spice Pumpkin & Muffin Mix, and the Pumpkin Spice Syrup to go along with it.
Amazing Fall Colors of the Great Smoky Mountains
The Great Smoky Mountains are even more breathtaking during the fall season! The leaves begin to dawn their rich shades of red, yellow and orange in the higher elevations first. By mid-October, the vibrant colors of fall have worked their way down the mountains, making it the perfect time to plan a visit.
You'll find a variety of ways to experience the beautiful fall foliage of the Smoky Mountains. Whether you decide to take a scenic drive or want to explore one of the hiking trails, you will be delighted by the show nature puts on for you. The fall colors set the perfect backdrop for this very peaceful and serene time of year.
From fishing and wildlife viewing to guided tours and fun hayrides through Cades Cove, you'll find plenty of fun fall activities to enjoy throughout Great Smoky Mountains National Park to keep the entire family busy for days.
Come and see for yourself what all the love for October is about in Pigeon Forge!
You May Also Like:
Top 5 Things to Do This Fall in Pigeon Forge
Best Scenic Drives in the Smoky Mountains to View Fall Colors