The Tomb: A Mind Boggling Experience!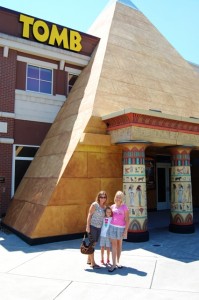 Walden's Landing is one of our favorite hangout places for down time in Pigeon Forge. We have golfed, ate dinner and cupcakes, and of course shopped there! However, not until recently did we stop in and see what the big Egyptian tomb there was all about. The Tomb is an interactive archaeological adventure that takes you back in time to the days of King Tut. The building itself is intriguing and had both of the little divas asking if we could check it out.  So mom said, "Why not!"
From the beginning to the end, you are on a journey as a team to solves puzzles and find clues to get to the next section and ultimately to get back out of the Tomb. First off, we gathered in a tent with our fellow teammates for instructions and to listen to information about the adventure we were about to embark from the professor. Once we were done there, the door opened and we entered the Tomb. To our relief, our tour guide was in the Tomb with us. Peanut, who is 6, was instantly a little scared as it was too dark for her likings. She stuck pretty close to my side for the next 45 minutes. Our family worked together with the tour guide to solve the challenges at hand.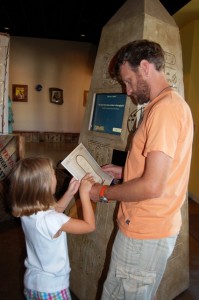 We definitely had to stay focused and on our toes to solve some of the tasks. Jellybean, who is 10, really got into it and wanted to be the first one to solve the mystery. The lighting and cool sound effects added to the mystery. Because we were constantly changing rooms and activities, Peanut stayed involved but still stayed right by my side! We solved challenges requiring us to use our brains, our sense of hearing, as well as our sense of touch. And guess what, we managed to make our way out!
At the end, both of the girls bought a souvenir…it was a chart with their name spelled out in hieroglyphics.  They were excited about it and spent the next little bit figuring out how the letters were coded. No photography is allowed inside, so I had to snap lots of pictures outside to add to our vacation memory book. For this mom, it was a satisfying outing together with educational, fun, and a great lesson in teamwork!