Winter Hiking in the Smoky Mountains
It is easy to see why millions of sightseers, hikers, and campers alike flock to the Smoky Mountains during the summer and fall months each year. But what about during the colder winter months? Great Smoky Mountains National Park is open year-round, and each season boasts its own unique set of experiences. Winter offers many opportunities to get out and enjoy the beauty and splendor of nature, and a winter hike in the Smoky Mountains is one of the best ways to experience it. Just make sure to pack warm clothes, winter hiking boots, and always check the conditions of the park and roads to be fully prepared before your visit!
Things to See on Your Winter Hiking Adventure
Winter is the perfect time to find a little bit of peace within nature here in the Smoky Mountains. Incredible mountain top views, frozen waterfalls and roaming wildlife are just a few of the things you'll see on your winter hiking adventure in the Smokies.
Take in the incredible winter views of the Smokies
The stunning colors of the fall season have vanished, but what comes next is just as amazing. Once all the leaves have fallen from the trees, views of the mountaintops are suddenly extended for miles. Snowcapped mountain peaks make for even more breathtaking views you won't find in the Smoky Mountains any other time of year.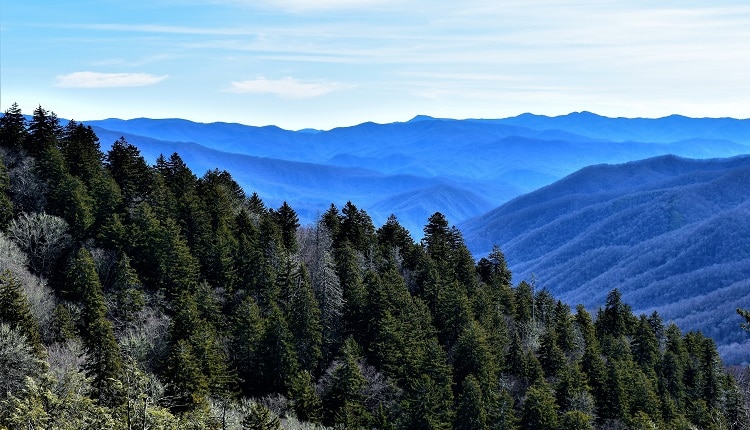 There's a chance you may see snow
Lower elevations in Great Smoky Mountains National Park typically see several snowfalls each winter, while higher elevations tend to get snow more frequently. If you have never seen snow in the Smokies, you are missing out on a magnificent sight.
Your best chances for seeing snow are during the months of January and February. Snow covered mountain tops, frozen waterfalls and hanging icicles offer ample opportunities to capture some amazing winter photos.
Watch for signs of animals and even spot wildlife
You also have an opportunity to spot wildlife during the winter in the Smoky Mountains. Keep your eye out for animal prints if there is snow as you venture down the trails. Just remember to maintain a safe distance from the animals. Check out some of our wildlife safety tips before you head out.
Tips for Winter Hiking in the Smoky Mountains
Hiking is a popular activity in Great Smoky Mountains National Park, and the winter season is no different. Roads and trails that are typically filled with visitors during the summer months are quieter and those willing to brave the cooler weather will enjoy a more tranquil experience on the hiking trails. Before hitting the trails, here are a few things to keep in mind when hiking in the Smoky Mountains during winter.
Be prepared for winter weather conditions
If you are planning a winter hike in the Smoky Mountains, remember that weather conditions can change quickly, so being prepared is of utmost importance.
Although many winter days see temperatures of 50 degrees or higher, the lows tend to range at or below freezing. It is important to check the conditions of the park and its roads any time you are planning a visit during the winter months.
Temperatures will vary at different elevations and hypothermia can set in quickly, so hikers are encouraged to wear layers of non-cotton material to help prevent heat loss. Bringing a thermos filled with hot cocoa or coffee along with you is another great way to help keep you warm during your adventure.  
While some of the park's trails may remain snow free throughout most of the season, others may be icy or completely buried in snowdrifts. It's a good idea to bring along a trekking pole, and for those planning on hitting the trails located in higher elevations, make sure to pack crampons for boots to make getting through the icy conditions a little easier.
Check road conditions before setting out
There are a few seasonal road closures that take place in the Smoky Mountains. The following roads are closed to motor vehicles from late November to April: Clingmans Dome Road, Little Greenbrier Road, Parsons Branch Road and Roaring Fork Mountain.
If weather conditions remain favorable, US-441 (Newfound Gap Road), Little River Road, and Cades Cove Loop Road remain open throughout the winter months. Because Newfound Gap typically sees several feet of snow each year, temporary road closures are frequently put in place, so checking road conditions prior to setting out is a must.
For the latest information and road status updates, follow SmokiesRoadsNPS on Twitter or call (865) 436-1200. Once you hear a voice, press 1, then press 1 for road information or 2 for a weather forecast.
6 Best Winter Hiking Trails in the Smoky Mountains
The winter months are one of the best times of year to enjoy the more popular Smoky Mountain hiking trails if you are looking for less congestion and more opportunities for sightseeing. For those willing to bundle up and bear the winter cold, here are six of the best winter hiking trails in the Smoky Mountains.
Laurel Falls
Laurel Falls is one of the most popular hiking trails in the Great Smoky Mountains National Park during the summer and fall months. With its paved trail and spectacular waterfall, which often accumulates ice formations during the snowy winter months, Laurel Falls is also one of the top winter hiking trails in the Smokies.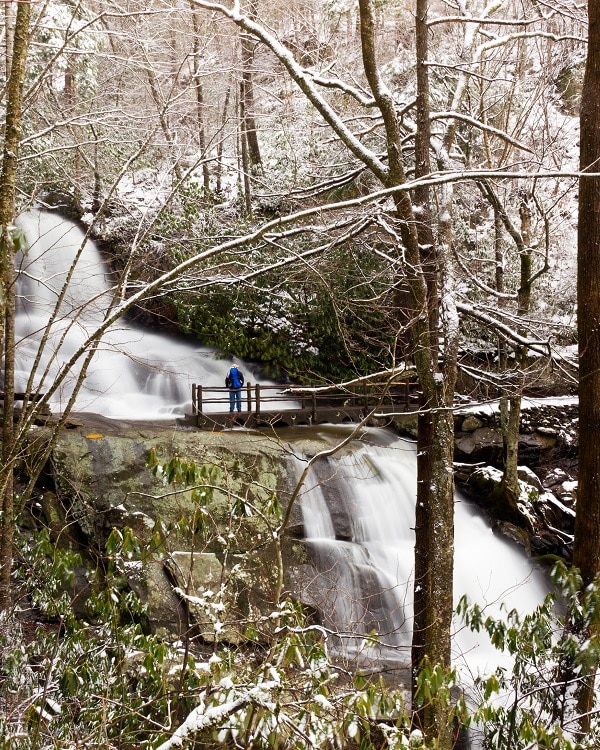 Grapeyard Ridge Trail in Greenbrier
With less foliage to camouflage old home sites and farmsteads, winter is a great time to take historical hikes. Prior to the creation of the national park in 1934 hundreds of families lived in the Smokies and many remnants of their legacies are still standing today. Old engine wrecks can be found from a time when railroads were one of the primary methods of transportation through the mountains. The Grapeyard Ridge trail in Greenbrier is an excellent place to see one of these wrecks as the old engine, which turned over in the creek, is still largely intact.
Alum Cave Trail
Another option that tops the list of best winter hiking trails is Alum Cave Trail. Alum Cave is a concaved bluff that towers nearly 80 feet above the trail. During the winter months, droplets coming off the ledges above the bluff form into large icicles.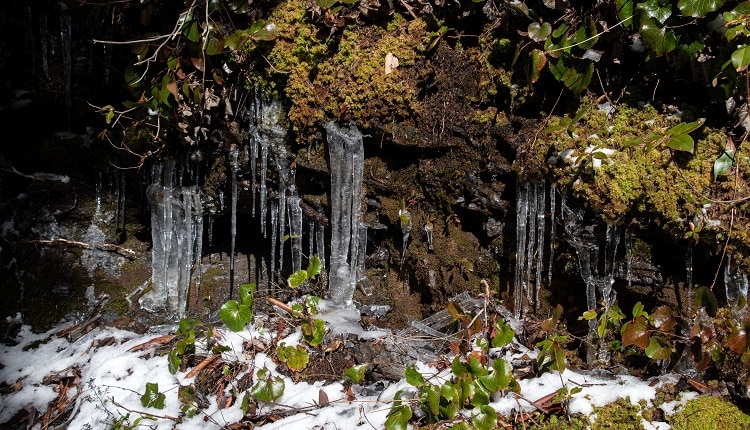 Schoolhouse Gap Trail
Schoolhouse Gap is another family friendly winter hiking trail that is located near Cades Cove. The trail is relatively short and is one of the trails where hikers are most likely to spot wildlife. Cades Cove is also home to many cabins and historic sites, many of which have been restored to how they looked over 150 years ago.
Porters Creek Trail
Porters Creek is one of the easiest winter hiking trails in Great Smoky Mountains National Park, making it a popular option for families with children. Situated in lower elevations, this trail is easily accessible by car, with gentle climbs that lead to spectacular views of Fern Branch Falls.
Rainbow Falls
Another amazing winter waterfall hike is the trail to Rainbow Falls. The 80-foot waterfall is an impressive sight to behold any time of year with its cascading waters and rainbows. During the winter months, when there are several cold days in a row, ice formations will build around the falls, making it an even more amazing winter hike.
Where to Stay for Your Winter Hiking Adventure
Make your fun winter hiking adventure even more memorable when you book your stay in one of our cozy Smoky Mountain cabins or chalets. Wake up each morning and have your coffee out on the deck while taking in the incredible mountain views. After a full day spent exploring your favorite winter hiking trails, spend your evenings cuddled up next to the fireplace sipping on hot chocolate, or relaxing in your own private hot tub. Our Smoky Mountain cabins offer all the comforts of home, so you can enjoy the perfect winter retreat!
Depending on weather conditions, you may want to park toward the bottom of the driveway instead of hauling up. After a storm, snow and ice on your driveway can make driving quite unsafe, so make sure to plan accordingly.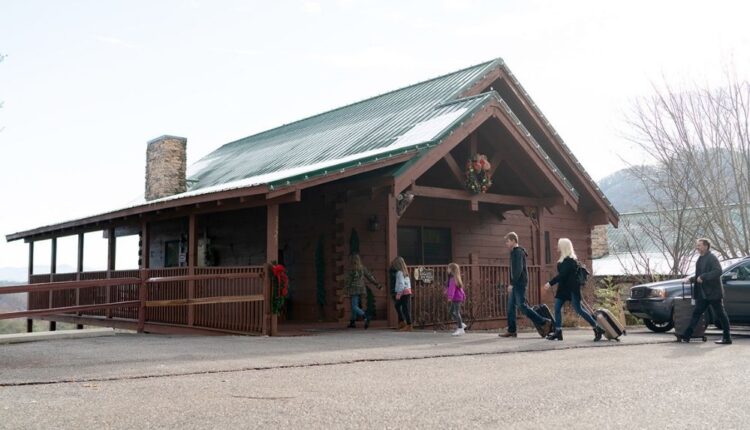 Now that the hustle and bustle of the holiday season is over, it is time to relax and have a little fun. And if the thought of seeing snow and donning your favorite stocking hat and mittens gets you excited, then a fun winter getaway to the Smoky Mountains should be at the top of your to-do list. So, don't wait…pack your bags, grab the kids, and make your way to the Great Smoky Mountains for a fun winter hiking adventure!
You May Also Like
Top 10 Things to Do this Winter in Pigeon Forge
Winter Activities the Kids Will Love in Pigeon Forge