Winter Hiking | Pigeon Forge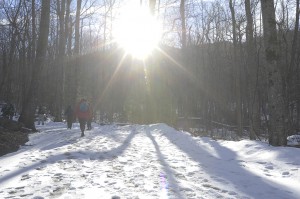 Great Smoky Mountains National Park sees millions of visitors during the summer and fall months, but trust us when we tell you that the winter months in the mountains have their own benefits.
Snow!
If you've never seen snow in the Smokies, you are missing out on some beautiful scenery. The Smoky Mountains have already seen a couple of blankets this season. Winter snowfalls, frozen waterfalls, and hanging icicles make for some amazing photography opportunities. You may also spot some critters' prints in the snow.
Views for miles
It is amazing what can be seen when all of the leaves have fallen. The mountaintop views are suddenly extended for miles, and you'll find viewing opportunities that are not there during the rest of the year.
Smaller crowds, more hiking
Those willing to brave cooler weather will enjoy more solidarity on the hiking trails. Winter is the perfect time to find a little bit of peace within nature here in the Smokies. However, if you are looking for some company to make the trek with, you may want to check out the Southeastern Foot Trails Coalition 2016 Conference. They will be in Pigeon Forge to do some select group hikes on January 28, 29 & 31. Sign up by going to their website:   http://southeasternfoottrails.org/.