Best Places to Have a Birthday Party in Pigeon Forge
Tired of doing the same old thing for your kids' birthday each year? Want something new and exciting that will keep the kids talking about it for months to come? Then look no further! Discover some of the best places to have a birthday party in Pigeon Forge and make this year's birthday celebration extra special!
MagiQuest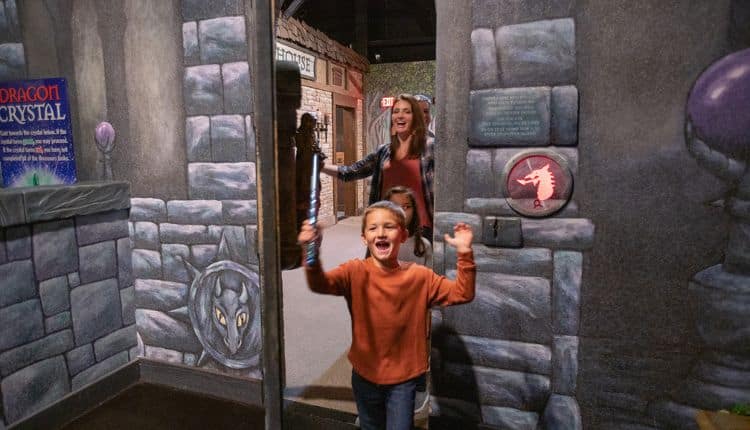 For an incredibly unique experience, celebrate your kid's birthday at a castle. MagiQuest is an interactive treasure hunt game where kids complete quests and unlock adventures to become a Master Magi. MagiQuest also features a black-light, 18-hole miniature golf course through a pirate village, a mirror maze and arcade filled with the latest arcade games and great redemptions.
Choose from two different package options. The Master Magi in Training Party includes a 90-minute game of MagiQuest. The Ultimate Castle Adventure Party includes a 60-minute game of MagiQuest, Odyssey Mirror Maze admission, pirate mini-golf and arcade credits. Both packages include a 1 hour party room rental, 15% off on concessions and merchandise and can host 12 kids (each adult is free for 1 paid child if not participating). They also have a discount pizza offer with Papa John's available for each party package…just request it!
Pigeon Forge Snow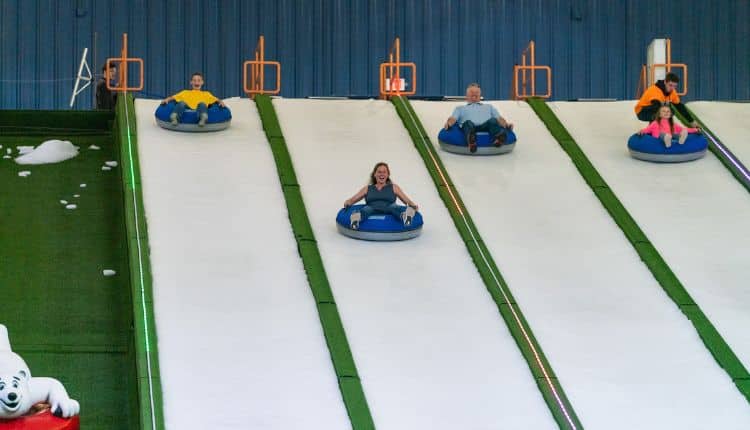 Pigeon Forge Snow is the hands-down 'coolest' place to have a birthday party in Pigeon Forge. Hit the slopes year-round for some one-of-a-kind snow tubing action. Kids of all ages will love racing down the snowy slopes over and over again. There's even a SnowPlay area that's perfect for keeping the younger children busy. The Snow Birthday Party Package includes 12 wristbands, 1 hour in the party area and 1 hour of tubing + 30 minutes snow play area time.
Downtown Flavortown
Guy Fieri's Downtown Flavortown combines Fierri's iconic menu items with a massive arcade and 14 lanes of duckpin bowling. The 300-seat restaurant is your go-to stop for Fierri faves like cheese fries, trash can nachos and more. The sprawling space also includes a full-service tiki bar which serves margaritas and other classic cocktails. Downtown Flavortown offers two Big Birthday packages with options that include pizza slices and drinks, an arcade card for each guest, a 10,000-point super ring for the birthday kid, bowling and dessert, along with room rental.
WonderWorks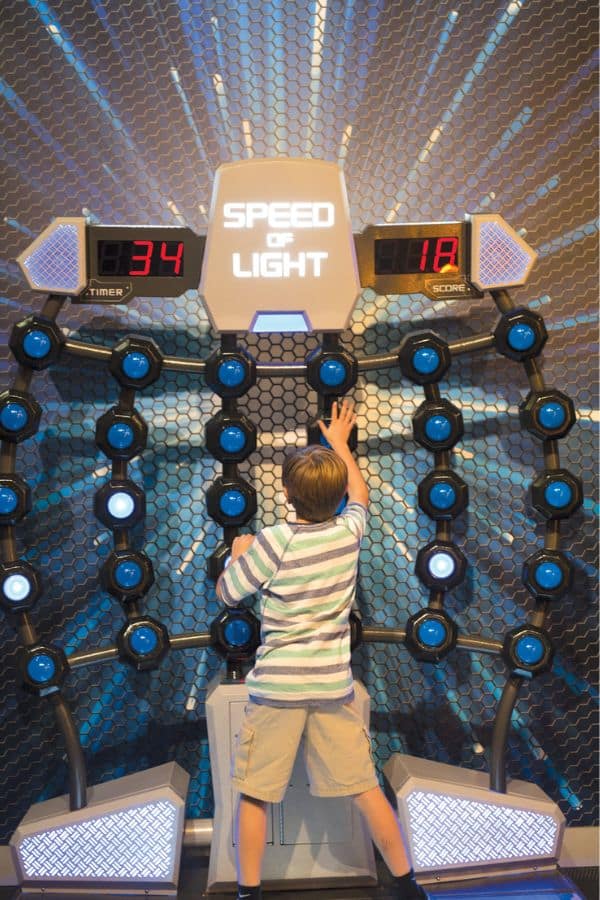 WonderWorks, the upside-down house located on the Parkway in Pigeon Forge, will get a thumbs up from kids and adults alike! Choose from three birthday party packages: the Hurricane Party includes admission to the museum, pizza/drinks and arcade tokens; the Laser Mania party includes admission to the museum, pizza/drinks, a game of laser tag, and arcade tokens; and the Big Shot Party is for kids 12 and older and includes admission to the museum, pizza/drinks, a game of laser tag and arcade tokens.
Crave Golf Club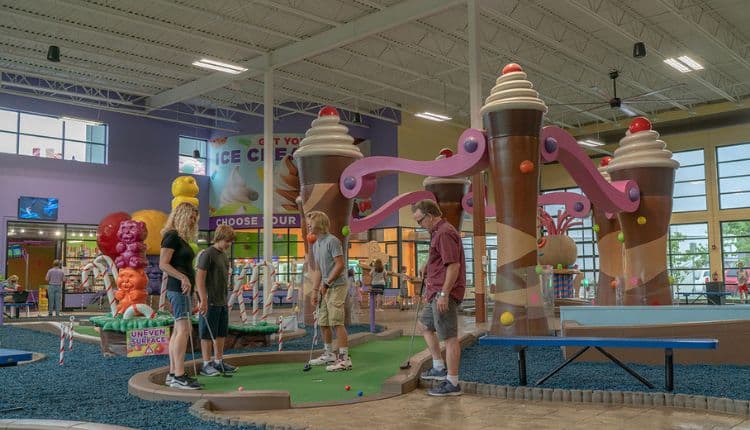 Known as a candy-coated wonderland, Crave Golf Club is one of the sweetest places to have a birthday party in Pigeon Forge. Choose from two fun party packages: the Hole in One party which offers three hours of fun on the two golf courses, along with bowling tokens, pizza/drinks and soft serve for you and your guests or the Birdie party which offers 1 hour of fun with access to one golf course and pizza/drinks. The sweet fun is limitless!
Big Daddy's Pizzeria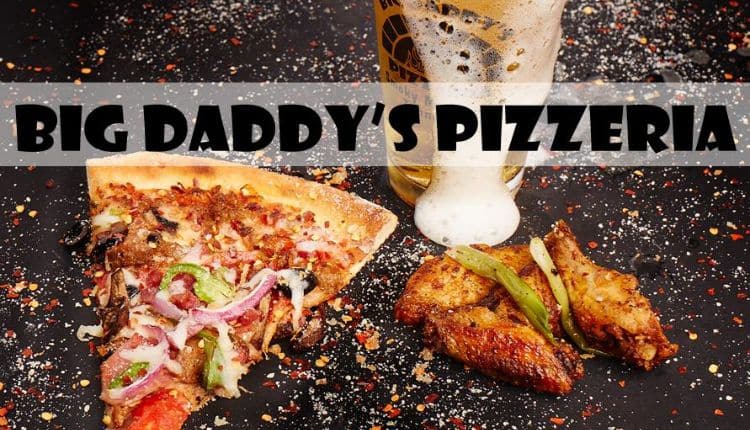 Located on the Pigeon Forge Parkway, Big Daddy's Pizzeria is a sure kid-pleaser with their world-class wood-fired pizza pies. Treat the group to Big Daddy's Neapolitan-style pies, made with handcrafted dough, homemade sauces and your pick of fresh toppings, baked to perfection over a wood fire. There's also plenty of other great food options like wood-fired sandwiches, salads and Neapolitan-inspired desserts. While waiting for the pizza to arrive, the kids will have a blast in the arcade room, which is available as a party rental space and features everything from classic arcade games to cutting-edge video games.
TopJump Trampoline and Extreme Arena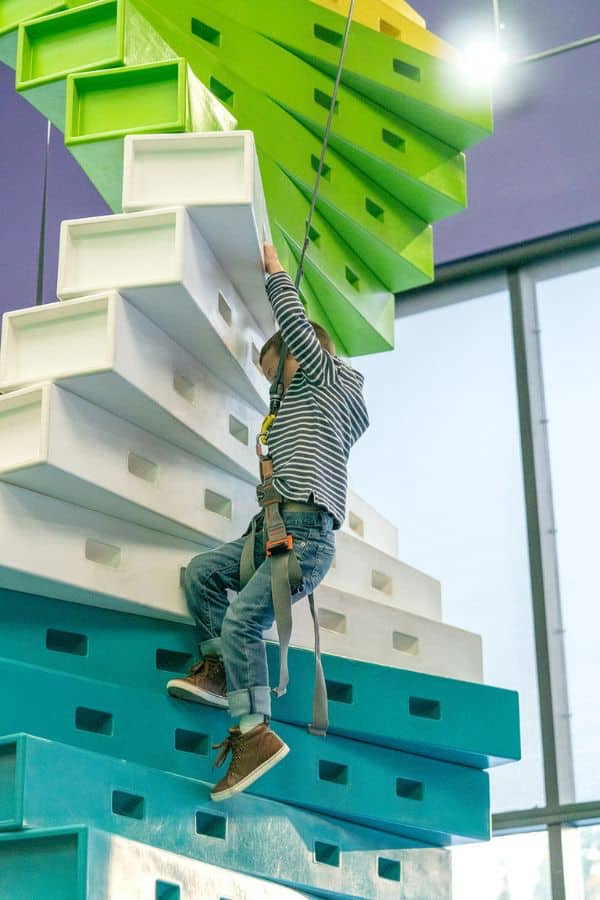 TopJump Trampoline and Extreme Arena offers a bouncing good time for all ages. Choose from a variety of birthday party packages. The Extreme Party package includes two hours of trampoline, ninja course, and climbing fun, along with pizza, drinks and TopJump socks. The Basic Party package includes the same as the Extreme Party but with 1 hour of trampoline, ninja course, and climbing fun. The Gaming Party package includes a 1-hour play card for the Hologate Virtual Reality game and a $10 arcade card as well as pizza and drinks. With parties like these, guests are sure to have a great time!
The Track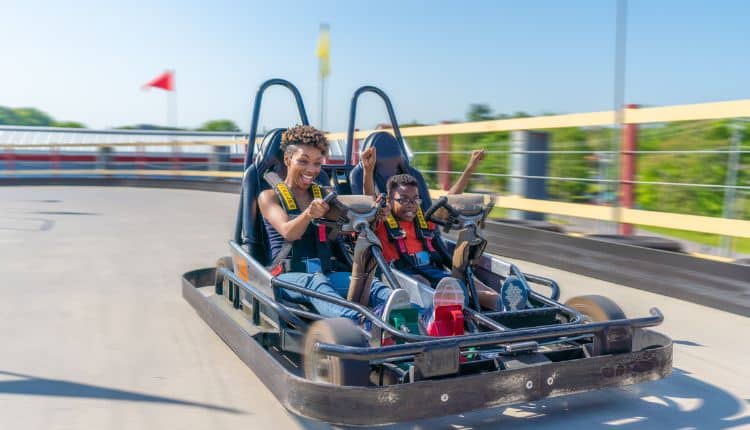 Go kart rides, blaster boats, an arcade, kiddie rides and more make The Track a good stop for birthday fun. The party room is available to rent for only $50. Just bring your own food, drinks and party supplies and buy a points card for each guest to use for rides and games. For groups of 20 or more, take advantage of The Track's 500-point cards which can be divided equally among guests. Younger kids will enjoy Kids Country where they will find age-appropriate rides and more.
Wear Farm City Park
Wears Farm City Park is a great location for an outdoor birthday party in Pigeon Forge, TN. The park offers two covered pavilions, two playgrounds, ball courts and walking trails. Bring your own outdoor games to set up in the open areas. Guests will enjoy the beautiful outdoors and have a great time celebrating as well. Call the Pigeon Forge Community Center at 865-429-7373 to reserve the pavilion ahead of time.
With so many great places to have a birthday party in Pigeon Forge, it may be hard to choose. Explore even more exciting attractions and scrumptious restaurants throughout town on your next visit.
You May Also Like:
Best Places to Play Mini-Golf in Pigeon Forge
10 Pigeon Forge Attractions in 3 Days!
Pigeon Forge Museums Perfect for Kids of All Ages