10 Pigeon Forge Attractions in 3 Days!
Almost every trip to Pigeon Forge consists of checking out the various attractions. With so many to choose from visitors often have a hard time planning their daily activities during their stay. That's why we've decided to help guests with our "10 Attractions in 3 Days" plan!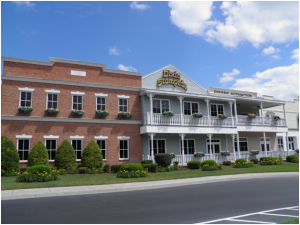 To start it off, no trip to Pigeon Forge is ever complete without visiting Dollywood. The world famous theme park has been a staple of fun in the Smokies for millions of past visitors and is open ten months out of the year. Roller coasters, rides, crafts, and entertainment abound at Dollywood providing enough selection and variety for everyone to have a fun-filled time. After an action-packed day at Dollywood the whole family will have certainly worked up an appetite. That means a trip to Dolly Parton's Stampede is in order.
Dolly Parton's Stampede is often considered one of the most unique, and most enjoyable, dining experiences many people ever have. At this dinner show, guests get to eat heapin' helpin's of the finest quality Southern food all while enjoying entertainment from some of the most talented people in the world. Horses, pigs, and even ostriches race in a series of thrilling and sometimes hilarious competitions, some which require audience participation. A day of Dollywood and Dolly Parton's Stampede…it's hard to find a better combination.
So your first day is in the books and you're probably a little worn out. A perfect way to relax and rest up in preparation for the rest of the trip is by taking a drive into Great Smoky Mountains National Park. The park offers the most beautiful scenery on the planet but its best perk is probably the fact that it's completely free. There's no charge of entry so visitors can drive or hike anywhere they please. We recommend Cades Cove for the views of mountains and wildlife. If you're lucky you'll get to see a bear before you return back to Pigeon Forge for the evening.
For your night-cap of day two you return to Pigeon Forge to see a sight stranger than any you saw in the mountains…the enormous ape climbing a tower at the Hollywood Wax Museum! This two-story museum contains some of the most famous characters in show business. From Elvis to John Wayne they're all made of wax but it might take a while before you realize it because they look so real.
After your wax museum excursion night time has arrived and the lights of Pigeon Forge turn on. This means it's time for our next two attractions which have become synonymous with Pigeon Forge: go-karts and mini golf. There are seemingly endless places to choose from that offer both of these. Whether it's Walden's Landing Firehouse Golf, Professor Hacker's Lost Treasure Golf, The Track, or anywhere else your family is sure to enjoy the competition and create memories.
After that we recommend getting a good night's sleep because Day 3 is going to be the last opportunity to enjoy Pigeon Forge and there's still so much left to do!
The morning of the last full day starts off in the crazy world of WonderWorks. The giant upside down building in the middle of Pigeon Forge called WonderWorks is described as an amusement park for the mind. The activities inside are too numerous and unique to detail completely but some include: lying harmlessly on a bed of 3,500 nails, exploring outer space, distorting your reality with optical illusion, experiencing an earthquake, creating bubbles in the bubble lab, and testing your physicality in the Challenge Zone. Seriously, WonderWorks is a crazy-fun place and kids absolutely love it.
If you can ever get your family to leave WonderWorks the next attraction on the list is just across the street. The Titanic Museum Attraction is the largest of its kind in the world and visitors will learn more than they could imagine once they climb aboard the giant ship-turned-museum. Inside, the museum offers a view of the Grand Staircase, hundreds of artifacts, real-life crew experiences and stories, the opportunity to feel 28 degree water, and a real ice berg. Walking aboard the Titanic is another experience that everyone will remember when they go back home.
Our final event for day 3 will require some decision making. It's hard to take a trip to Pigeon Forge without visiting at least one of the many shows at the various theaters in town. Shows like Lumberjack Feud, Hatfield & McCoy, The Comedy Barn, and Country Tonite Theatre are all excellent choices as they offer entertainment for all ages. Most of them offer dinner too! So if you enjoyed Dolly Parton's Stampede on the first night you're sure to have fun at one of these other popular venues.
Lastly, rather than plan another attraction for you and your family to visit we'll instead take a look at some of the best places to eat around the city. Going out to eat is an essential part of any vacation and you'll be hard pressed to find any place in the world with better restaurants than Pigeon Forge. There are hundreds of chain restaurants to choose from in the area in addition to some more unique dining places.
Mama's Farmhouse provides an authentic Smoky Mountain family-style meal and also serves breakfast. The Old Mill Restaurant in Old Mill Square is another incredibly unique place to go and get a traditional meal. Pigeon Forge is often considered the Pancake Capital of the South and that moniker comes from having over 50 kinds of pancakes offered from the numerous different pancake houses in the city… We know our three-day plan is going to keep you busy but don't forget to eat!
Keep in mind this plan and these 10 (or more) attractions are just recommendations for those wanting to visit Pigeon Forge. The truth is there are so many great places to stay, play, and eat that it's basically impossible to do everything the area has to offer in one trip. That's why visitors keep coming back to visit time and time again!