Best Places to Shop for Pigeon Forge Souvenirs
Looking for the perfect souvenirs in Pigeon Forge to remember all the fun you had during your Smoky Mountain vacation? Pigeon Forge is filled with lots of great attractions, shows and adventures that have been bringing families together for years. There's no better way to remember your time in this charming Smoky Mountain town than with something fun to take home with you.
From local crafts and home décor to charming collectibles, homemade treats and more, you'll find it all across the gift shops in Pigeon Forge. Everyone in the family is sure to find a special keepsake to take home. You can even get in your Christmas shopping with a variety of gifts to take home for loved ones. Here are just a few of the great places to shop for souvenirs in Pigeon Forge during your next visit.
On and Off the Parkway
As you make your way along the Parkway in Pigeon Forge checking out all the fun family attractions and shows, you'll also find plenty of spots to stop and shop for local souvenirs.
Lanier General Store
A great gift shop in Pigeon Forge is JK Lanier's General Store. Here you'll find just about everything you need, from something you forgot to pack for vacation to a wide assortment of souvenirs and gift items.
If you're planning a fishing trip in Great Smoky Mountains National Park, grab all of the supplies you'll need in the hiking and fishing room. Then spend some time browsing the locally made crafts, toys, jams, honey and other gourmet items, in addition to unique keepsakes and collectibles. There's even an outdoor petting zoo where the kids can feed the goats while you relax in a rocking chair on the porch!
Incredible Christmas Place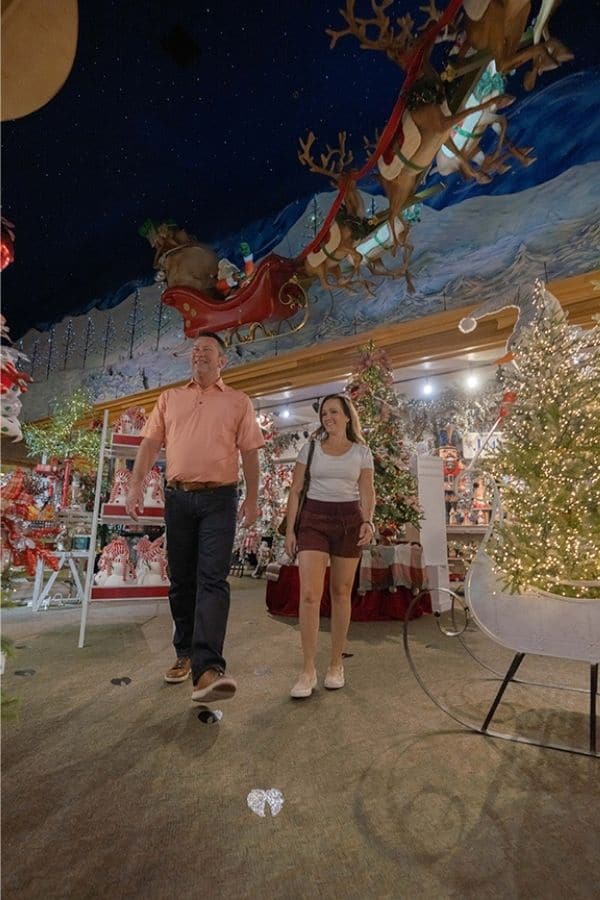 If Christmas is your favorite time of year, you're sure to love a visit to The Incredible Christmas Place. Celebrate Christmas year-round at the South's largest Christmas shopping village featuring beautiful, designer-themed Christmas trees on display and all your favorite holiday brands. From artificial Christmas trees and lights to Christmas ornaments, nativities and more, you'll find everything you need for Christmas decorating and entertaining during the holidays.
One of their most popular souvenirs is a personalized Christmas ornament that will remind you of all the fun times the family had together during your vacation. They also make for great gifts to take home to loved ones. Make a stop at Mrs. Claus' Candy Kitchen for hand-made candies and fudge. Then head for Santa's Haus to get the kids' pictures taken with Santa Claus. You're in for a truly incredible experience at The Incredible Christmas Place!
Three Bears General Store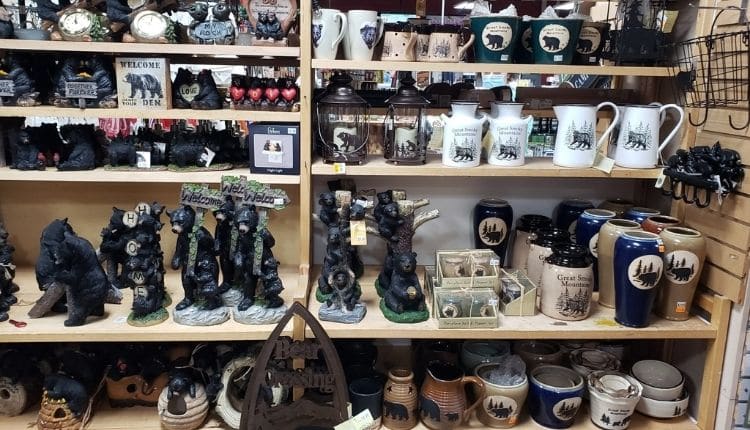 The Three Bears General Store in Pigeon Forge has been a popular spot for souvenir shopping for over forty years. From clothing and jewelry to homemade goodies and décor, you'll find just about every type of souvenir and gift item imaginable.
Souvenir shopping is just one of the fun activities you'll find at Three Bears General Store. The kids are sure to love the Make-UR-Bear Factory with plenty of great outfits and accessories to choose from, a family-sized arcade packed full of games and an Old Time Photo Studio featuring a variety of unique scenes to choose from. There's also a live bear habitat that includes a pond and waterfall. Purchase a cup of bear food and let the kids feed the bears!
Other popular souvenir shops you'll find on and off the Parkway are the Pigeon Forge Traders Gift Shop and Country Barn Gift Shop.
The Old Mill Square
For Pigeon Forge gifts and memorabilia, The Old Mill Square is a hands-down favorite spot for locals and visitors alike. The shopping district is built around the historic Old Mill, one of the oldest, and continually operating grist mills in the country. You'll find an array of amazing shops to explore within The Old Mill Square.
The Old Mill General Store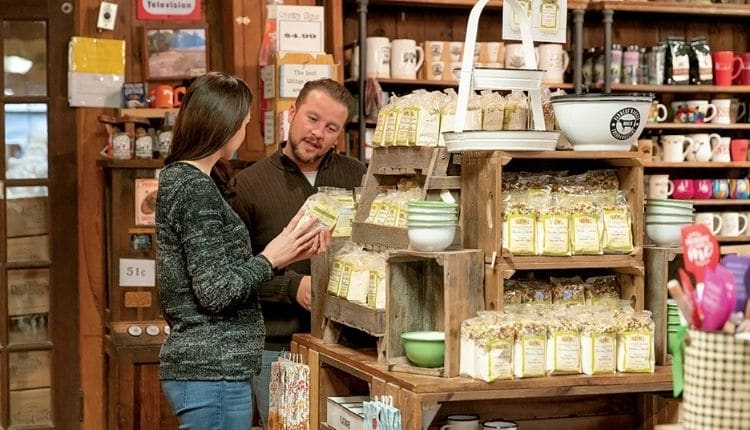 The Old Mill General Store has been a favorite shopping destination for years. The store shares space with the Old Mill, where you can watch millers grind grains into meal. Then head into the General Store, where the fresh-ground grains are used in grits and cornmeal, various flours and their famous pancake mixes.
You'll also find homemade jams, jellies and other popular goods from the Old Mill Signature line of products, in addition to fantastic crafts and Smoky Mountain memorabilia.
Pigeon River Pottery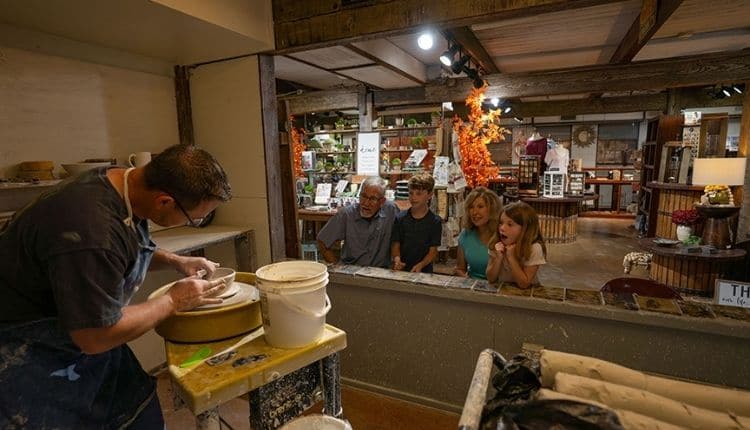 For one-of-a-kind, hand-crafted pottery, make a stop at Pigeon River Pottery. You can watch artisans at work, forming and firing unique pottery items such as plates, bowls and other serving pieces, original sculptures and more. The Pottery's Mighty Bear series, which showcases the American Black Bear, is one of their most popular collections of original sculptures.
Iron Mountain Metal Craft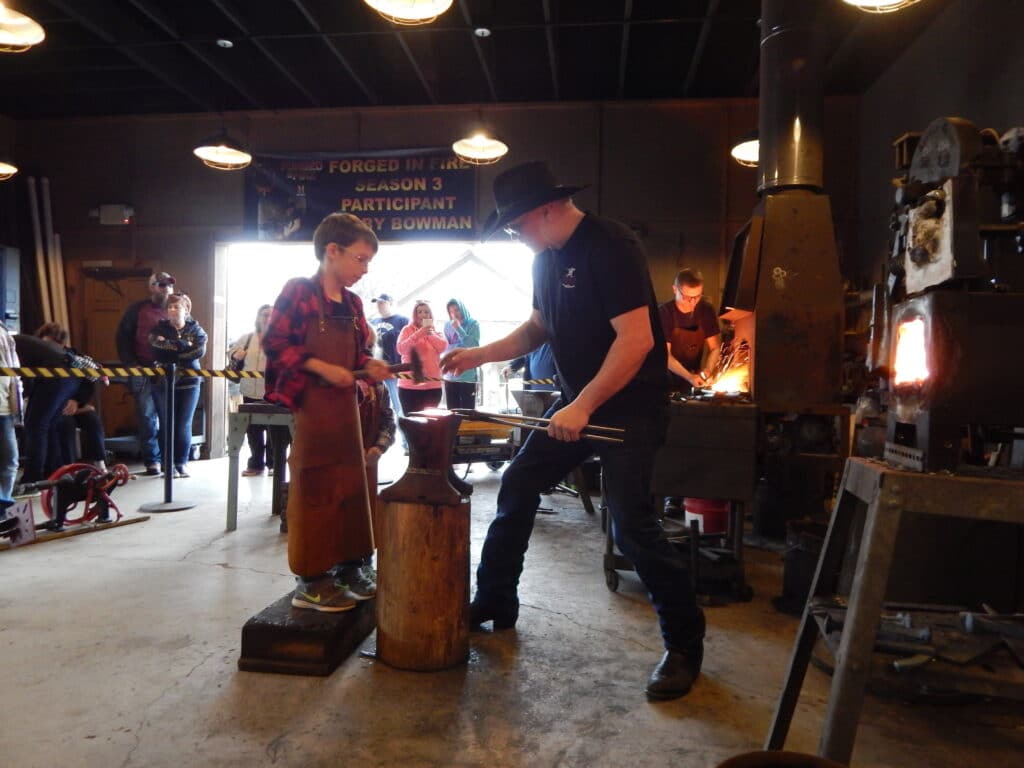 At Iron Mountain Metal Craft, you'll find the knowledge, art, and skills of working metal at work with live blacksmithing & blade-smithing demonstrations. The goal is to give the visitors of Pigeon Forge something they could do and take home a new skill that could last a lifetime. You can get a lesson, learn more about blacksmithing, then take your finished product home with you as one of your most prized souvenirs!
The Old Mill Square is also home to other great shops including The Old Mill Farmhouse Kitchen and Old Mill Candy Kitchen.
The Island in Pigeon Forge
Another favorite shopping destination is The Island in Pigeon Forge. The Island is home to the Great Smoky Mountain Wheel and an amazing assortment of shopping, dining and entertainment options. With more than 40 unique retail shops and local boutiques, you're sure to find the perfect souvenir to take home.
Island Trading Post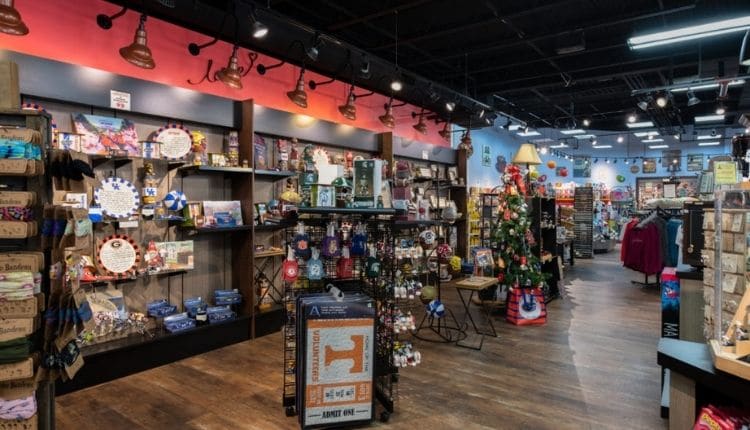 The Island Trading Post boasts a wide assortment of one-of-a-kind gifts and souvenirs. From inspirational t-shirts and home décor to candy, toys, sauces and more, there's something for every member of the family here!
Paula Deen Retail Store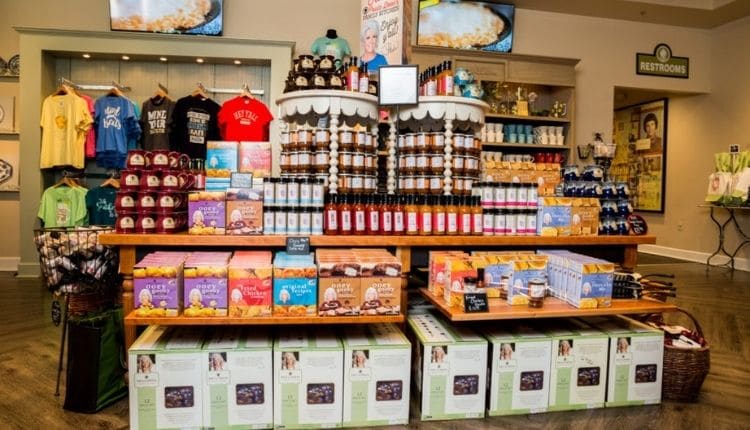 Another great shop at The Island is the Paula Deen Retail Store. Here you'll find lots of great items from the Paula Deen line, such as linens, spices, sauces, mixes and more. Check out Paula's cookware, cookbooks and other helpful kitchen gadgets and goodies.
Other stores where you can find souvenirs to take home at The Island are the Island Tiki General Store, Patriot Peddler and The Sneaky Squirrel.
Mountain Mile & Tower Shops
The Mountain Mile & Tower Shops offers one of the most unique shopping, dining and entertainment experiences you'll find in Pigeon Forge. Families are sure to enjoy this welcome respite with its majestic view of the mountains!
Mountain Mile General Store
Find the perfect souvenir to take home with you at the Mountain Mile General Store. Browse a huge selection of farmhouse and seasonal décor, wedding gifts, t-shirts and hats, stuffed animals, Coca-Cola collectibles and so much more!
Other fantastic shops to find goodies and gifts at Mountain Mile include The Cream and Sugar Sweet Shoppe and BAAK Boutique.
Dollywood
Dollywood theme park is one of the most popular attractions in the Great Smoky Mountains. From thrilling rides and fantastic live music and shows to delicious food and local artisans crafting unique items, there's no better place to experience the Smokies than Dollywood!
Dollywood Emporium
Whether you're shopping for souvenirs or looking for the perfect gift to give a loved one, you're sure to find something special at the Dollywood Emporium. Explore a large variety of apparel, hats, accessories, gifts and souvenirs. You'll also find tasty fudge, Dollywood's specialty jams, jellies and butters, as well as a large special toy selection for the kids.
Other can't-miss souvenir and gift shops at Dollywood include the Grist Mill & Cinnamon Bread, Gazebo Gifts and Hillside General Store.
Bringing something home to remember your trip to Pigeon Forge is a must! With all the incredible gift shops and specialty stores, you won't have any trouble finding the perfect Pigeon Forge souvenirs to take home for yourself and your loved ones. Check out even more fun things to do in Pigeon Forge and start planning your trip today!
You May Also Like:
Best Family Photo Spots In Pigeon Forge
Fun Ways to Tour Pigeon Forge and the Great Smoky Mountains
The Best Spots for Holiday Shopping in Pigeon Forge