Best Spots for Holiday Shopping in Pigeon Forge
Holiday shopping is in full swing in Pigeon Forge! Whether you're looking for Christmas decor, buying gifts for friends and family or finding everything you need for a big holiday celebration, a trip to Pigeon Forge will help ease some of the stress. With so many unique local shops and specialty boutiques, you're sure to find everything you need and more in Pigeon Forge.
Check out some of the best spots for holiday shopping!
Mountain Mile
The Mountain Mile & Tower Shops offer one of the newest shopping, dining and entertainment experiences in Pigeon Forge. You'll find a huge selection of souvenirs, collectibles, seasonal décor and more at the Mountain Mile General Store.
Get the latest trends in women's fashion at affordable prices at BAAKK Boutique. Appalachian Apparel Company offers unique clothing designs that highlight the artists of Appalachia, with different makers introduced each month.
The Incredible Christmas Place
Celebrate Christmas year-round at The Incredible Christmas Place! From a wide assortment of Christmas collectibles to holiday décor galore, The Incredible Christmas Place makes holiday shopping easy. They're unique assortment of Christmas ornaments make the perfect gifts for friends and loved ones. And they can be personalized for that added touch of love. You're sure to check a few gifts off your list here!
If you take the kids along, you will find plenty of cute photo opportunities and make sure to stop in at Santa's Haus for a chance to take pictures with Santa!
Stages West
Stages West is locally owned, and the staff offers up some of the finest Southern hospitality around. From cowboy boots to custom hats to western apparel, you'll find the most up to date trends for the whole family.
Get your friends and family looking their best, and they'll have you to thank for it. Don't forget to find yourself a new outfit for all those fun holiday parties while you are there!
The Island in Pigeon Forge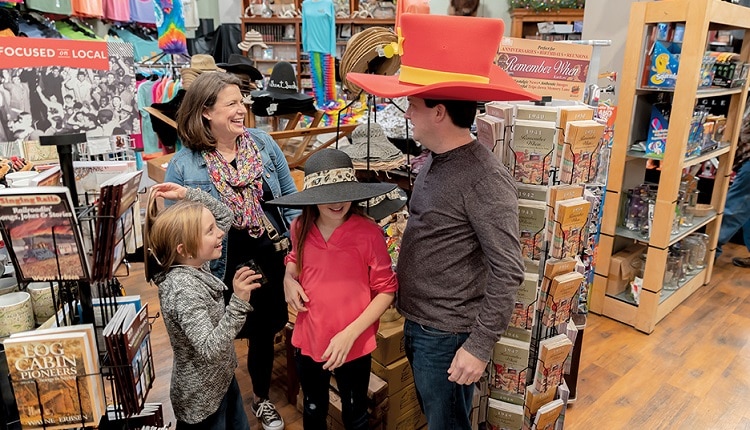 The Island in Pigeon Forge is booming with over 40 shops filled with all things fun! The Toy Chest is a must-stop to find the perfect toy. From the classic toys you grew up with to the most innovative new ones, this shop carries toys you won't find anywhere else!
Puzzled is a store filled with over 10,000 unique puzzles and games. With this many options, you are sure to find the perfect one for the puzzle fanatic on your list.
A stop at Emery's 5&10 is a must for anyone looking for nostalgic or hard-to-find gifts. You will be surprised at what you can find there!
Lumberjack Square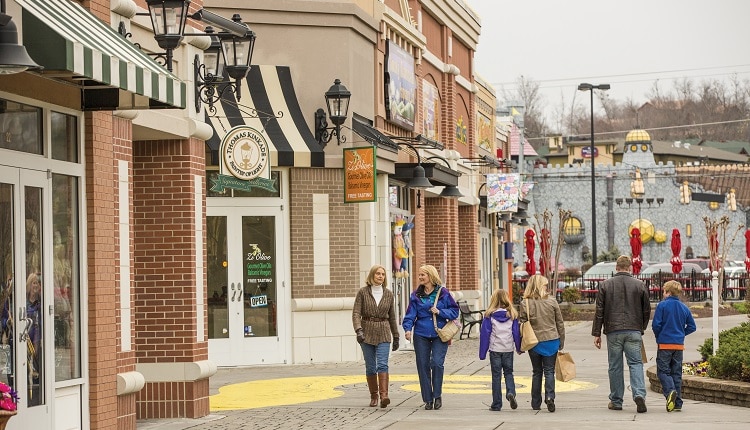 Lumberjack Square is an entertainment and shopping complex in Pigeon Forge where you're sure to find a little bit of everything! Stop by Outback Leather for all your leather and jewelry needs. You'll find brands such as Brighton and Pandora, along with some unique leather gifts.
If you are looking for the perfect piece of artwork, Gallery of Light carries beautiful pieces by Mark Keathley, Abraham Hunter, Rod Chase, and Jess Wathen, as well as other local and national artists. Browse a wide variety of art including pieces depicting the Great Smoky Mountains that come to life.
Old Mill Square
Not only is Old Mill Square a fun place to walk around, but it's also a great spot to find the perfect gifts to remind you of Pigeon Forge. Pigeon River Pottery offers many one-of-a-kind and original pottery pieces, as well as the dishes your food is served on at the Old Mill Restaurant and Pottery House Cafe' and Grille.  If you are lucky, you may be able to see the potters in person crafting these beautiful pieces.
Fill up a gift basket with the same soups, jellies and mixes that are served at the restaurants. Old Mill Farmhouse Kitchen can help you with that. And don't forget about those candy lovers! The Old Mill Candy Kitchen makes homemade taffy as well as fudge and so much more right in the store. Who wouldn't love some of this deliciousness?
Don't let that holiday checklist stress you out, plan your visit to Pigeon Forge and take care of all your holiday shopping needs! Check out even more great places to shop in Pigeon Forge.
We love seeing Pigeon Forge through your lens. Make sure to connect with us on Facebook, Twitter & Instagram. Don't forget to tag your photos with #mypigeonforge for the chance to be featured on our website.
You May Also Like
Best Restaurants for Southern Comfort Foods in Pigeon Forge
Best Places to Shop for Pigeon Forge Souvenirs
Things to Do During the Holidays in Pigeon Forge