Pigeon Forge TN Food Tour
On your next trip to Pigeon Forge, make sure to pack your appetite! This city is not lacking in the "good food" department. With so many great options, you can try a different place for each meal as well as each day you are visiting. Although, I must admit we usually only get 2 meals in a day because we are still full from the previous meal. It is kind of like a game for us to see how many new menu items we can try on our trips but yet still get to eat our favorites.
Here are some of my family's favorites:
For Breakfast: 
Log Cabin Pancake House– This hidden gem has been around since 1973. It is located at the end of the Parkway, just as you are leaving town to head towards the Great Smoky Mountains National Park. They offer great service and good food. One of our favorites here is the Pancakes Royale.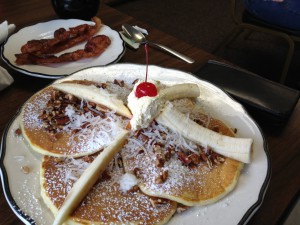 Mama's Farmhouse– If your tummy is really empty and you are looking for a meal that will last you for quite a while, then head here. There family style breakfast is sure to fill you up. Our little divas love the variety of food that comes to the table. For those traveling with kids 5 and under, they eat for free!
Old Mill Restaurant– This place has a rustic log cabin feel to it and actually has a working gristmill next door. It is the perfect place for good Southern comfort food. I love their grits and fluffy biscuits.
Red Rooster Pancake House– We are pancake lovers in our household. Their chocolate chip pancakes get two thumbs up from us!
Sawyer's Farmhouse Breakfast– This place is newer to Pigeon Forge and is named after Mark Twain's novel. We are excited to try it on our next visit. It is getting good reviews and their bananas foster french toast looks amazing!
For Lunch:
Pottery House Cafe and Grille– You can't go wrong here!! Their fresh baked breads, quiches, and soups are a great lunch choice. Although, I must say that every menu item we have tried is 5 star. We like the beautiful pottery dishes that they serve their food on which are handmade next door at the Pigeon River Pottery.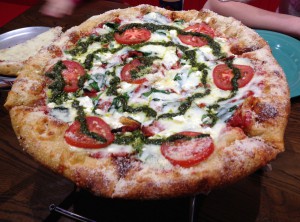 Mellow Mushroom Pizza– The little divas love this place. You can't go wrong with pizza anytime of the day for us. Their unique crust and pizza options are a hit. We love the Kosmic Karma pizza and Greek salad.
Bennett's Pit Bar-B-Que– They offer some great pulled pork, a nice salad bar, and their fried pickle chips are yummy too. This is usually a stop on each of our visits because Tennessee BBQ is like no other!!
Mel's Diner– This is a 50's style diner with a fun family atmosphere. It is the perfect place to go for classic American food. Burgers and banana splits is a good lunch for us!!
Hard Rock Cafe– You can't miss this fun place as you are coming into town on the Parkway from Sevierville. It is a rock & roll good time with all of their great music memorabilia and great American food menu.
For Dinner:
Alamo Steakhouse– They are locally owned and operated. This is a great place for a nice evening out. It offers a nice atmosphere and big portions of food. There is a full kids menu and kids get a set of wikki sticks to entertain them while they wait for their meal instead of the usual crayons and coloring sheet. Their steaks are mouthwatering!
Calhoun's– This place has a cool mountain lodge atmosphere with a neat fireplace inside. Their specialty is their award-winning ribs. Although their hickory smoked chicken and pork is good too!!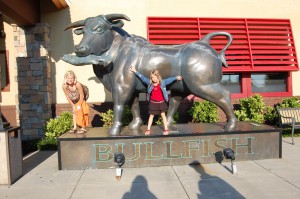 Bullfish Grill– The name in itself is unique but they also serve up some unique menu items. They offer great seafood items, which is what we usually order when we visit, but also, some great salads and Angus beef items. "No bull, just great food" is correct!!
Margaritaville– This great place is located on the Island. They have an outside deck that overlooks the Little Pigeon River and it is a great place to unwind. We love their Volcano nachos. A laidback atmosphere and good food equals a happy family for us!
Timberwood Grill– This is another great choice if you are hanging out at the Island. The servers are dressed like lumberjacks and they offer a great mountain themed menu. Their Campfire Queso and Trail Boss Chicken Tenders are pretty yummy.
One place that is not opened yet but has our family anxiously waiting is Paula Deen's Family Kitchen. This will be a must "stop" place for us. My little divas are obsessed with cooking shows and love to see the yummy creations of Paula Deen. So as you can tell, Pigeon Forge has you covered in the "good food" department. Make sure to visit each of these great places and come up with some favorites of your own!