Where to Watch Artisans and Craftsmen in Pigeon Forge
Pigeon Forge, Tennessee, nestled in the foothills of the Great Smoky Mountains, is known for its stunning mountainous scenery and plentiful family activities. What's more, this beautiful mountain town is also one of the most popular destinations in the Southeast for Appalachian crafts.
From glass blowing to metal working to distillery tours and more, discover the best places in Pigeon Forge to watch skilled artisans as they create unique, hand-crafted goods. Then test your skills by learning how to craft your own special keepsake. It's the perfect way to spend quality time together with the family and enjoy an authentic hands-on Smoky Mountain experience that you won't find elsewhere.
Event Spotlight: Now through October 29, visit Pigeon Forge Rotary Club's Fall Crafts Festival at Patriot Park! Open daily from 10am to 6pm.
Dollywood
Dollywood, recently voted the #1 Theme Park in the U.S. by TripAdvisor, lights up the Smokies with world-class rides, high-energy entertainment, award-winning dining and loads of fun for visitors of all ages. One of the highlights of the park is Craftsman's Valley, an area filled with skilled craftsmen and artisans that produce handcrafted goods right before your eyes and then assist as you create your own special something.
Ironsmiths were relied upon to create many of the tools and necessities used by those who first settled in the Smoky Mountains. Watch as the master craftsmen at Valley Forge Blacksmith create hand-forged items such as knives, customized metal gifts, home décor and more.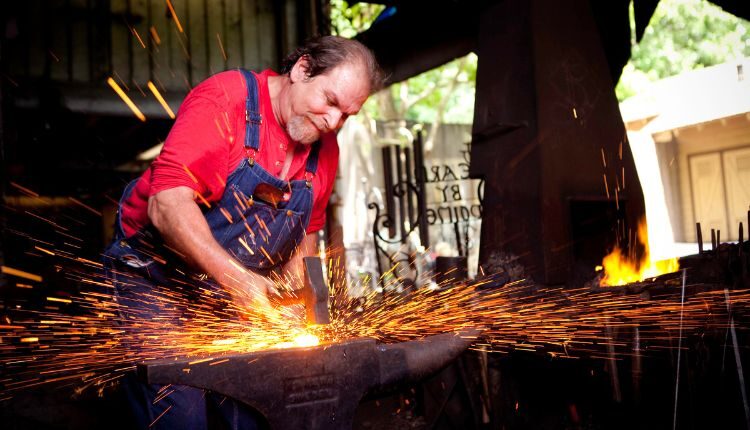 Make a stop at Old Flames Candles where crafters make an array of beautiful candles in various shapes, sizes and designs. You'll find everything from handmade votives and wax melts to hard-to-find taper candles and uniquely themed candles. The whole family can dip candles in various wax colors to create special keepsakes.
Glass blowing is another timeless art you'll find demonstrated daily at Mountain Blown Glass. You'll be amazed as you watch the expert glass blowers craft unique pieces such as serving pitchers, vases, lamps and figurines. Then create your own beautiful glass ornament to take home as a keepsake.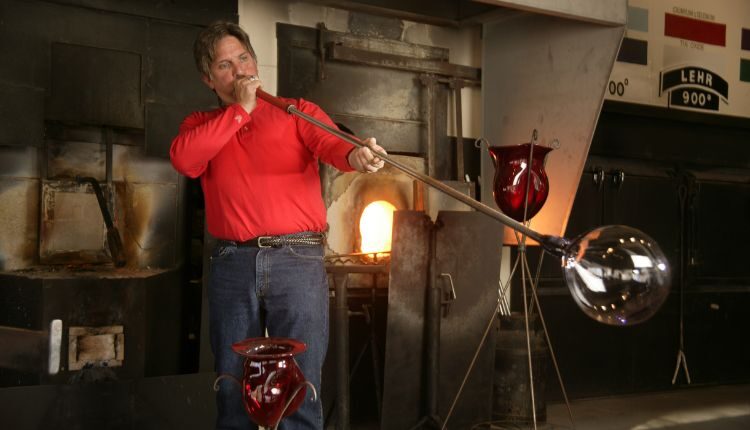 Follow the insatiable smells of fresh-baked cinnamon bread, which will lead you to Dollywood's Grist Mill. Here, you can watch bakers as they prepare the famous bread right in front of your eyes. Browse the shop for tasty jams, jellies and honey butters, in addition to unique kitchen items.
Old Mill
A visit to Old Mill Square is a must-do for visitors interested in all things made by hand. The historic Old Mill sits along the banks of the Little Pigeon River and has been grinding corn, grits and other grains for over two centuries. Tour the Old Mill and learn about the process, then head over to the General Store to purchase bags of cornmeal, flour and mixes, as well as homemade jams, jellies, fudge, salad dressings and more.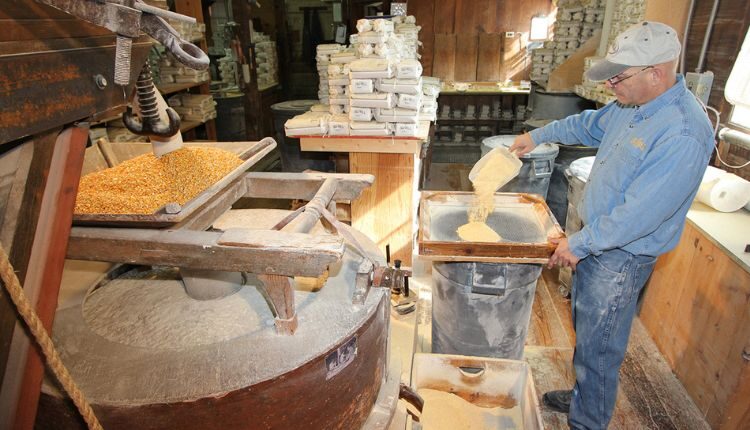 Additionally, the Historic Old Mill grinds the grains used by the distillery to craft award-winning spirits. The Old Forge Distillery is the first Pigeon Forge moonshine distillery, named after the iron forge that once resided next to the Old Mill. Spend some time at the tasting bar and browse the gift shop for souvenirs.
That same craftsmanship can be found in other items produced within Old Mill Square. Pigeon River Pottery has been crafting hand-thrown pottery for over 70 years. Talented artisans create most of the plates, bowls, salt & pepper shakers, and other serving pieces used by the two restaurants. See firsthand how these unique pieces are made and learn about the process as potters' throw clay onto the wheel and sculpt it into a unique piece of art. Afterward, browse the finished pottery items to find a few pieces to take home with you.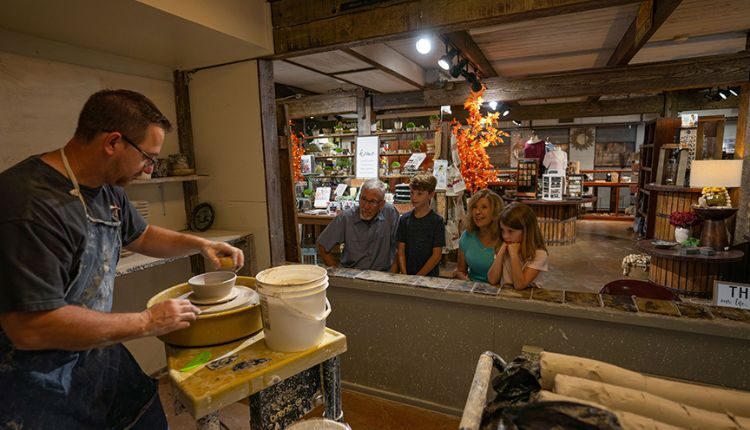 At the Old Mill Candy Kitchen, confectioners are hard at work, creating a unique and irresistible assortment of candies and sweets. Watch as taffy is pulled and cut by machines that have been in service for nearly 100 years or as chocolates are hand dipped in old fashion copper kettles. You're sure to find a few snacks to take home with you too!
Iron Mountain Metal Craft
Forge a memory at Iron Mountain Metal Craft, located in the historic Old Mill District. In addition to watching skilled blacksmiths as they create custom metal pieces, you can also create your own unique souvenir to take home. Iron Mountain Metal Craft offers a variety of hands-on experiences that you won't find elsewhere.
Metal working experts will assist you in forging your own custom knife from a railroad spike or a horseshoe. If it's your first blacksmithing lesson, start off with creating a smaller knife out of a pony shoe while learning the basics of iron forging. Guided sessions are held with small groups that will help you throughout the process. There are even lessons for younger kids to introduce them to the world of metal working as they craft their own unique knife.
Moonshine and Distillery Tours
Sip your way through some of East Tennessee's finest wineries and distilleries that are open for tours and tastings. Whether you prefer sipping your way through the history and culture of Tennessee whiskey-making, toasting your way along the wine trail or sampling some of the finest seasonal ales and lagers in the region, you're sure to find the perfect place to raise your glass in Pigeon Forge.
In addition to the Old Forge Distillery mentioned above, Ole Smoky Moonshine Distillery at the Barn is another great moonshine distillery in Pigeon Forge that is also part of the Tennessee Whiskey Trail. The distillery has an onsite still and offers daily tastings that you can enjoy while listening to the sounds of bluegrass music.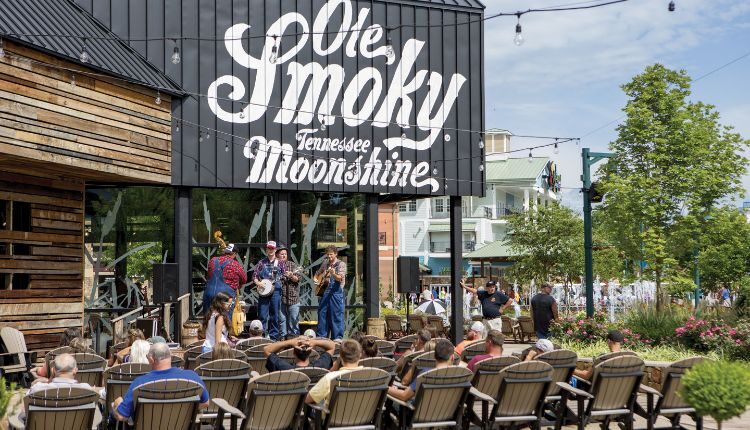 For wine lovers, two of the wineries found on the Rocky Top Wine Tour are in Pigeon Forge. Currahee Vineyards & Winery is a family-owned, hand-crafted, Southern winery tasting room that offers the perfect spot to enjoy beautiful mountain views while sampling award-winning wines. Or visit one of the oldest wineries in the state, Mountain Valley Winery, where you will find some of the most unique wines in the country.

Arts & Crafts Festivals and Events
Another great way to see artisans and craftsmen at work in Pigeon Forge is at one of the arts and crafts fairs and festivals that take place throughout the year.
The Pigeon Forge Rotary Club's Spring and Fall Crafts Festivals both feature an extensive variety of local handmade items from some of the area's most talented artists and crafters. The Spring Crafts Festival takes place at Mountain Mile during the latter part of April. The Fall Crafts Festival is taking place now at Patriot Park and runs daily throughout the month of October!
A Mountain Quiltfest is a unique annual event that celebrates the timeless art of quilting. The event is popular with quilters of all skill types and ages, but also receives a lot of interest from other crafters who come just to browse the incredible displays. From quilting contests and a variety of classes and workshops by quilting experts to quilting displays and vendors where shoppers can find goods for all their quilting needs.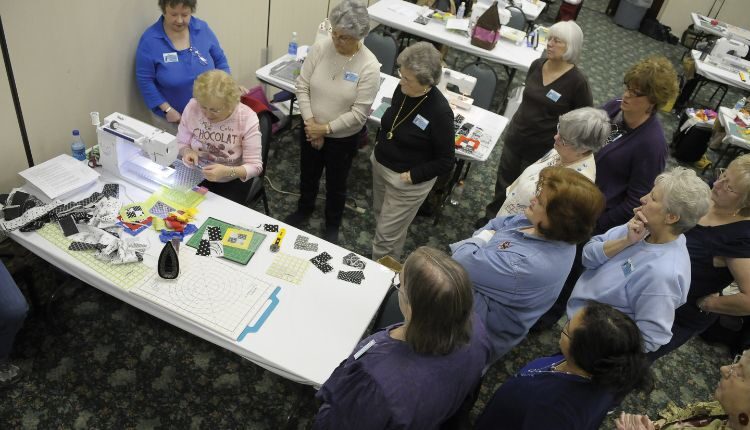 The Great Smoky Mountains is home to an abundance of skilled artisans and craftsmen. Their history and talent are showcased throughout Pigeon Forge at local attractions and shops, as well as at annual festivals and events. From beautifully crafted quilts and hand-dipped scented candles to unique hand-forged metal works and exquisite hand-thrown pottery, Pigeon Forge welcomes visitors and locals alike to come watch, learn, shop and even try their hand at making their own hand-crafted goods.
You May Also Like:
Best Places to Shop for Pigeon Forge Souvenirs
Best Spots for Holiday Shopping in Pigeon Forge
Insider's Guide to The Mountain Mile in Pigeon Forge, Tennessee