Free (or Almost Free) Things to Do During the Holidays in Pigeon Forge
The holiday season is a beautiful time of year in Pigeon Forge and the Smoky Mountains. With millions of holiday lights shining bright and festive holiday celebrations in full swing, you'll find plenty of ways to get into the holiday spirit in Pigeon Forge.
While the holidays offer nearly endless opportunities for enjoying time with family and loved ones, costs can add up quickly. So, we've pulled together a list of free (or almost free) things to do in Pigeon Forge during the holidays so you can have fun on a budget!
Use the Pigeon Forge Trolley to get around
Pigeon Forge trolleys make getting around town during the holidays a breeze! With more than 200 stops along its route, the trolleys offer a safe, affordable and convenient way to experience all that Pigeon Forge has to offer. All-day trolley passes can be purchased for only $3 per person and children 3 years and younger ride free.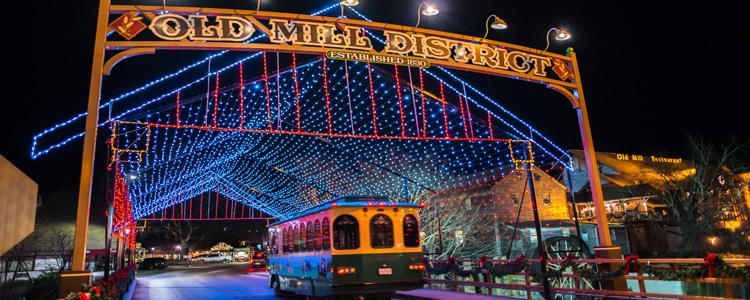 Scarf up and stroll the new Walking Tour of Lights
Holiday lights shine bright each year during the annual Winterfest celebration. Just when you thought it couldn't get any better, Pigeon Forge has pulled out all the stops with a new addition of over one million holiday lights. The new Winterfest Wonders of Light Walking Trail showcases the scenic Riverwalk nature trail with 20 new larger-than-life nature-themed outdoor light displays.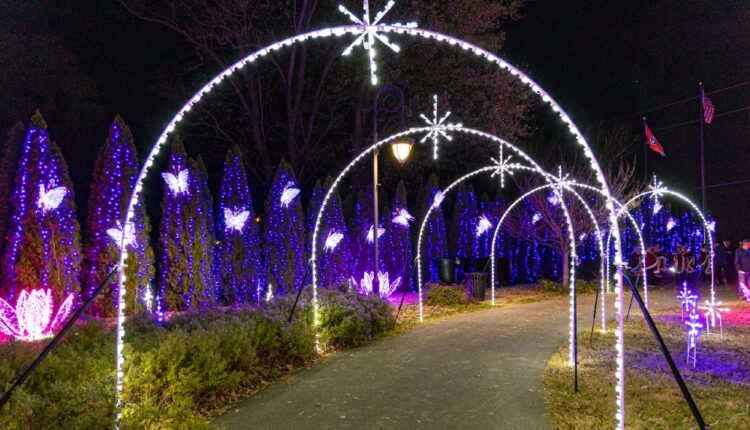 Take in more dazzling holiday lights on the Winterfest Driving Tour of Lights
The Winterfest Driving Tour of Lights offers even more opportunities to explore the delightful array of holiday displays that light up the night sky throughout Pigeon Forge. From holiday lights along the Parkway to the lights that set Patriot Park aglow, see your favorite storybook characters, winter wonderland bridges, gigantic Christmas trees and more. You'll find plenty of spots to stop and take pictures with the family.
Meander through the holiday decor at Christmas Place
Although you can celebrate Christmas year-round at The Incredible Christmas Place, the holiday season is even more special with additional lights and decor. Whether you still need to do a little shopping, decorating or just want to take some fun pictures, the spirit of the Christmas season can be felt all around.
Explore The Mountain Mile Tower & Shops
The Mountain Mile Tower & Shops is a unique shopping, dining and entertainment area in Pigeon Forge.  Browse through specialty shops and take photos with their holiday backdrop for a fun evening out with your family and friends!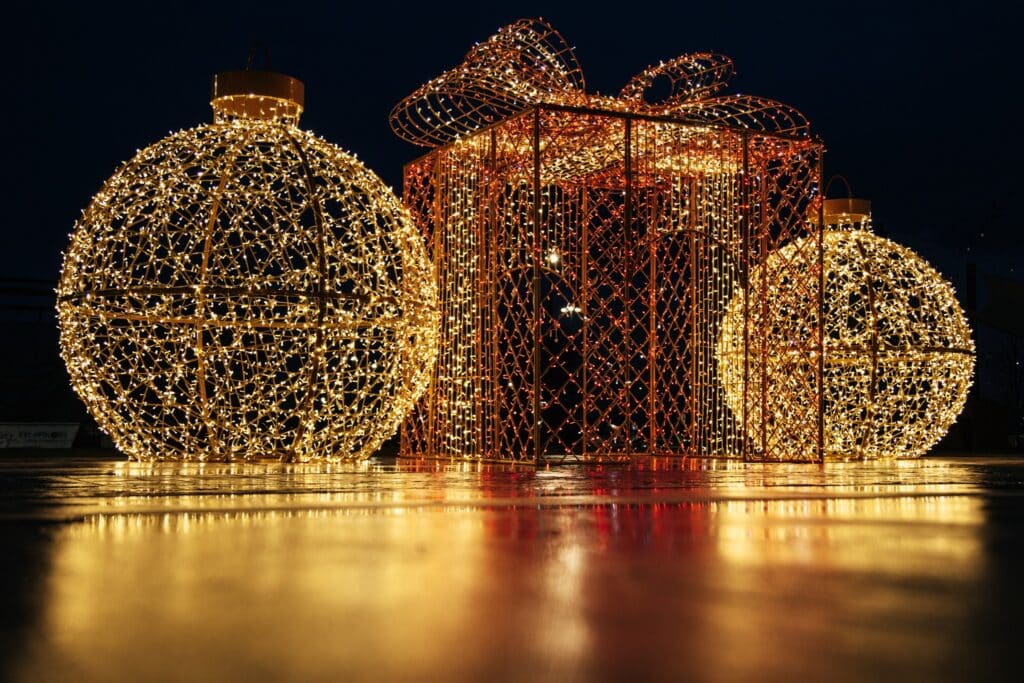 Take holiday pics at The Island
The Island in Pigeon Forge is an outdoor family fun entertainment complex filled with amazing shops, restaurants, rides and a free outdoor light show year-round. The holiday fountain show during Winterfest at The Island is truly an amazing sight to behold! The courtyard comes to life with a choreographed 40-foot-high Christmas tree and water show. Stroll through The Island to see millions of holiday lights, thousands of ornaments and over a mile of garland.
Visit local shops at The Old Mill
The Old Mill is a favorite pastime of families any time of year, but the Christmas season is even bigger, brighter and more festive! During An Old Mill Christmas, enjoy the beautiful holiday decorations throughout, find exciting activities for children of all ages and sample festive flavors at Old Mill shops.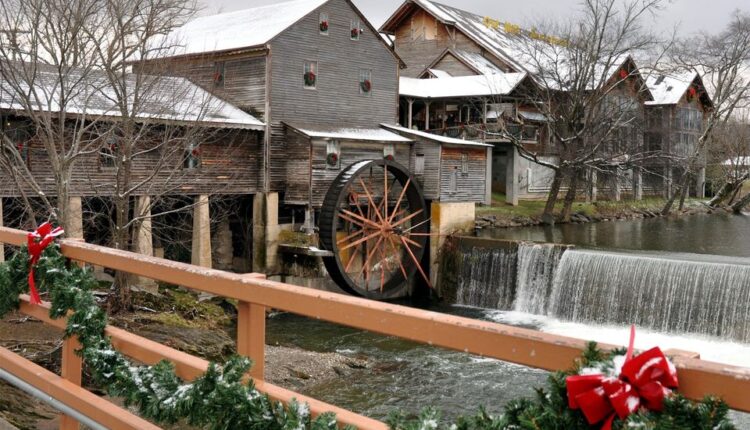 Get in the holiday spirit with fun festivities at Lumberjack Feud
Another great place for a holiday stroll is through Santa's favorite logging camp in the Smokies, Paula Deen's Lumberjack Feud in Lumberjack Square. The square is adorned with holiday lights and décor that will delight the whole family. Make sure to stop on select days throughout December for free photos with Santa.
Sample spirits inspired by the season on wine and distillery tours
Another one of the fun and free things to do during the holidays in Pigeon Forge is a wine or distillery tour. Pigeon Forge is home to two of the whiskey distilleries found on the Tennessee Whiskey Trail and two of the wineries on the Rocky Top Wine Trail. Most locations are decorated for the holidays and offer special seasonal flavors that you can sample. Tours are usually free, and sampling typically costs around $5. When it's time for a break during your holiday adventures, sit back and relax while sipping on your favorite libation.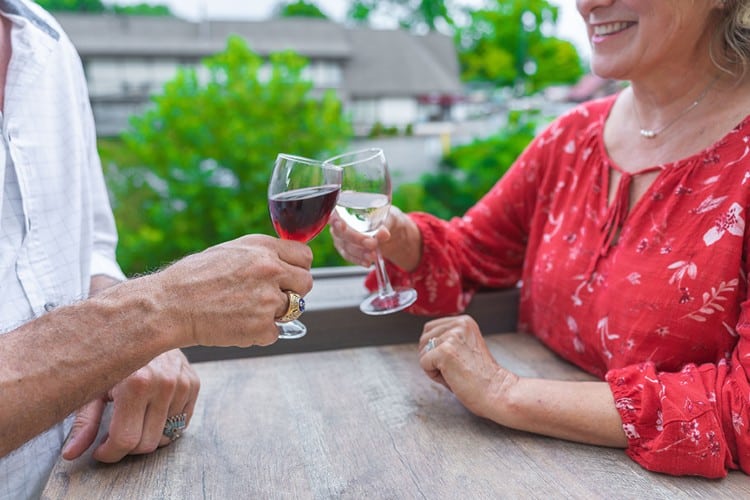 Come celebrate the Christmas season in Pigeon Forge and enjoy an affordable holiday getaway that will be cherished for years to come!
Looking for more affordable fun? Check out our list of fun and free things to do in Pigeon Forge any time of year!
You May Also Like:
Guide to Christmas in Pigeon Forge
New Winterfest Wonders of Light Walking Trail
Where to See Santa in Pigeon Forge