Temporary Single Lane Closure On Newfound Gap Road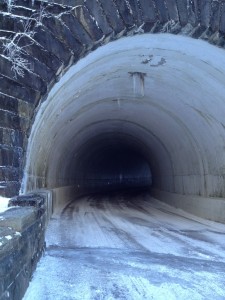 If you plan on heading to the tops of the Smokies sometime this month, be on the lookout for some construction work on Newfound Gap Road at the Morton Mountain Tunnel, 12 miles south of Sugarlands Visitor Center and Park Headquarters. This project is scheduled from Sept. 2 through Sept. 27.
The tunnel, situated between the Alum Cave trail parking area and Newfound Gap, is undergoing repairs after a leak caused significant damage.
The construction will require a full time single-lane closure for a 0.25-mile stretch. A temporary traffic signal will be used to control traffic flow. When the road is at its busiest (7:00 a.m. through 9:00 p.m. on weekends) flaggers will manually direct traffic.
During a particularly bad stretch of cold weather last winter, the leak in the tunnel led to the formation of large icicles and ice accumulation on the road. Over the course of the project drainage pipes will be installed in the walls and ceiling to prevent similar damage from occurring in the future.
It's important to always be aware of road closures and conditions in Great Smoky Mountains National Park. To check on these, visit http://www.nps.gov/grsm/planyourvisit/temproadclose.htm and follow official NPS road status updates on Twitter at http://twitter.com/smokiesroadsnps.