5-DAY PIGEON FORGE FAMILY VACATION ITINERARY
Looking for things to do with the kids on your family vacation in Pigeon Forge, Tennessee? Whether you have little ones, teenagers, or a combination of the two, this family vacation itinerary is packed full of ideas to ensure you make the most out of your five-day trip to Pigeon Forge!
DAY 1
Check-in and then relax with a little music, food and fun
Check in at your accommodation and make yourself at home. Once everyone is settled, stretch your legs and spend the evening at The Island in Pigeon Forge. It's the perfect way to get your vacation started!
Let the kids take on the challenge of the Island Ropes Course, or have some fun in the Island Bumper Cars. Meanwhile, the adults can hang out in the rocking chairs by the Island Fountains and listen to the sounds of bluegrass music. Before you leave, take the family for a ride on the Great Smoky Mountain Wheel and enjoy the nighttime view of the Parkway.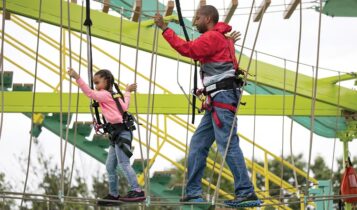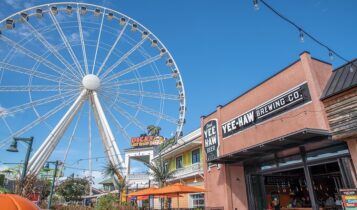 DAY 2
Start the day with a hearty breakfast
Better get moving! You've got a lot of ground to cover today. Once you've got the whole family ready to go, head to Bennett's BBQ for an all-you-can-eat breakfast bar that's sure to start your day off right! Their waffles, eggs, bacon, sausage and delicious pulled pork are sure to please the whole table.
 
Enjoy a day of heart pounding thrill rides and world-class entertainment
Head to Patriot Park and catch a ride on the trolley to Dollywood. With over 40 rides throughout the theme park, you'll find something for everyone! Spend the day watching shows, riding roller coasters and exploring all that the park has to offer. Make your way to Wildwood Grove where the kids can splash and play in the creek and try activities in the secret play area.
There are plenty of places to stop for a snack at Dollywood as you walk around. Grab fresh-made cinnamon bread at the Grist Mill while watching the bakers roll the dough and lather it with butter, cinnamon and sugar. When it's time for lunch, there are many great restaurants to choose from. Red's Drive-In has great burgers and shakes in a fun 50's style atmosphere.
DAY 3
Pile on the pancakes
Smoky Mountain Pancake House has your breakfast needs covered with Reese's Peanut Butter & Chocolate Chip Pancakes, Pecan Pancakes, or Mountain Blueberry Pancakes. Serving made-from-scratch buttermilk pancakes with a wide array of toppings and fillings, the perfect pancake is waiting for you here.
Watch a lumberjack competition, then compete in your own
A visit to Paula Deen's Lumberjack Feud Show and Adventure Park offers fun and adventure for the whole family. Watch as the Dawson and McGraw families compete at 13 different lumberjack events including axe throwing, chopping, log rolling and more. Then, have a friendly competition of your own and test your nerves on the 80-foot jump tower and zipline roller coaster rides.

Grab a slice of pizza and a game
For this afternoon's lunch, a wood-fired pizza made with all fresh ingredients at Big Daddy's Pizzeria is sure to put a smile on everyone's faces. And the pizzeria has an arcade to keep the kids busy until lunch arrives.
Go snow tubing even when it's hot outside
Pigeon Forge Snow is an indoor snow facility offering snow tubing year-round. It's the perfect place to cool off with 15 lanes of snow tubing and a play area where you can build a snowman, a snow fort or have snowball fights.
End the day with dinner and a show
After the day's adventure, enjoy an evening filled with laughter. Hatfield and McCoy Dinner Feud is one of several dinner shows you'll find in Pigeon Forge. The whole family will love to watch this fun family feud as it unfolds with singing and dancing, jaw-dropping stunts and hilarious comedy.
For those that have not tried Granny's cooking, you're in for a treat. Enjoy fried chicken, country pulled pork barbecue, mashed potatoes, coleslaw, corn on the cob, creamy vegetable soup and Granny's special dessert. And it's all you can eat!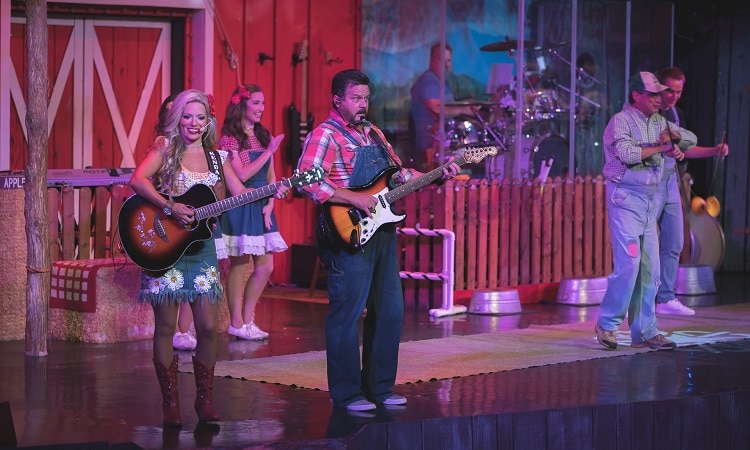 DAY 4
Try the most fun Southern-style breakfast in town
Frizzle Chicken Farmhouse Café serves up one of the most fun Southern-style breakfasts you've ever had with over 100 animatronic chickens that serenade you while you eat. From pancakes shaped like bears to their signature biscuit dishes, there is something on the menu for everyone.

Experience what it was like to be a passenger on the TITANIC
Experience what it was like to be on the Titanic first-hand at the TITANIC Museum Attraction. This interactive museum features more than 400 artifacts from the ship and its passengers. Touch an iceberg, walk the Grand Staircase, sit in a lifeboat and listen to the true passenger stories. 
Explore one of the most bizarre buildings in the world
When you enter the building, everything will be upside-down, so in order to participate in the fun, you must step inside the inversion tunnel and be turned right side up! Explore over 100 mind-bending exhibits and fun activities at WonderWorks. Experience what an earthquake feels like, lie on a bed of nails or play a game of mind ball. Then test your nerves on the glow-in-the-dark Indoor Ropes Course where you climb through obstacles three stories above ground. There's something to do for visitors of all ages!

Finish the day with a Southern three-course meal
After a full day of fun on the Parkway, take the family to dinner at the Old Mill Restaurant in Old Mill Square. The Southern three-course meal is sure to fill up everyone and you might even want to split a couple of the meals between everyone. Once you're all done with dinner, walk around the Square and pop into some of the shops for your Smoky Mountain souvenirs.
DAY 5
Spend a day exploring nature and enjoying the outdoors together
Plan to bring a picnic lunch to enjoy while you are in the park. Grab a to-go lunch at any one of the area restaurants in Pigeon Forge or make a trip to the grocery store for sandwich fixings.
Begin your trek to Great Smoky Mountains National Park as early as possible so you have plenty of time to explore. The park offers several hiking trails perfect for kids. The Porters Creek Trail in the Greenbrier area is a great trail to hike any time of year. Make sure to bring your camera to snap some pictures of the beautiful scenery and get a few family photos. The Greenbrier area is also home to one of the popular swimming spots on the Middle Prong of the Little Pigeon River. Spend the afternoon splashing around in the water.

Stop for a sweet treat
Stop by the Chocolate Monkey on your way back into town for a sweet treat. Try one of their giant caramel apples made the old-fashioned way with caramel and a topping combination of candy, chocolate and nuts. It's a treat you can't resist!
After an action-packed five-days in Pigeon Forge, it may be hard to say goodbye. It's easy to see why so many families return to Pigeon Forge year after year for fun family vacations filled with memories that will be cherished for a lifetime.
Now that you have plenty of great ideas for your family vacation in Pigeon Forge…what are you waiting for?
PIGEON FORGE TRIP IDEAS
Explore more fun trip ideas to help you plan your next visit to Pigeon Forge and the Smoky Mountains.