5 Things You Must Do this Spring in Pigeon Forge and the Smoky Mountains
Each season in the beautiful mountains of East Tennessee is truly unique, and springtime is one of our favorites! From the natural beauty of the Smoky Mountains to the attractions, shows and restaurants that line the Parkway in Pigeon Forge, there is so much waiting to be explored. It's the perfect time for families and friends to relax and have fun. Check out these five fun things to do this spring in Pigeon Forge.
Enjoy fun spring festivals and events
There's no better way to celebrate the season than with a few celebrations. Spring events and festivals abound in Pigeon Forge, giving families, couples and groups countless reasons to plan a spring vacation in the Smoky Mountains.
In April, Dollywood will kick off their festival season with the annual Flower & Food Festival. Guests will be delighted with hundreds of thousands of brilliant flowers presented in larger-than-life sculptures, as well as a dazzling 'Umbrella Sky' and a wide selection of culinary creations inspired by spring in the Smokies.
Cruise to Pigeon Forge this spring for one of the many car shows taking place throughout the season. From corvettes to hot rods to Ford pick-up trucks and more, car enthusiasts from all around head to Pigeon Forge to both admire and show off a wide variety of classic vehicles.
The Music in the Mountains Spring Parade is a springtime tradition that celebrates the rich musical heritage of the Great Smoky Mountains with performances by local and visiting marching bands, performers from the city's theater community and more.
Pack in as many attractions as possible
From roller coasters and ropes courses to interactive museums and a historic district, Pigeon Forge offers more than 80 attractions to help make your trip to the Smokies exactly what you want.
Dollywood re-opens for the season in March. Whether you choose to take a relaxing train ride on the Dollywood Express, catch one of the first class shows, or take a daredevil ride on the Wild Eagle, Dollywood is definitely one of the best things to do in Pigeon Forge this spring!
There are also lots of great new attractions in Pigeon Forge to add to your to-do list for spring! SkyFly: Soar America is a new flying theater that offers a fully immersive experience where guests soar over some of the most iconic locations in the United States. Toy Box Mini Golf is the world's first toy-themed mini-golf course that also boasts a laser maze, toy store and giant toy photo ops perfect for children of all ages. Rowdy Bear Ridge is a one-of-a-kind tubing destination turned adventure park with its all-new CoasterKart attraction, an interactive ride that lets two people race around the track together while controlling their own speed.
Fill up on all your Southern favorites
Pigeon Forge is filled with great places to gather around the table with the ones you love. Pigeon Forge offers Southern hospitality and comfort food, from family-style Sunday suppers to hearty breakfasts piled-high with 50 varieties of pancakes.
Grab a bite at one of our must-visit restaurants such as Paula Deen's Family Kitchen and sample some of their family recipes such as fried green tomatoes or Southern meatloaf. Or make a stop at one of the locals' favorite restaurants like Bennett's Pit Bar-B-Que where baby back ribs, pulled pork and more are piled high and slathered with Bennett's special sauce.
You'll also find plenty of new restaurants in Pigeon Forge with even more great food options. The Casual Pint offers a casual and friendly atmosphere, perfect for catching up with friends or grabbing your favorite food and beverages to-go. In addition to live music rounds each night on a large stage and a full menu of American cuisine, The Listening Room Café features both indoor and outdoor seating and two full-service bars with a robust cocktail list.
There's no shortage of delicious options in Pigeon Forge to satisfy every palate!
See spring bloom in the Smokies
One of the most beautiful spots to visit during spring is Great Smoky Mountains National Park. It's the perfect time to see the transition of the seasons. As the temperatures begin to rise, spring wildflowers begin to blossom while the trees are replenished with green foliage, painting the area with an array of vibrant colors.
Great Smoky Mountains National Park boasts more than 800 miles of hiking trails and a spring hiking adventure is one of the best ways to experience the natural beauty first-hand. And with the wildlife also beginning to emerge from their winter respites, it's the perfect opportunity to spot deer, turkeys or even bears.
Make the most out of your experience with some of the most incredible tours of Pigeon Forge and the Smoky Mountains. Soar above the mountains on a helicopter tour, go sightseeing on a jeep or atv or hop in the car to enjoy a stunning scenic drive through Great Smoky Mountains National Park.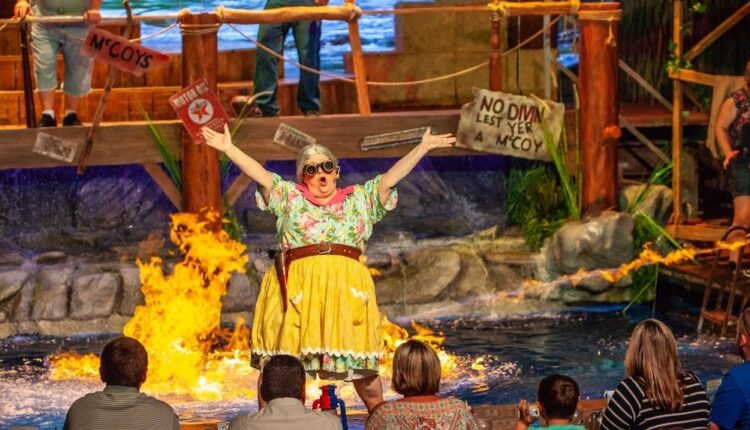 Entertain the family at award-winning shows
Pigeon Forge shows deliver world-class entertainment year-round. Enjoy riotous comedy acts, energetic youth performers, home-grown bluegrass, soul-stirring gospel and patriotic songs at Country Tonite Theatre. Watch the Dawson and McGraw families compete in lumberjack events such as axe throwing, log rolling and more at Paula Deen's Lumberjack Feud Show and Adventure Park. Then after the show, try out some lumberjack moves of your own at their lumberjack themed adventure park.
From a cast of top-notch horses and trick riders at Dolly Parton's Stampede to a comedic famous family feud at Hatfield & McCoy Dinner Feud, Pigeon Forge's dinner shows are the perfect way to enjoy a delicious meal with unforgettable entertainment. Other great family-friendly dinner show options include The Grand Majestic Theater and Great Smoky Mountain Murder Mystery Dinner Show.
The new year is looking good in Pigeon Forge. Make plans to visit these must-do things in Pigeon Forge this spring!