Extreme Attractions for Your Summer Adventures in Pigeon Forge
For those who like to live on the edge and take risks, Pigeon Forge is just the place to do it! You'll find extreme adventures in Pigeon Forge that are sure to get everyone's adrenaline pumping. From indoor skydiving to alpine coasters to whitewater rapids and more, enjoy an exhilarating experience like never before with these extreme attractions in Pigeon Forge.
Defy gravity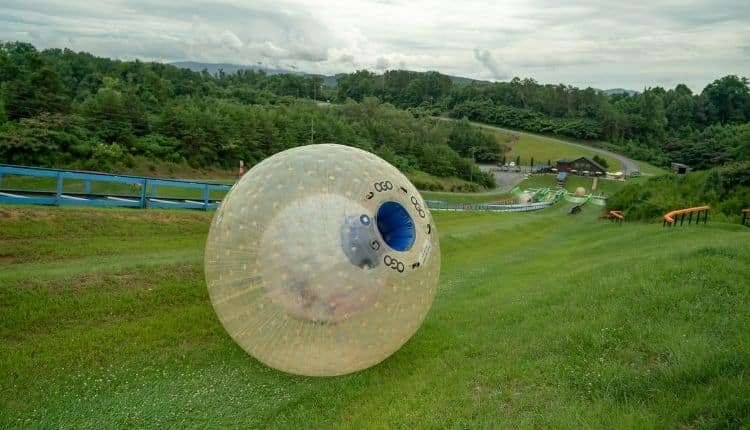 Experience the thrills of skydiving at Flyaway Indoor Skydiving. Enjoy the freedom of human flight in this 21-foot-tall vertical wind tunnel with 120 mile per hour winds. You'll first attend a training session so that you understand how to move when flying. You'll then suit up and prepare to enter the wind tunnel. Flyers are taken into the tunnel in groups of five with an instructor, and each person gets about three minutes of flight time. 
Another fun gravity-defying activity you're sure to love in Pigeon Forge is zorbing. Race down the mountainside in an 11-foot diameter ball at Outdoor Gravity Park. Ride down a 1,000-foot hill on any one of the three tracks – one with zig zags, one with obstacles and one that's smooth so it speeds down the hill the fastest. Two of the tracks allow for up to three riders in the OGO ball. The zigzag course is so extreme, only one person is allowed inside. To add to the fun, try wet zorbing. For these rides, water is added into the OGO, so you'll be sliding around inside while the OGO revolves around you. It's an exciting experience you won't find elsewhere and suited for persons ages 5 years and up, so the whole family can enjoy the fun! 
Soar through the air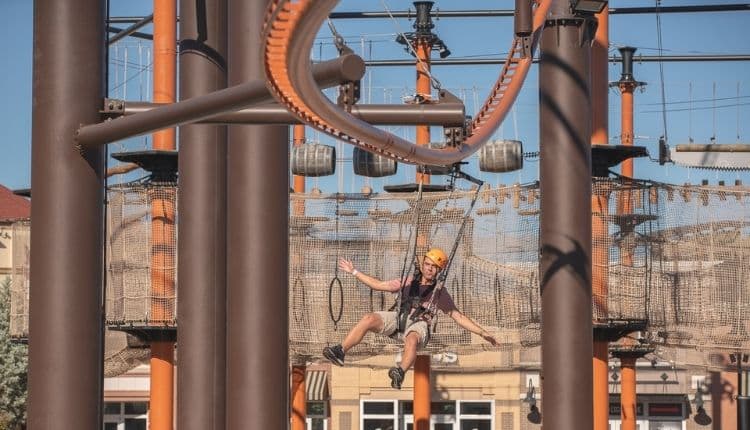 If soaring through the air sounds like fun, you'll find plenty of thrilling roller coaster rides in Pigeon Forge that will have you clinging to the edge of your seat.
Dollywood has something for everyone, and especially for thrill seekers! Wild Eagle is one of the most popular high-flying roller-coaster rides at Dollywood. Riders hang below the track, rather than being on the track, climbing 21 stories up in the air. With nothing but air above and below you, it feels as if you were soaring high above the Smoky Mountains. Another fun ride is Drop Line, which is a 20-story-tall, free fall experience. The slow climb to the top doesn't prepare you for the sudden drop to the bottom!
The Mountain Monster at Mountain Mile & Tower Shops brings three different thrill rides together for an exciting experience that is sure to please any thrill-seeker. Try the Monster Fall for a true freefall experience. Riders are suspended at the top of the 200-foot tower and then dropped without warning at speeds of up to 52 miles per hour. Monster Dive drops riders from a 175-foot platform and swings them out over the complex at 65 miles per hour. And for the grand finale, Monster Launch slings two riders 170-feet up in the air, with an option to add a flip at the top.
Paula Deen's Lumberjack Feud Show and Adventure Park combines intense lumberjack competitions with heart-pounding thrill rides. A ride on the Flying Ox, the world's first cable-to-rail zipline roller coaster, will have you soaring along a 1,000-foot ride, 80-feet in the air. The attraction combines the thrills of ziplining with the track features of a roller coaster. There's also a multi-level ropes course and the 80-foot-tall Timber Towers that feature unique jump elements sure to make your stomach drop.
Check out even more fun roller coaster rides in Pigeon Forge.
Ride the hills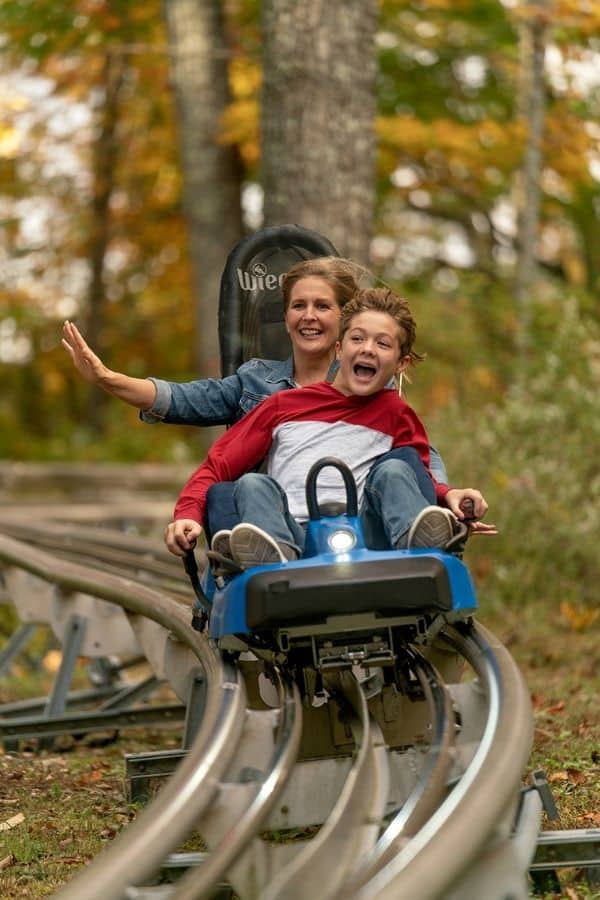 In addition to all the thrilling roller coaster rides you'll find throughout Pigeon Forge, there are also three alpine coasters that you'll want to check out.
Ride down the side of a mountain on the Smoky Mountain Alpine Coaster. The track is one of the longest downhill tracks in the country and can reach speeds of up to 30 miles per hour. You have complete control over your speed so you can go as fast as you want to! Riders are sure to enjoy the stunning mountain views as they make their way down the mountain track. It is an adventure that you can't just do one time!
Race through the hills at speeds just under 30 miles per hour at Coaster at Goats On The Roof. You and a friend can race past the beautiful Smoky Mountain views with a handbrake that allows you to control your speed. Make sure to stop and feed the goats before you leave!
With 4 lift hills and 4 drops that keep you on the rails for 9 minutes, Rocky Top Mountain Coaster is one of the longest coasters in eastern Tennessee. You'll fly through tunnels and race around curves and hairpin turns on over 20 acres of stunning Smoky Mountain land. For even more thrills, ride the coaster at night when the colorful lights make for an even more incredible experience.
Kick up some dust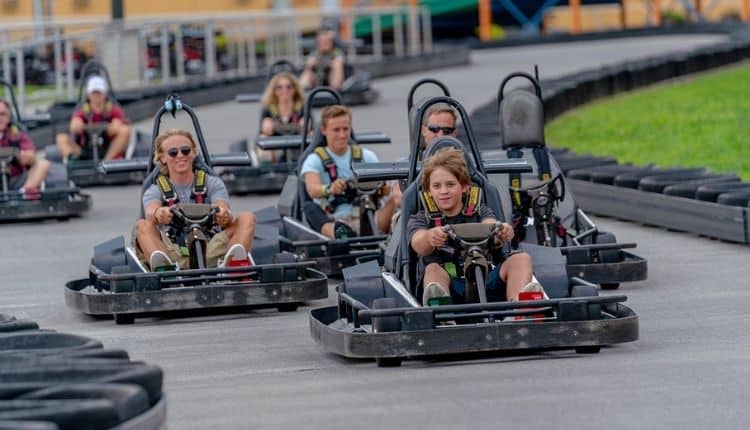 For those with a need for speed, the Xtreme Racing Center is for you! The track features Sodi racing karts that can reach speeds of up to a whopping 40+ miles per hour. Race your family and friends around the track to see who makes it past the finish line first! Kids as young as three can ride with a parent on an elevated track, so the family can get out there and zip around the tracks.
Explore even more fun go-kart tracks in Pigeon Forge.
Throw an axe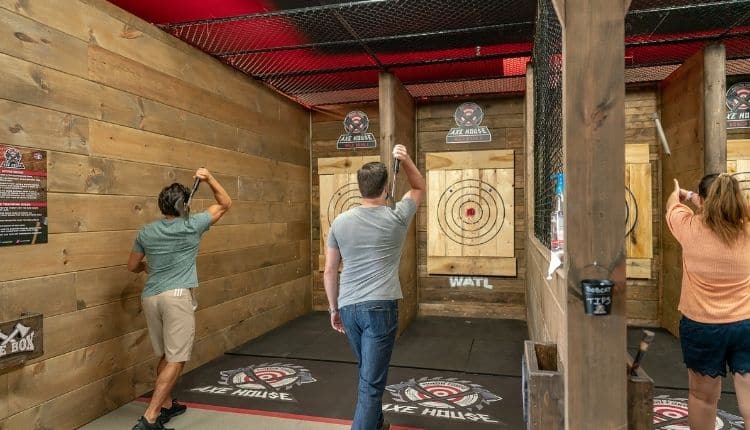 The exciting sport of axe throwing can also be found in Pigeon Forge. Nestled in the heart of the Smoky Mountains, Pigeon Forge Axe House offers a family-friendly experience for the ultimate adventure! No experience is necessary. Coaches are on-hand to show you everything you need to know and have you throwing in the big leagues in no time. Enjoy pizza and cold beer on draft for a fun time out with friends and family.
Hit the rapids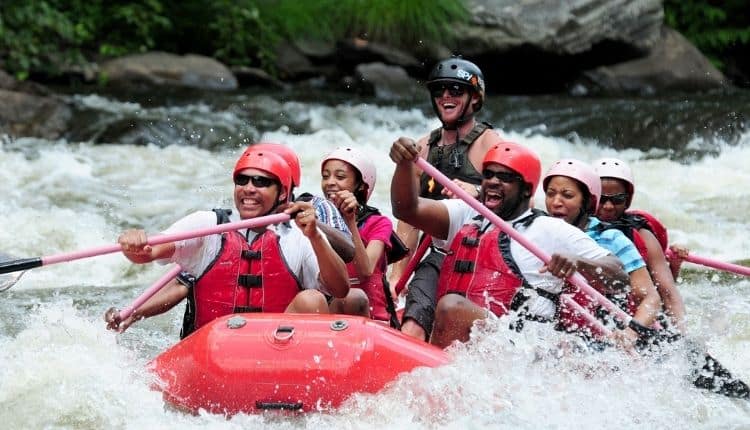 For an adventure that will definitely take you out of your comfort zone, head to the Big Pigeon River for a whitewater rafting excursion.
Rafting in the Smokies will take you on an exhilarating whitewater rafting tour from Hartford, just a short drive from Pigeon Forge. Get up close to nature as you splash through class 3 and 4 rapids on the upper part of the river. For those that prefer a more relaxing time, there are also scenic float trips that take you down the lower portion of the river. Rafters can splash and play as they take in the beautiful surroundings and even stop for a swim.
Smoky Mountain Outdoors Whitewater Rafting also offers whitewater expeditions for varying skill levels. Splash and surf through waves and maneuver around rocks as you take in the beautiful mountain scenery. Your professional raft guide will share stories of the area as you navigate your way through the waters. The whole family will enjoy a day of fun-filled adventures!
Take the challenge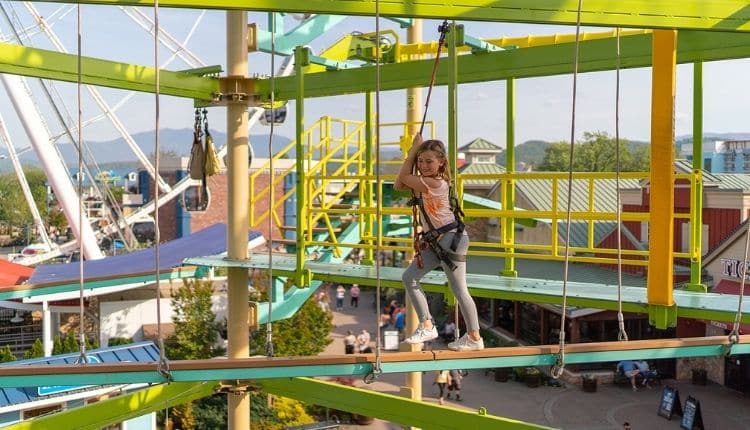 Ready to take the challenge? Whether you prefer ziplining from 3-stories above ground or hitting the battleground for a unique laser tag experience, Pigeon Forge is home to plenty of heart-pounding attractions that will challenge your inner self.
The Island in Pigeon Forge is filled with affordable family fun. Try one of their thrilling attractions like The Island Ropes Course. Climb 3-stories on the Sky Trail Explorer Course that takes you through 30 different elements, 2 ziplines and a simulated free fall. For a unique experience that takes you high above the ground, make sure to add this ropes course to your to-do list! 
Let the kids jump and bounce until their hearts are content (or until they've burned off some of that endless energy!) at TopJump Trampoline & Extreme Arena. This fun family attraction has something for visitors of all ages. For the older kids and adults, there's a large open-jump area, a dodgeball area and plenty more trampolines for everyone to get in on the action. For the smaller children, or those under 42", there is a foam ball pit and smaller-sized trampolines.
If you like video games like Halo and Fortnite, then Battleground Tactical Laser Tag is the place for you! Battleground is also located at The Island in Pigeon Forge and offers a laser tag experience unlike any others. The interactive experience makes you feel as if you're inside of your favorite video game. Bring the whole family for a unique laser tag experience you won't soon forget!
Go off-road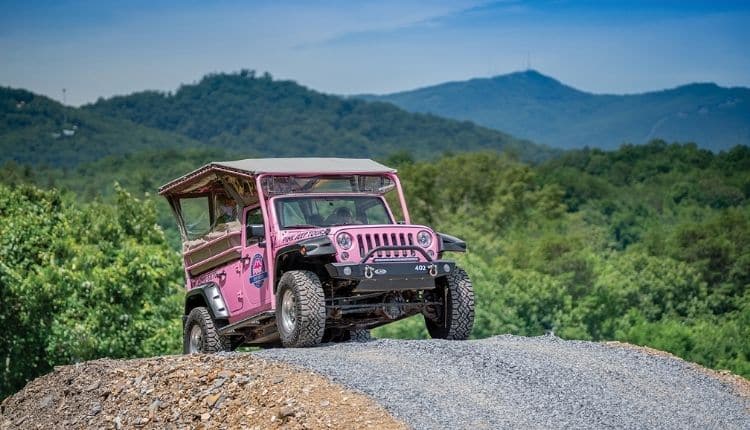 Still ready for more adventure? The Smoky Mountains offer miles of scenic drives and trails that visitors of all ages enjoy exploring. There's no better way to explore the mountains than on a true off-roading experience!
See the Smokies like never before from the back of a custom open-air Pink Jeep® Wrangler with Pink Jeep Tours. From guided tours featuring breathtaking views of the beautiful Foothills Parkway to tours that travel through Roaring Fork Motor Nature Trail and include an exciting 4×4 off-road adventure. Local adventure guides share the history and magic of the mountains in-between stops where you can capture some incredible family photos.
Take a ride on the wild side in a UTV, Dune Buggy or Roadster with Exorent ATV and Dune Buggy Rentals. These amazingly fun vehicles are perfect for exploring and taking in the beautiful mountain scenery and stunning treetop views that extend for miles.
Wranglers and Razors also offers a great selection of UTV, Jeep and Slingshot rentals for an incredible fun experience in the Smokies. Enjoy the open road and the mountain breezes in everything from 4-door Jeeps perfect for the family to 4 and 6-seat street-legal Razors to 2-person Slingshots, which make it look like you're driving around the Batmobile! How cool is that!
Take your extreme adventure to the skies with Scenic Helicopter Tours. Join a helicopter tour that takes you alongside the French Broad River and Douglas Lake and then on to the Wears Valley area for even more unbeatable views. Or get amazing views of the Smoky Mountains as you fly over Elkmont, Meigs Mountain and Thunderhead. Your pilot will share the history of the area, local stories and legends of the Smoky Mountains for a one-of-a-kind experience you'll be talking about for months to come.
From thrill rides to axe throwing to off-road adventures, you can do it all in Pigeon Forge! Check out even more exciting things to do during your time here with our family's guide to summer vacation in Pigeon Forge. Let the summer adventures begin!!!
You May Also Like:
One Day In Pigeon Forge: 24 Things In 24 Hours
Pigeon Forge Wine and Whiskey Trails
Best Family Photo Spots in Pigeon Forge