Extreme Adventures in Pigeon Forge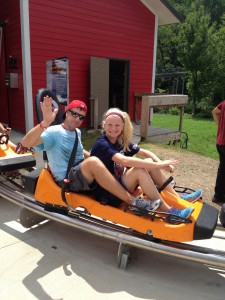 As we begin to plan our summer vacations, it is always fun to sit down as a family and make a list of what activities everyone would like to do. It is like a game for us…..each one of us thinks hard and comes up with our top 2 choices. Sometimes, one or two of our choices are the same, but we usually come up with several different activities for our trip. As the little divas have gotten older, they have also gotten more adventurous. The nice thing is Pigeon Forge still has us covered in that department too!!
There are some great options for extreme adventures. Indoor skydiving has been at the top of both girls' list since they have been old enough to do it. Flyaway Indoor Skydiving is located midway down the Parkway in Pigeon Forge. Not a time goes by that we pass it and the girls don't beg to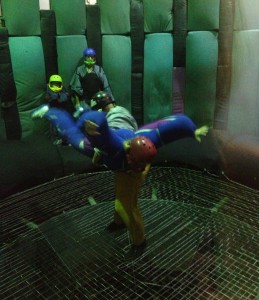 stop! They usually win and in we go for them to practice their flying. As a mom, I am always very nervous for them but dad joins in on the fun. I love that the Flyaway instructors are all about safety. The first stop in the process is a safety class. Here, you learn about the hand signals the instructor will use and the proper ways to fall. Next, they gear you up in your flight suit, helmet, and goggles. Then, it is off to the wind tunnel with your instructor. I usually anticipate at least one of the little divas backing out before they get to the wind tunnel, but it hasn't happened yet!! They have always done extremely well. They quickly learned to relax and have soared to the top of the wind tunnel with the instructors. On a couple of occasions, the instructor has even let go and they get to fly by themselves for a few seconds. Flyaway Indoor Skydiving gets an A+ from our family in all aspects!!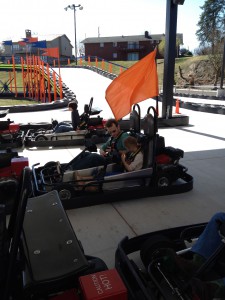 Some other extreme adventures that we have tried on our visits have been Wonders of Flight, the Smoky Mountain Alpine Coaster, and the Xtreme Racing Center. Wonders of Flight is a hot air balloon ride that is located at WonderWorks. The whole family partook in this adventure. Our 400 ft. soar into the air offered a magnificent view of the city and the surrounding mountains. Riding down the side of a mountain on the Smoky Mountain Alpine Coaster was also a lot of fun. The girls loved it, especially since they had complete control over their speed. It is an adventure that you can't just do one time! The Xtreme Racing Center was the most fun for dad. We all like to drive go karts, but he is the one who took it to the xtreme speeds!!
There are still a few other extreme adventures that we want to try such as, whitewater rafting, rolling down the hill in a sphere of water at the Outdoor Gravity Park, and horseback riding in the Great Smoky Mountains National Park.
Let the summer vacations and adventures begin!!!