Plan the Perfect Date Night in Pigeon Forge
Trying to plan the perfect date night? Pigeon Forge isn't just a great place for family getaways, it's also the perfect location for a fun night out with your loved one!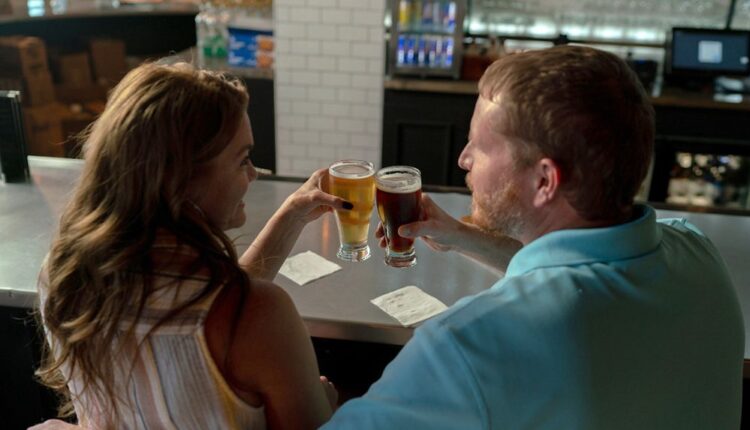 With so many things to do in Pigeon Forge, you will find yourself wanting to have a date night every day of the week. You won't have to worry about where the kids want to eat, you can just do what the two of you want to do.
From romantic things to do to some of the area's best date night restaurants, here are a few ideas to help you plan the perfect date night in Pigeon Forge!
Fun Ideas for the Perfect Date Night in Pigeon Forge
Take in the views
Make it a date night to remember with some of the most amazing sights of the Smoky Mountains. Enjoy views from the highest point along the Appalachian Trail at Clingmans Dome or take a scenic drive to Newfound Gap where you can see views of both Tennessee and North Carolina. You'll find numerous scenic overlooks throughout Great Smoky Mountains National Park to take in the beautiful scenery that extends as far as the eye can see.
Take your love to new heights as you soar above the mountains with Scenic Helicopter Tours. Get a birds-eye-view of local landmarks, rolling farmland and the mountain valleys and ridges. It's also an incredible way to watch an evening sunset. You'll find a variety of Pigeon Forge tours that offer unique and memorable ways to experience the sights of the Smokies.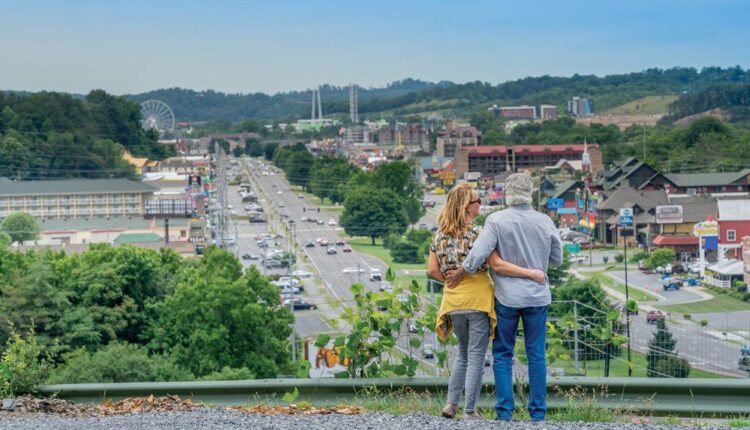 Solve a mystery
Add a little mystery to your date night in Pigeon Forge with a murder mystery dinner show or one of the area's fun escape games. The Great Smoky Mountain Murder Mystery Dinner Show is a one-of-a-kind theater featuring three different comedy shows that are rotated throughout the week. And each show is served alongside a delicious three-course meal.
Or see if you have what it takes to follow the clues and escape from one of Pigeon Forge's exciting escape room games such as Smoky Mountain Escape Games or Trapped Escape Game.
Enjoy fun games
For a night filled with fun and games, Downtown Flavortown is an ideal choice. This newly opened restaurant features Guy Fieri's famous culinary combinations in addition to a duckpin bowling alley, arcade games and tropical tiki bar. You're sure to have a delicious and fun night out on the town!
Go for a stroll
Head for Patriot Park and take a leisurely stroll down the Riverwalk Trail that runs alongside the Little Pigeon River. The trail is perfect for taking in the fresh air, listening to the sounds of the soothing river and enjoying some quality time together.
Sip and relax
Spend the evening sipping your way through some of Tennessee's oldest distilleries and wineries.   Pigeon Forge is home to two distilleries found on the Tennessee Whiskey Trail and two of the wineries that make up the Rocky Top Wine Trail. Take a tour of the facilities and enjoy tasty samples while sitting back and taking in the beautiful mountain views. You're sure to find your favorite sipping places in Pigeon Forge!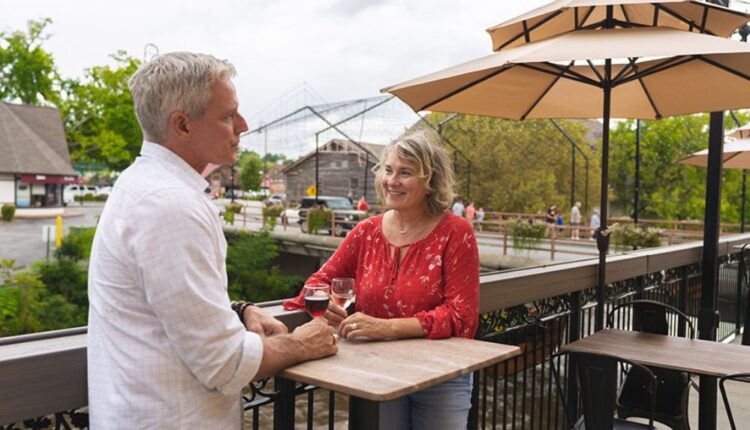 Get creative
For a unique date night experience, create your own wall worthy wood project at Board and Brush. The staff will guide you through distressing the wood, staining it, painting your custom designs and then antiquing the finished project. The workshop is BYOB, so bring your favorite beverage to sip while unleashing your creative side.
Have a romantic dinner
Impress your loved one with a romantic dinner at one of Pigeon Forge's best date night restaurants. Bullfish Grill is a great place for a romantic date night dinner. Choose from an extensive menu of seafood that is delivered fresh daily or try one of their savory flame grilled steaks. Bullfish Grill also has the finest wines, lagers and ales to compliment your meal.
Enjoy a bold twist on Brazilian food at Gaucho Urbano Brazilian Steakhouse. Tempt your tastebuds with premium grilled meats alongside classic favorites like feijoada, a savory black bean stew, seasonal dishes and a wide selection of cocktails, wine and beer on tap. It's the perfect setting for a romantic date night dinner.
Junction 35 Spirits is one of the newer restaurants in Pigeon Forge and is Tennessee's first distillery with a full-service restaurant. Whether you are looking for handcrafted cocktails made with the finest spirits, slow cooked BBQ or a non-GMO farm raised burger, Junction 35 is just the ticket.
Catch a show
Pigeon Forge is home to a variety of shows that offer fun and entertainment for a great night out. Enjoy a powerhouse production of singing, dancing, comedy and music at Country Tonite Theatre. Get ready for a good time at the Comedy Barn Theater featuring magicians, jugglers, live country music, barnyard animals and more. Or take part in a grooving tribute to Motown legends at the Grand Majestic Theater. These world-class performances are the perfect addition to any date night!
Listen to live music
In addition to all of the amazing music shows, you'll also find a lot of great restaurants with live music in Pigeon Forge. Enjoy an island adventure at Margaritaville Restaurant where you can listen to live music and enjoy the view on the patio that overlooks the Little Pigeon River. Or check out Pigeon Forge's newest live music and dining venue, The Listening Room Café, which offers great food and drinks with live music rounds each night.
Relax, on Island time
The Island in Pigeon Forge offers couples' a variety of ways to slow down and enjoy some time together. Do a little shopping or have dinner at one of the restaurants. Have a seat in front of the fountains and enjoy the incredible music and light show. Then after the sun sets, go for a cozy ride on the Great Smoky Mountain Wheel. The Wheel features a beautiful light show at night, along with spectacular evening views of the city.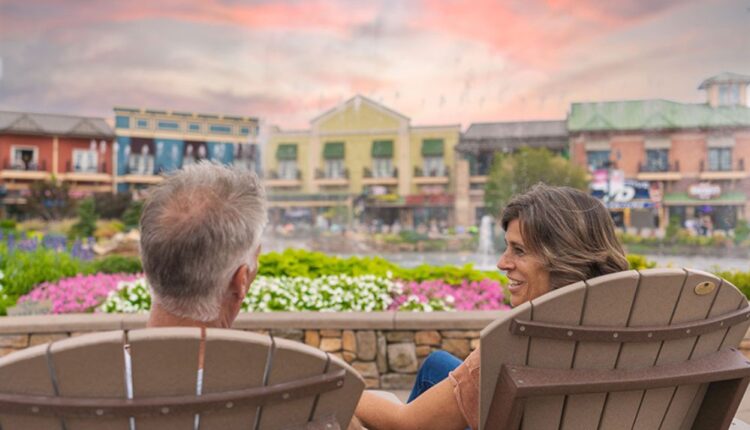 No matter what you decide to do, you're sure to enjoy spending quality time with your loved one on the perfect date night in Pigeon Forge!
We love seeing Pigeon Forge through your lens. Make sure to connect with us on Facebook, Twitter & Instagram. Don't forget to tag your photos with #mypigeonforge for the chance to be featured on our website.
You May Also Like:
Top 10 Activities for a Couple's Getaway to Pigeon Forge
Plan a Romantic Getaway with Your Sweetheart in the Smoky Mountains
5 Trip Ideas for Celebrating Your Anniversary in Pigeon Forge