Things to Do on a Romantic Getaway in the Smoky Mountains
Discover the best ways to celebrate Valentine's Day in Pigeon Forge
Love is in the air and cupid will be making his rounds soon. Valentine's Day is the perfect time to shower those you love with fun surprises. Why not plan those surprises near the beautiful Smoky Mountains?
From charming activities to great places to eat and stay to the best ways to celebrate Valentine's Day, use this guide to plan the perfect romantic getaway with your sweetheart in the Smokies.
Start the day with a hearty breakfast or brunch
Whether you're off to an early start or prefer to sleep in a little late, start the day with a hearty breakfast or brunch. Enjoy favorites like homemade biscuits, stone ground grits or delicious pancakes, all made with grains freshly ground from the historic mill at the Old Mill Restaurant. Or head to Puckett's Pigeon Forge for their sweet potato pancakes layered with pulled pork, fried apples and egg, served atop a bed of fries.
Take in the magnificent scenery on a winter hike in the Smokies
For those that love the great outdoors almost as much as they do their significant other, there's no better way to take in the magnificent scenery than with a day spent exploring Great Smoky Mountains National Park. Grab your gear and go for a winter hike in the Smokies where nature's breathtaking beauty is right at your fingertips. You'll also find plenty of great spots to capture photos with your loved one to remember for your special getaway for years to come.
Try your hand at axe throwing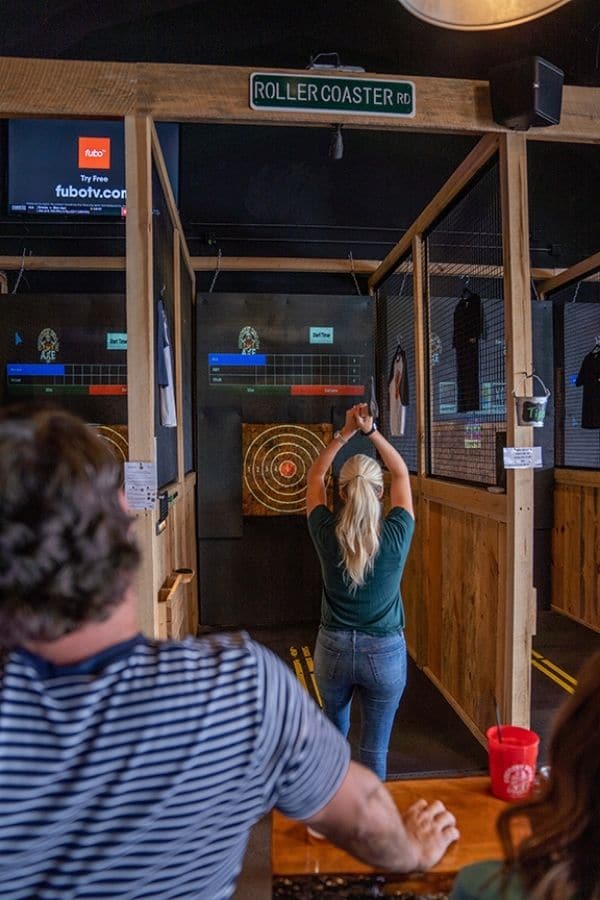 For the couple that is ready to take on any challenge, make a stop at Country Roads Axe Co. Here you can enjoy three concepts under one roof for an experience like no other! Test your skills to see if you're a natural at axe throwing. Then fill up on West by God CoalFired Pizza or grab a drink from the self-serving beer system.
Sample local wines and ciders
Sit back and relax with a glass of wine or a hand-crafted hard cider at Pigeon Forge wineries. Mill Bridge Winery offers flights of house-made hard ciders and select wines that you can sample while taking in the views of the Little Pigeon River from its riverside patio. Keep the tasting adventures going with a stop at some of the other local wineries that make up the Rocky Top Wine Trail in Sevier County.
Shop for the perfect gifts
Pigeon Forge also offers plenty of ways for you to shower your sweetheart with gifts. Shop the latest trends in fashion or explore a huge selection of souvenirs, collectibles and décor at Mountain Mile & Tower Shops. Another great entertainment complex in Pigeon Forge is The Island in Pigeon Forge, which features unique retail and specialty shops, in addition to great restaurants in case you get hungry during your shopping trip. Explore even more great shopping options in Pigeon Forge for your getaway.
See a world-class show
If you are looking for even more great entertainment options, Country Tonite Theatre boasts a powerhouse production of singing, dancing, comedy and music. The shows also include bluegrass and gospel numbers along with offering a yearly celebrity concert series in the summer and fall.
Or take in one of four shows at the Grand Majestic Theater in Pigeon Forge. From a celebration of Motown's greatest hits to a singing and dancing stage spectacular featuring all your favorite jukebox hits, these fantastic performances are perfect for a great night out with your loved one.
Renew your vows and walk on the Grand Staircase
February is Sweetheart Month at the TITANIC Museum Attraction in Pigeon Forge. The entire month is dedicated to uniting and reuniting couples with one-of-a-kind vow renewals. Relive your big day on TITANIC's Grand Staircase in the same spot where the epic movie's Rose and Jack embraced and fell in love. TITANIC is offering Sweetheart packages that cover all arrangements, from a magnificent ship's tour to Valentine gift packages, to a special Grand Staircase presentation.
Kick back and enjoy an amazing water show
The Island in Pigeon Forge is filled with fun things for couples to do during their romantic getaway. Take your loved one for a ride on the Great Smoky Mountain Wheel. The climate-controlled gondolas rise 200 feet above the city for some of the most incredible views of the Smoky Mountains. Or kick back and relax in front of The Island show fountains and enjoy the incredible water show as you watch the evening sunset.
Enjoy dinner with a side of romance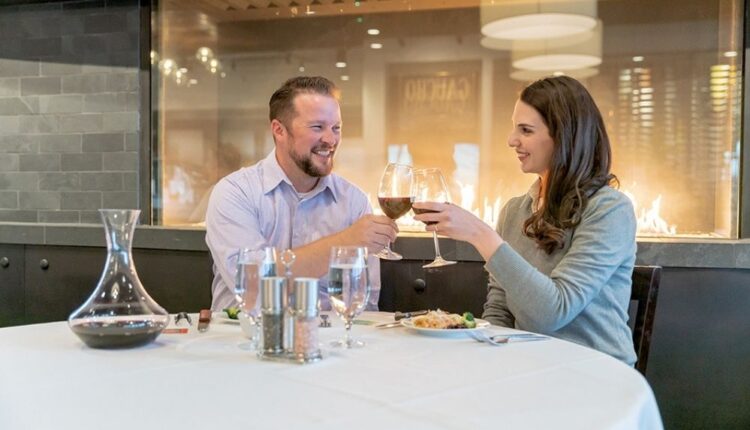 Enjoy upscale dining at its finest with a romantic dinner for two at Gaucho Urbano. After a fun-filled day of adventures out on the town, this Brazilian steakhouse is sure to please with its spectacular ambiance and full spread of authentic Brazilian foods.
For the couple that enjoys a relaxing dinner accompanied by the sounds of live music, The Listening Room is a great place to go. This one-of-a-kind venue brings a taste of Nashville's music scene to the beautiful Smoky Mountains. See shows ranging from new songwriters showcasing their talents to major label artists doing surprise shows. Top that off with great food and a full bar, and you're sure to enjoy this incredible experience. Discover even more restaurants with live music in Pigeon Forge.
Cozy up with your sweetheart in a Pigeon Forge cabin or hotel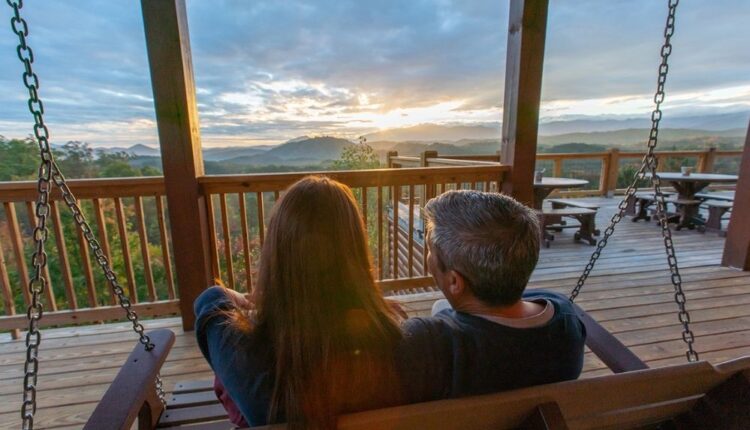 If relaxation is what your sweetheart loves, spend your romantic getaway in a cozy cabin or chalet. You'll find countless ways to enjoy spending quality time together. Take in the magnificent mountain views from the patio, cuddle up by the fireplace and watch a movie or grab your favorite drink and let the worries of the day just melt away with a soak in the hot tub. Pigeon Forge cabins and chalets offer the perfect way to enjoy the mountains and one another without being too far from the fun. Save on your stay with money-saving discounts on cabin rentals in Pigeon Forge.
Another great way to spoil your sweetheart is with a luxurious hotel stay. Pigeon Forge hotels offer an endless array of amenities to suit any need or budget. From spacious rooms with private balconies and views of the mountains and river to heated indoor pools, outdoor fire pits and more, you won't have any trouble relaxing and unwinding at the end of the day. Book a Pigeon Forge vacation package and save with discounted rates on hotels and attraction tickets.
Show your sweetheart just how special they are with a romantic getaway in the Smoky Mountains. Whether you prefer days filled with adventure or simply relaxing and unwinding, Pigeon Forge has everything you need to make this Valentine's Day one to remember!
We love seeing Pigeon Forge through your lens. Make sure to connect with us on Facebook, Twitter & Instagram. Don't forget to tag your photos with #mypigeonforge for the chance to be featured on our website.
You May Also Like:
Plan the Perfect Date Night in Pigeon Forge
5 Things to Do with Kids for Valentine's Day
Top 10 Activities for a Couples Getaway in Pigeon Forge