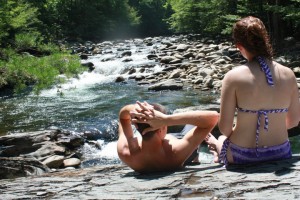 Playing in the water is synonymous with family vacations in the summer. Pigeon Forge provides plenty of places to do that. Families can choose between various pools at their hotel or cabin, Dollywood's Splash Country, or taking a short trip into the mountains to check out the streams and rivers of the Smokies.
There's something uniquely satisfying about being able to enjoy a natural river on a hot day. And you'll be hard pressed to find any rivers more beautiful than the ones in the Smoky Mountains. Filled with thousands of smooth boulders large and small (and often moss covered), these rivers make perfect spots for kids to swim and play.
From secluded slow-moving swimming holes to more open fast-moving rivers ideal for tubing, you can find a spot perfect for your family. There are more than 2,000 miles of waterways in Great Smoky Mountains National Park to choose from.
Some popular swimming locations are the Little Pigeon River in Greenbrier, or where the west and middle prongs of the Little River meet at the intersection of Laurel Creek Rd. and Little River Rd.
Take a break from the summer heat and go for a swim in the mountains the next time you pay us a visit!