10 Free (or Almost Free) Things to Do on Spring Break in Pigeon Forge
Spring break fun doesn't have to cost a fortune. However, with the kids being out of school for a whole week, finding entertainment options that fit the budget can be a challenge. Don't worry though, Pigeon Forge has plenty of free or almost free activities that are sure to entertain your family.
Explore this list of free, or almost free, things to do during spring break in Pigeon Forge, Tennessee.
Play a life-size game of chess at Mountain Mile & Tower Shops.
Mountain Mile & Tower Shops is a multi-purpose retail, dining and family entertainment complex that spans 174 acres in Pigeon Forge. Spend some time with the family exploring the wide variety of shopping and dining options. The Lawn at the Tower Shops is a large outdoor space that offers a seating area, fire pits and play structures. There's even a gigantic chessboard that the kids are sure to love! It's a great spot to let the kids run and play while you sit back and take in the majestic mountain views.
Watch candy being made at Old Mill Square.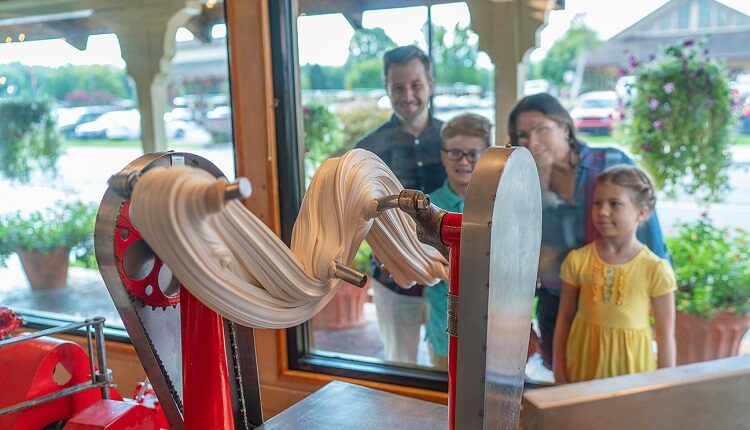 It's easy to spend hours browsing or just window shopping at Old Mill Square! This historic area is home to the Old Mill, a water-powered gristmill that still functions today. Numerous retail and specialty shops offer handmade items by local artisans, along with homemade goods and souvenirs.
Start your visit by spending some time watching the potters at Pigeon River Pottery. It is fun to try to guess what beautiful pottery piece they are creating as they slowly and carefully form the clay with their hands over the spinning wheel.
Afterwards, head next door to the Old Mill Candy Kitchen. You can watch them pulling and cutting taffy or maybe even making their homemade fudge. Although watching may be free, you will probably not be able to leave the store without buying a delicious snack!
If your family is ready for even more fun, walk across the street and check out the blacksmith at work at Iron Metal Mountain Craft. You can watch as they heat and sculpt a piece of metal into a unique knife or ornamental décor.
Stroll the Riverwalk Trail and feed the ducks at Patriot Park.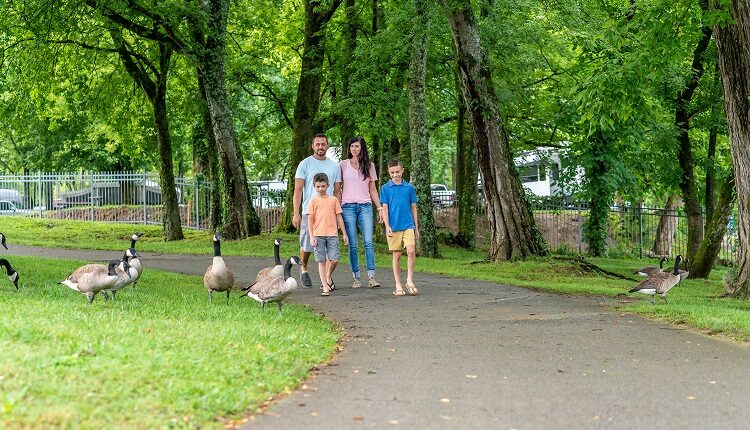 Make sure to stop and buy some duck food from the Old Mill General Store before heading over to Patriot Park. This family favorite outdoor spot is located along Old Mill Square, by the Old Mill Restaurant. The park sits alongside the Little Pigeon River, where the kids will love feeding the ducks and watching them swim along in the river. You may also find some ducks to watch along the Riverwalk Trail. The paved, lighted walking trail features flags from all 50 states, as well as memorials to the veterans from Pigeon Forge.
Go on a spring hike in the Smoky Mountains.
Spring is an exceptionally beautiful time of year in the Smoky Mountains. The trees begin to fill with luscious green foliage and spring wildflowers begin to bloom adding brilliant shades of color. Get out and enjoy the beautiful weather while taking in the magnificent views on a spring hiking adventure in Great Smoky Mountains National Park. See who can find the most of different leaves, trees, flowers or wildlife. There are also several great hiking trails for kids in the national park.
Begin your excursion with a stop at Sugarlands Visitor Center to browse the natural history exhibits. They also have a 20-minute video you can watch that offers information about the national park itself.
*Parking passes are now required in Great Smoky Mountains National Park for visitors parking for more than 15 minutes. Learn more about the Park it Forward program.
Take a scenic drive through Cades Cove.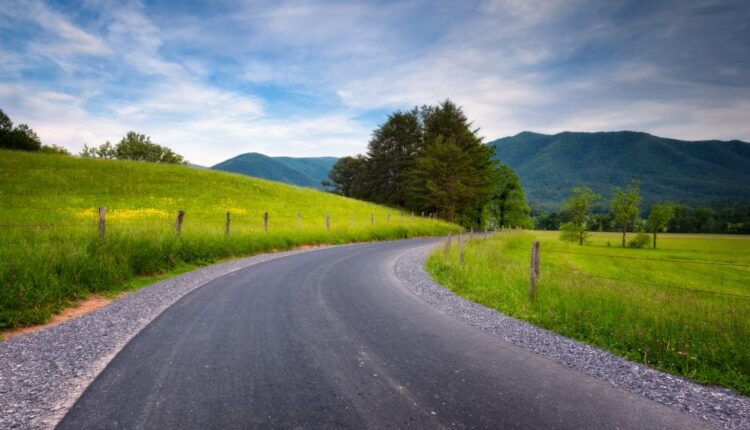 Spend another day touring Cades Cove on a scenic drive along Cades Cove Loop Road. The area is one of the most beautiful spots in the park, offering incredible mountain views and plenty of opportunities for spotting a variety of wildlife. As you travel along the 11-mile loop, stop to explore the historic structures like pioneer log cabins, restored churches and old grist mills. You can grab a map for a small fee/donation at the entrance that will give you the history of the area. Use our guide to scenic drives along Cades Cove Loop Road to learn more about the area and the historic sites and buildings found along the loop.
Plan a picnic lunch.
A picnic is a great way to spend time together with the family, while enjoying the beauty of the outdoors during your visit to Pigeon Forge. Pigeon Forge city parks offer plenty of open green spaces where you can enjoy lunch and then let the kids run around and burn off a little energy. Great Smoky Mountains National Park also offers plenty of scenic spots to stop for a picnic, as well as designated picnic areas with picnic tables and grills, so you can enjoy the incredible mountain views at the same time.
Cast a line in the Little Pigeon River.
The Little Pigeon River that runs alongside Patriot Park is also known for its trout fishing streams. In addition to the park, there are several access points for fishing the river. Enjoy spending time outdoors with the kids while seeing who can catch the first fish.
Watch the fountain show at The Island.
One of the highlights of a visit to The Island in Pigeon Forge are the dancing water fountains. Grab a seat in one of the rocking chairs that surround the fountains and prepare to be amazed! The fountains come to life about every half hour with a choreographed music and light show. While you're there, do a little window shopping at more than 60 retail and specialty shops.
Capture memories at the best photo spots around town.
One of the best parts of a Pigeon Forge vacation are the endless photo opportunities. From picturesque spots in Great Smoky Mountains National Park to iconic landmarks to fun photo spots at popular attractions, capturing fun family memories has never been so much fun! Check out some of our favorite photo spots around Pigeon Forge and the Smoky Mountains, many of which can be captured at little to no cost.
Use the Pigeon Forge Trolley to get around.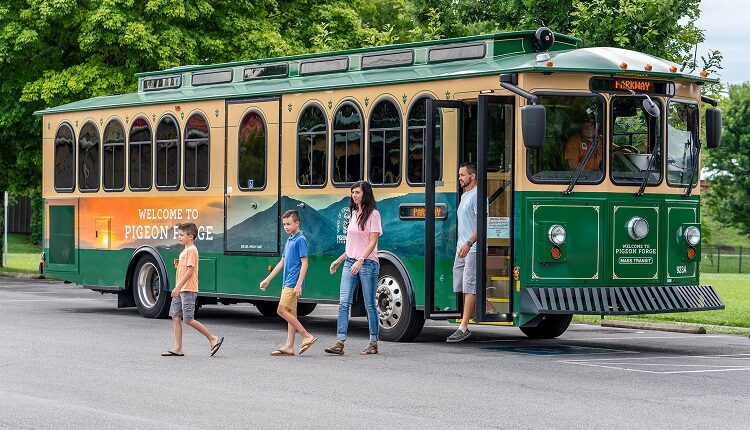 An all-day pass on Pigeon Forge Mass Transit trolleys costs only $3 per person, and children 3 and younger ride free. It's the perfect way to get around town without having to worry about the traffic or parking. Just sit back and enjoy the ride! You can get off at the different stops and explore or just hang out for a long ride.
Don't break the piggy bank this spring break! Take advantage of these free or nearly free things to do in Pigeon Forge, Tennessee!
Check out even more fun and exciting things to do during Spring Break! And find even more ways to save at local businesses with dozens of money-saving coupons for lodging, restaurants, attractions, shows and shopping.
We love seeing Pigeon Forge through your lens. Make sure to connect with us on Facebook, Twitter and Instagram. Don't forget to tag your photos with #mypigeonforge for the chance to be featured on our website.
You May Also Like
Your 2023 Guide to Spring Break in Pigeon Forge
5 Things You Must Do this Spring in Pigeon Forge and the Smoky Mountains
Where to See Spring Wildflowers in the Smoky Mountains