Top 10 Things to Do with Toddlers in Pigeon Forge
Pigeon Forge rolls out the red carpet and provides so much to do for its little guests! The city is known as the Center of Fun in the Smokies because it is a family-friendly destination with fun for all ages, even the toddlers.
While keeping toddlers entertained may not always be an easy task, you'll find plenty of fun attractions and activities to enjoy during your Smoky Mountain vacation. Some of the attractions even have designated areas that are specifically geared toward our little guests. Be sure to check out these top 10 things to do with toddlers in Pigeon Forge on your next visit.
Climb and bounce around at TopJump Trampoline & Extreme Arena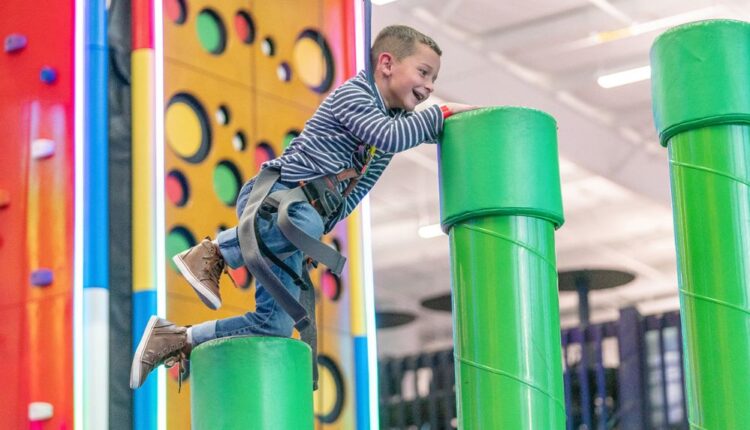 TopJump Trampoline & Extreme Arena has a Kids Zone that is designed to be a safe play area for the younger ones. They can play in the ball pit, bounce around in the free jump area, slide down the slides over and over, jump into the foam pit, and best of all, no big kids are allowed! Parents can relax and the little ones can have some fun of their own.
Once the little ones are done bouncing and jumping around, head for Arcade Alley. The arcade is filled with all the hottest games and lots of great prizes. Or make a stop at Sugar Rush for some of the best candy around.
Race, splash and play at Ripley's Super Fun Park
From toddlers to teens, Ripley's Super Fun Park is your one-stop destination for family fun. The little ones can race each other on the kiddie go-kart tracks. Toddlers that are at least 3 feet tall can go for a ride with mom or dad on the family go-kart track filled with lots of fun twists and turns. Or hop in the blaster boats equipped with water cannons for a friendly water battle.
There's also an assortment of fun rides that are geared towards the younger kids, as well as a 10,000-square-foot arcade. Ripley's is the perfect place to let toddlers burn off some of that endless energy.
Check out even more fun family amusement parks the whole family will love to visit.
Let their imaginations run wild at Wonderworks
The famous Wonderworks upside down mansion is another great attraction that offers tons of activities for both kids and adults. Toddlers will love dancing their heart out in front of the screen that mirrors their body movements in brilliant and vibrant colors. Or jumping from key to key on the giant piano and playing music with their feet.
There's also a gigantic version of Lite-Brite where kids can create a beautiful masterpiece with glowing sticks. Or head over to the interactive sandbox where your toddlers can dig trenches and build mountains. WonderWorks makes learning fun and easy for little ones.
Check out even more museums that are perfect for kids of all ages.
Build a snowman at Pigeon Forge Snow
What kid doesn't enjoy building a snowman? Pigeon Forge Snow offers an abundance of wintry excitement all year long. The Snow Play area is for all ages to enjoy playing in the snow and making forts, snow angels, or whatever else they can imagine.
Youngsters that are at least 38 inches tall and 3 years old can go snow tubing down the hill. The indoors temps are a comfortable 60-70 degrees year-round, so there is no need to worry about bundling up to stay warm!
Take a stroll through Patriot Park and feed the ducks
Patriot Park is a great place to hang out and enjoy the outdoors with kids of all ages. The park features a paved walking trail lined with U.S. state flags placed in the order they achieved statehood.
The little ones will love feeding the ducks or watching them float along the Little Pigeon River. There is also plenty of open green space for running around, playing catch, flying a kite or throwing a frisbee. Make it an extra special day by laying out a blanket and enjoying a picnic lunch together.
Discover all there is to do at Dollywood and Dollywood's Splash Country
Dollywood is loaded with fun things to do for everyone in the family. In addition to thrill rides, the park is filled with lots of other great rides and attractions that are perfect for toddlers and little kids. Country Fair is an area designed just for kids. Toddlers will enjoy rides on the busy bees, the twisting lemon cups and the piggy parade.
Wildwood Grove is another great area for the younger ones. From gliding through the backwoods on a black bear to racing around and around on frogs as they try to catch fireflies to a secret play area near the Wildwood Tree, Dollywood is a great place to keep toddlers entertained with hours of play.
Dollywood's famous water park, Splash Country, also offers fun things to do for toddlers. Let them splash and play on the all-new splash pad or explore the hidden misters, bubblers and slides in the lagoon-style pool.
Feed the goats and ride the coaster at Goats on the Roof
A ride on the mountain coaster at Goats on the Roof offers thrills for all ages. You control the speed of the cart as it twists and winds on its journey down the mountain. The coaster reaches top speeds of nearly 30 mph and offers beautiful mountain views along the way. Children must be a minimum of 38 inches tall and 3 years old to be able to ride the coaster with mom or dad.
In addition to the coaster rides, Goats on the Roof actually has live goats on the roof. Toddlers and kids of all ages can feed the goats and the upstairs viewing area allows for a close-up look at these furry friends. Other fun things to do include gem mining and a big gift shop filled with ice cream, candies and fudge. If you're looking for a fun and unique experience for the whole family, head to Goats on the Roof!
Teach your toddler how to play mini golf
A great way to create new memories with the family is with a round of mini golf. And Pigeon Forge has lots of amazing miniature golf courses to choose from. Play a round of putt-putt with your toddlers at Toy Box Mini Golf, where you'll find all your favorite childhood toys scaled to epic proportions. For those with a sweet tooth, the candy-themed courses at Crave Golf Club are just the ticket.
From black-light, pirate-themed courses to courses filled with fantasy animals, castles and more, you're sure to find the perfect place to play mini golf and make memories with your toddler in Pigeon Forge.
Go on a kid-friendly hike in the Great Smoky Mountains
Explore the outdoors as a family by taking your toddler for a hike or stroller ride in Great Smoky Mountains National Park. The park is home to over 800 miles of hiking trails and a large variety of wildlife.
Sugarlands Trail, located directly behind the Sugarlands Visitor Center, is a great trail for beginners and for the little ones. The Sugarlands Valley Trail is also located nearby the visitor center and highlighted by a waterfall. The half-mile path is partially paved and wide enough to accommodate a stroller.
Explore even more kid-friendly hikes in Great Smoky Mountains National Park.
Put a smile on their faces at a dinner show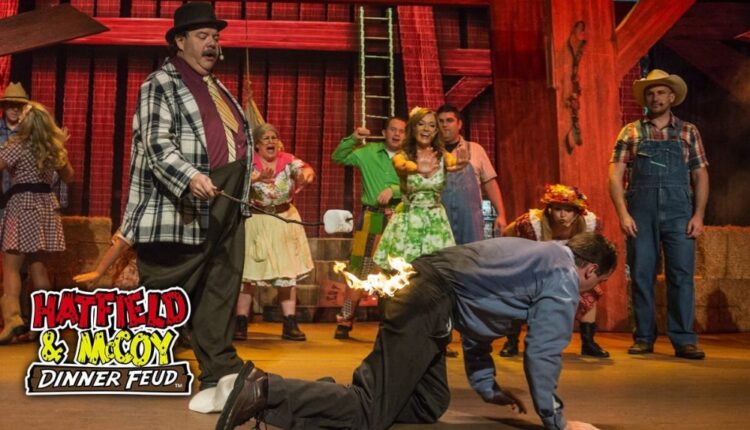 After a fun-filled day spent exploring attractions in Pigeon Forge, end the day with dinner and a show. Pigeon Forge shows offer world-class entertainment that will delight even the youngest of guests.
Dolly Parton's Stampede features a mouth-watering 4-course dinner and a spectacular performance that includes 32 horses accompanied by riders that perform thrilling stunts and musical productions. Head to the show early for a backstage visit at the stables to visit the show's equestrian stars before they head into the theater.
Another dinner show that is sure to put smiles on your toddlers' faces is the Hatfield & McCoy Dinner Feud. They'll love the singin' and dancin' and jaw-dropping stunts, watching divin' hillbillies and divin' dogs in the swimming hole and the newest addition to the show – a billycopter!
Check out even more family-friendly dinner shows in Pigeon Forge.
Taking toddlers on vacation can be a challenge, but you'll find plenty of great attractions and activities to keep your little bundles of energy entertained in Pigeon Forge! Start planning your next visit to the Center of Fun in the Smokies today!
You May Also Like:
Best Ice Cream Shops in Pigeon Forge
Best Family Photo Spots in Pigeon Forge
10 Things to Do with Kids on Your Road Trip to Pigeon Forge