Your 2023 Guide to Spring Break in Pigeon Forge
Wondering what to do for Spring Break? Why, a trip to Pigeon Forge, of course!
As spring weather approaches, along with it comes the return of green leaves on the trees and the blooming of beautiful spring wildflowers. Pigeon Forge is truly magnificent during the spring months, making it an ideal choice for your spring break destination.
From exploring the Great Smoky Mountains to racing go-karts to some of the best memories made at Dollywood, check out this list of some of the best spring break activities for kids in Pigeon Forge.
Best Pigeon Forge Spring Break Activities for Kids
Go for a spring hike and see the wildflowers
Spring is the perfect time for a visit to the Great Smoky Mountains. The transition of seasons from winter to spring is one of the most beautiful times of year. Great Smoky Mountain National Park comes alive as the trees begin to dawn brilliant shades of green, wildflowers begin to blossom in an array of magnificent colors and wildlife begins to emerge after months of hibernation.
The national park is home to over 800 miles of hiking trails for every age and skill level, with a handful leading to some of the most amazing waterfalls you will find anywhere. Check out some of the most popular spring hiking trails, as well as trails that are perfect for the kids.
Take a scenic drive through the Smokies
Cades Cove is known not only for its magnificent vistas, but also for having the largest variety of historic buildings in Great Smoky Mountains National Park. A scenic drive on the 11-mile one-way Cades Cove Loop Road is one of the best ways to take in the beauty and splendor of Cades Cove. From restored churches to old grist mills to pioneer log cabins, you'll find plenty of places to get out and enjoy the amazing mountain landscapes while learning about the area's vast history. Pack a picnic lunch — it won't be hard to find the perfect spot to enjoy it.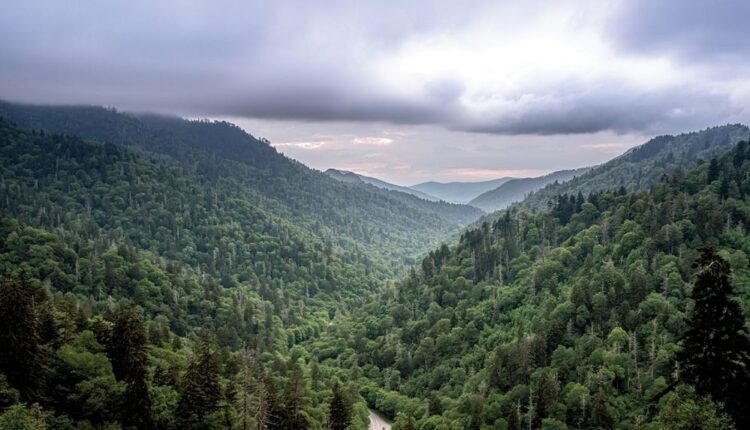 Pile on the pancakes
Pigeon Forge is known not only for its stunning mountain views and endless family attractions, it's also one of the best places around to fill up on piles of fluffy pancakes. From pineapple upside down pancakes at Smoky's Pancake Cabin to sticky bun pancakes at Flapjack's Pancake cabin, you're sure to find your family's favorite new breakfast spot!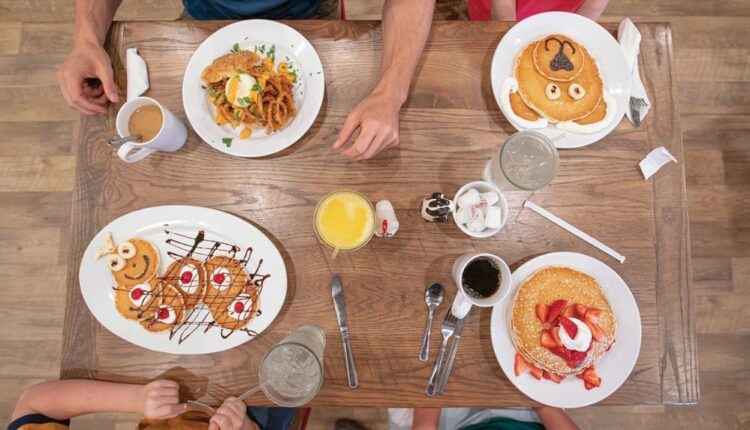 Go on an off-road adventure
Another great way to get out and see the beauty of the Smokies is with Pink Jeep Tours. Relax on a breathtaking guided tour of the Smoky Mountains in an iconic, open-air Pink Jeep. These guided trips last anywhere from 2 to 3 hours and offer the chance to see some of the most magnificent views the Smoky Mountains have to offer. It's the perfect way to get great photos to share with family and friends, so make sure to bring your camera!
Go for a stroll and feed the ducks
The Riverwalk Greenway in Pigeon Forge runs along the Pigeon River, offering visitors and locals alike a spot to enjoy nature without ever leaving the city. You'll find benches along the trail to stop and relax while the kids play. One of the entrances to the Riverwalk is at Patriot Park, which is another great spot to enjoy a beautiful spring day. Take some duck food with you as you are likely to see ducks swimming along in the Little Pigeon River at Patriot Park and as you continue your journey down the Riverwalk trail.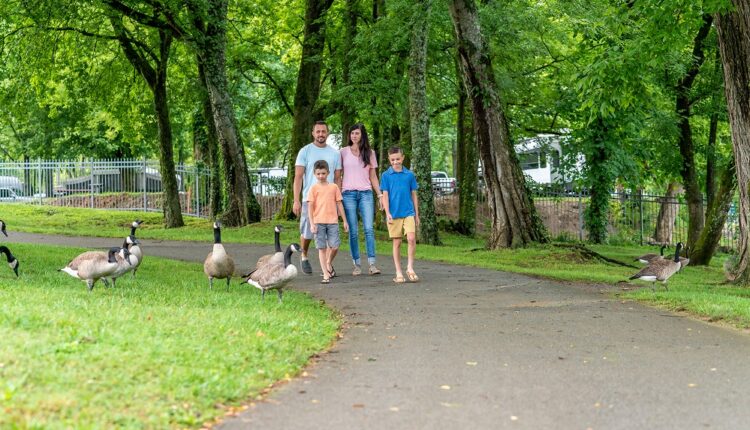 Race around the go-kart tracks
Get the kids away from their "screens" and spend an afternoon or evening at one of the go-kart tracks in Pigeon Forge. From go-kart tracks to bumper cars to a section filled with rides and activities for children, a variety of locations across the city offer plenty of fun ways to get out and enjoy time with the family, rain or shine. This realistic racing experience is offered on both indoor and outdoor tracks. Explore the best places to ride go-karts in Pigeon Forge.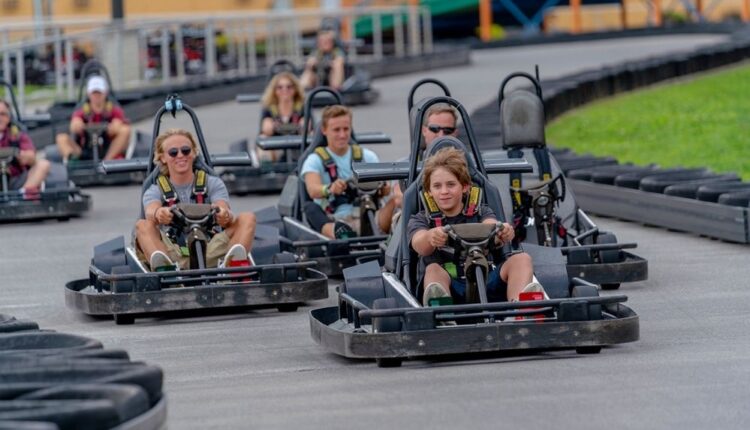 Ride an alpine coaster or three
Pigeon Forge is known for its extensive selection of family fun attractions, and alpine coasters top the list! Enjoy incredible views as you twist and turn through tunnels and the mountain trees. If you've never been on an alpine coaster, this is definitely an experience you won't soon forget! Learn more about the 3 best alpine coasters in Pigeon Forge.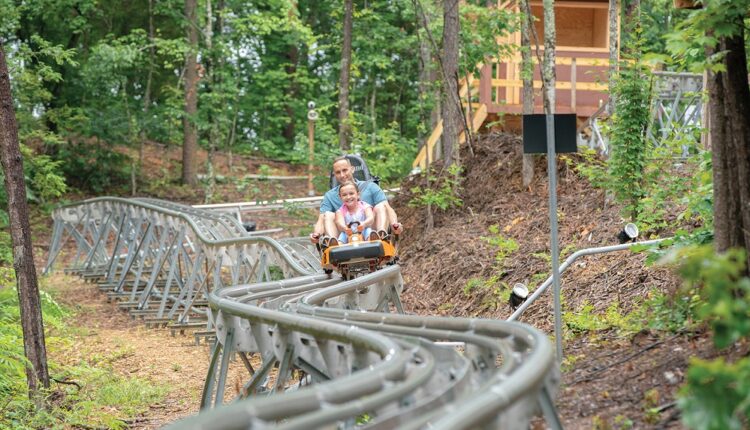 Enjoy a little horseplay at dinner
Scope out the schedules and book some quality family time at one of the shows in Pigeon Forge. Younger kids will be delighted as they watch the famous pirate, Blackbeard, and his quartermaster, Calico Jack, partake in an epic battle at Pirates Voyage Dinner & Show. From sword fighting to cannons blazing to pirates swinging from ship to ship, you're sure to be amazed, all while enjoying a four-course feast fit for a pirate!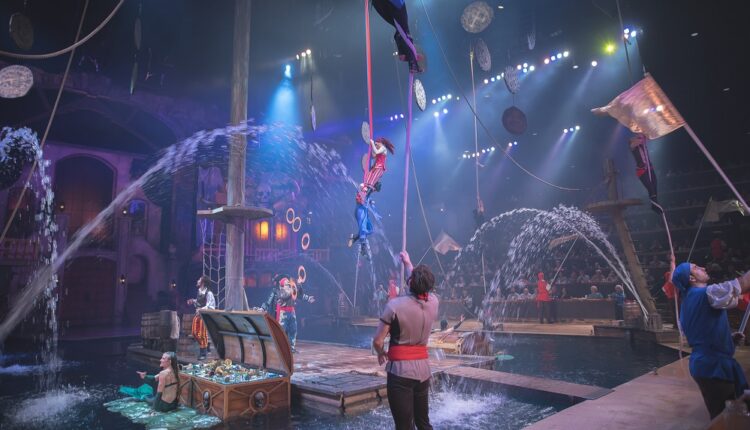 If you have animal lovers in your crew, an evening at Dolly Parton's Stampede is a must. Come early to meet and greet the horses that perform in the show. Then, enjoy a classic four-course meal while being amazed at the main event featuring 32 horses and professional trick riders!
Play a round of mini golf
Plan a fun afternoon with the family at one of the themed mini golf courses in Pigeon Forge. From toy-themed courses filled with all your favorite childhood toys scaled to epic proportions to candy-themed courses filled with delicious candies and sweet treats, kids of all ages will enjoy putting their way through these uniquely designed and themed courses.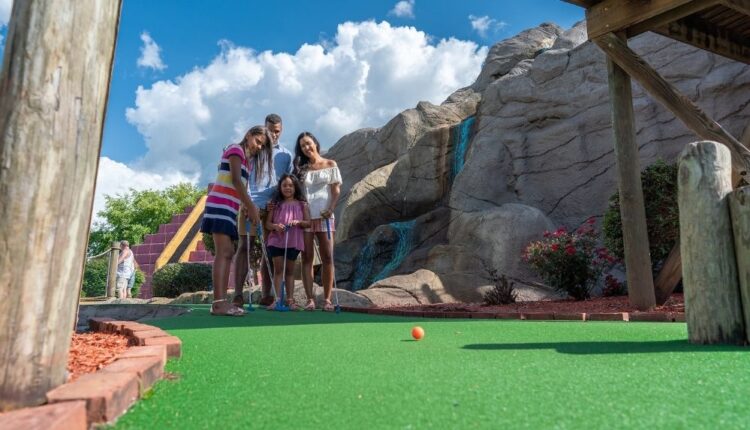 Spend a day at Dollywood
No spring break trip to Pigeon Forge would be complete without a day at Dollywood. And the park reopens just in time for spring on March 12th. Lovingly known as the only theme park with traditional Southern charm, Dollywood offers rides, entertainment, handmade crafts and food that is sure to please visitors of all ages.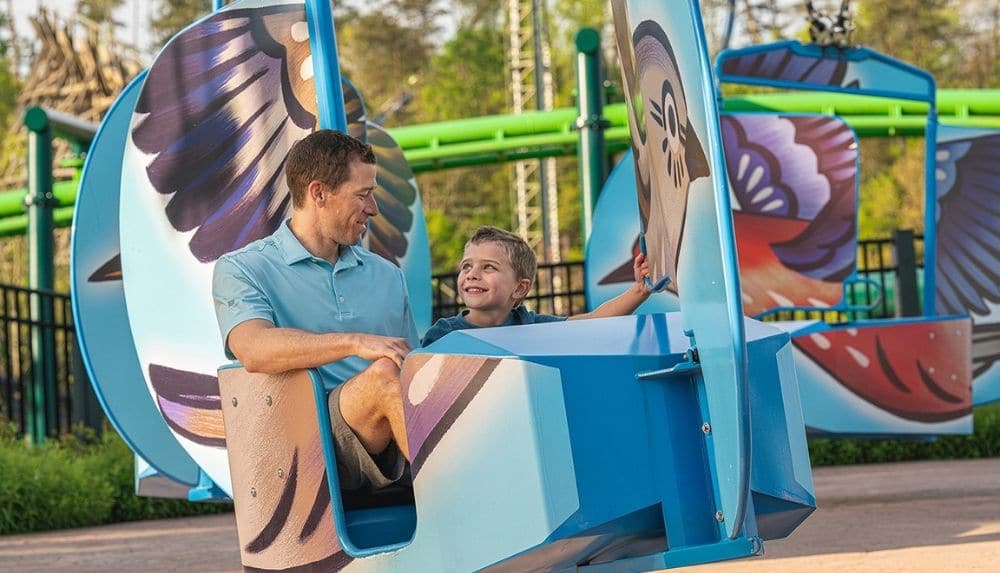 Enjoy thrill-rides like Lightning Rod, the world's fastest wooden roller coaster, which are perfect for teenagers, to Dollywood's Country Fair, an area designed especially for smaller children. And starting on April 22nd, Dollywood's Flower & Food Festival kicks off to delight guests with thousands of brilliant flowers and larger-than-life sculptures.
Get stranded on an island
The Island in Pigeon Forge is ready to offer your family plenty of fun times too. With so many entertainment, food, and shopping options, you are sure to find something for everyone. The Island Fountains are a great spot for just hanging out to watch the stunning presentation of water as it shoots 60 feet in the air to the sounds of music.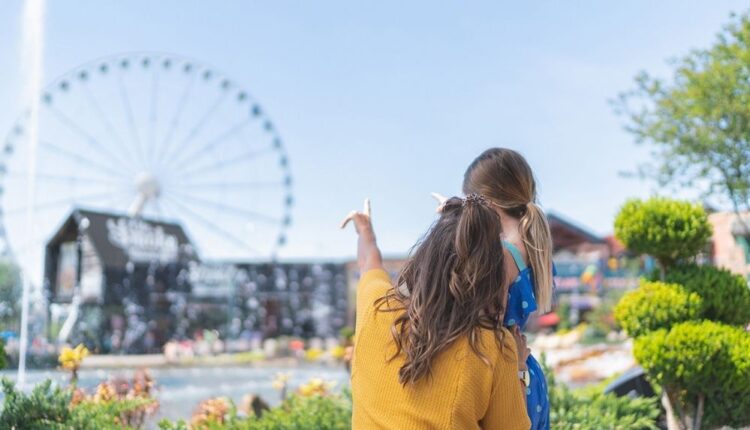 Keep the kids busy with a visit to The Island Ropes Course, a three-story adventure with thirty different elements, two zip lines and one simulated free fall. Enjoy a great meal at the Margaritaville Restaurant and spend some time browsing the many unique retail shops and local boutiques you'll find throughout The Island.
Scenic beauty. Thrilling views. Unforgettable attractions. Mesmerizing shows. Pigeon Forge is the perfect destination for an awesome family spring break vacation. The fun awaits you!
Check out even more fun and exciting things to do during Spring Break!
You May Also Like:
Free (Or Almost Free) Things to Do on Spring Break in Pigeon Forge
5 Things You Must Do This Spring in Pigeon Forge and the Smoky Mountains
10 Things to Do with Kids on Your Road Trip to Pigeon Forge