Top 10 Ways to Cool Off in Pigeon Forge this Summer
Summertime is one of the best times of year for a family vacation. The abundance of sunshine and warmer temperatures allows vacationers to enjoy an array of fun summer activities in Pigeon Forge.
As the temperatures continue to heat up, we know you'll be looking for the best ways to cool off during your visit. You'll be glad to know that Pigeon Forge has a great mix of indoor and outdoor activities perfect for beating the heat this summer with your family. From water slides and lazy rivers to whitewater rafting and more, discover the best ways to cool off in Pigeon Forge this summer!
Go on a waterfall hike in Great Smoky Mountains National Park
One of the best places to beat the heat is in Great Smoky Mountains National Park. The temperatures in the mountains tend to be lower at higher elevations. So, the higher up you go, the cooler it gets. And many of the hiking trails are very shaded, with some even leading to streams and waterfalls.
Enjoy amazing views of the beautiful foliage and stunning summer wildflowers that line the winding paths which lead to crashing waterfalls and rushing cascades on a waterfall hike. Or find a stream and enjoy the natural running water that is so serene and peaceful. Better yet, take your shoes off and dip your feet in the cool mountain stream. You will love cooling off in the beautiful Great Smoky Mountains!
Discover even more fun things to do during summer in the Smoky Mountains.
Race down water rides and slides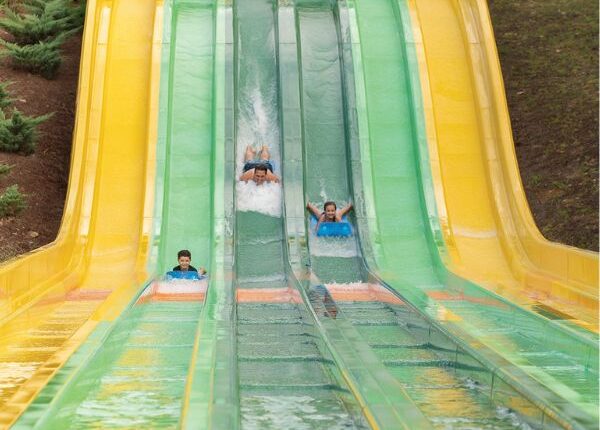 Put your swimsuits on and head for Dollywood's Splash Country. Nestled in a beautiful mountain setting and boasting 35-acres of water activities, you'll quickly see what makes it one of America's top water parks. From water slides and rides to pools, a lazy river and more, you can spend a whole day cooling off and having fun.
For the adventurous, plunge down thrilling slides like Fire Tower Falls or race on the TailSpin Racer. Families can enjoy a twisting, turning ride on the Raging River Rapids or grab a tube and take on a wave in the massive wave pool, Mountain Waves. Little kids will love getting drenched as they climb around and play at Bear Mountain Fire Tower or splash in the new splash pad at Little Creek Falls. A day spent splashing and playing in the water is the perfect way to keep the entire family cool during your visit!
Relax in style at one of the many private and spacious waterside retreats or cozy canopies that are available on the property. These fill up fast so be sure to make reservations as far in advance as possible if you want to secure this incredibly popular amenity!
Zorb down a 1,000-foot hill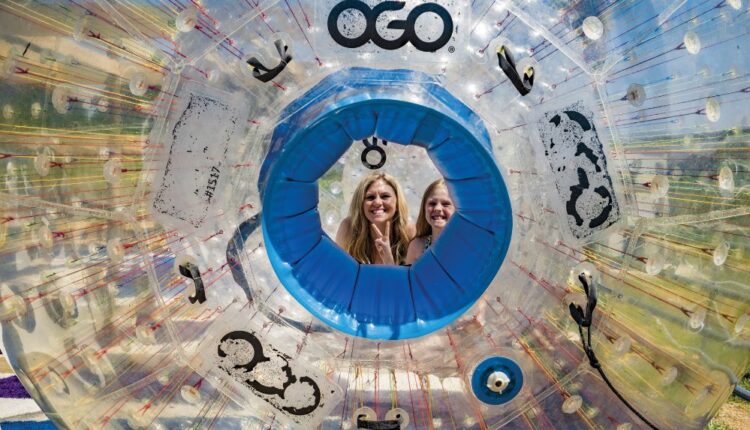 The Outdoor Gravity Park in Pigeon Forge is the only zorbing park in the USA. Dive into an 11-foot giant inflatable ball and roll down the 1,000-foot hill for a unique experience that you won't find elsewhere!
The giant ball is filled with 10 gallons of water and can fit up to 3 people, with 3 different tracks to choose from. The Extreme Zig Zag course is so extreme only one person can ride at a time. A total of 3 people can speed down the Fast Tracks course or enjoy a roll down the hill on the Funnel course which combines the speed of the Fast Tracks and the turns of the Zig Zag course for an unforgettable experience. Beware, one time down the hill won't be enough.
Splash and play at hotels with pools or lazy rivers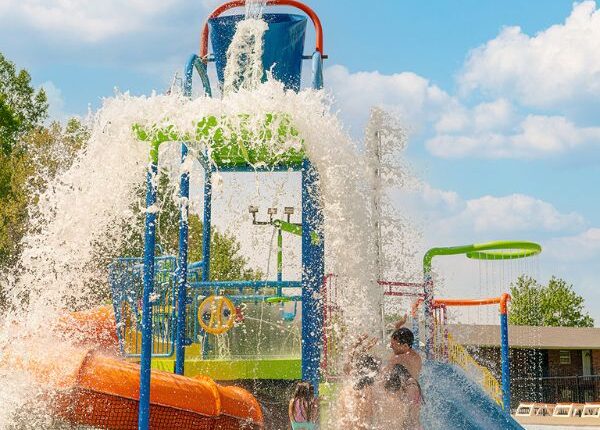 If relaxing poolside any time of day sounds like your kind of vacation, plan your stay in one of our Pigeon Forge hotels with pools, water parks or lazy rivers. These properties make it easy for the whole family to cool off and have fun.
Country Cascades Waterpark Resort offers a waterpark exclusively for hotel guests. You'll find both an indoor and outdoor pool, a 4-story River Run body slide, River Chaser raft slide and Splashaway Bay which features a smaller slide and large dump bucket that is perfect for the younger kids. Be sure to check out the lazy river at Riverstone Resort and Spa or the big pool at Music Road Resort Hotel. Relaxing poolside is a great activity any time of the day! In fact, you may never want to leave your hotel!
Try indoor snow tubing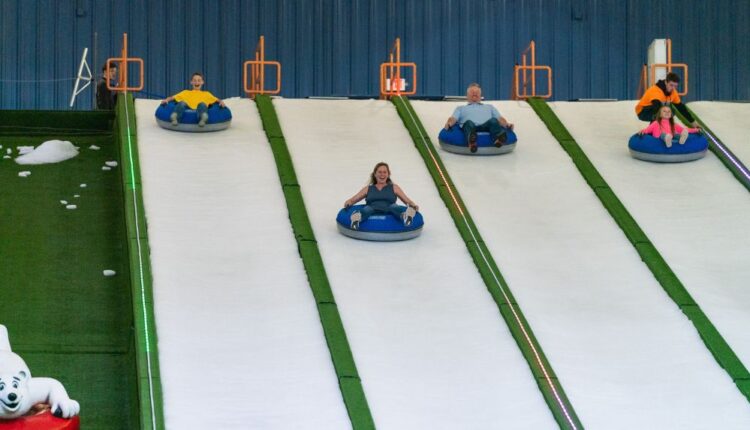 If you really want to cool off, try snow tubing at Pigeon Forge Snow. This fun indoor attraction in Pigeon Forge has snow year-round! They keep the indoor temps between 60 and 70 degrees, and you can spend your time snow tubing down the hills or making a snowman in the snow play area.
Have a water battle on blaster boats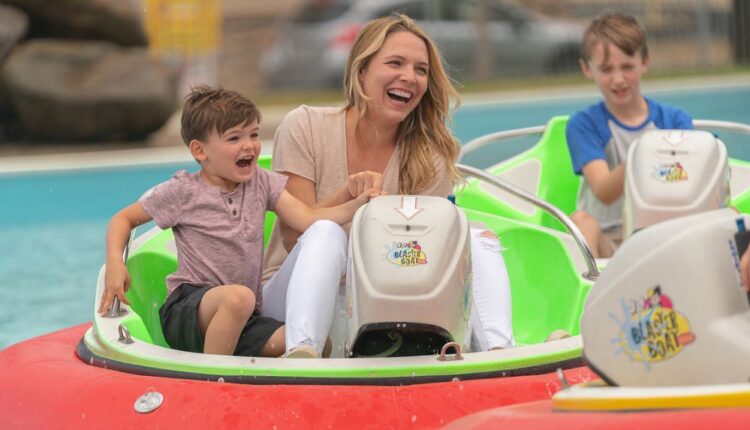 Have a water battle with your family and friends on the bumper style boats at The Track. Each blaster boat comes equipped with a water cannon that you can use to ride around and squirt each other. There are also several water cannons located around the pool, which will add to the fun.
The Track is also filled with lots of other great activities for your family to try like go-karts, an arcade and an area called Kid's Country, which is designed for younger kids and offers a carousel, Ferris wheel, planes, swings and more.
Plan a whitewater rafting adventure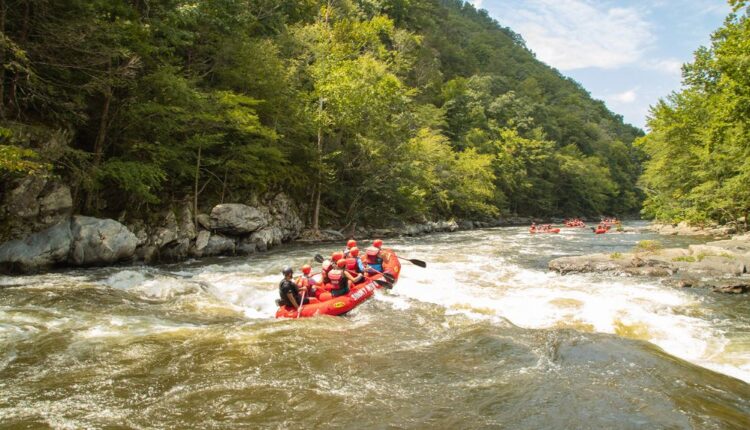 Make cooling off an adventure with a whitewater rafting expedition down the Big Pigeon River. Whitewater rafting companies like Smoky Mountain Outdoors and Rafting in the Smokies offer whitewater experiences for a variety of ages and skill levels. Whether the family prefers a relaxing and scenic float down the lower portion of the river or a thrilling ride through class 3 and 4 rapids on the upper portion, you're sure to enjoy your time on the water.
Grab a frozen treat with the family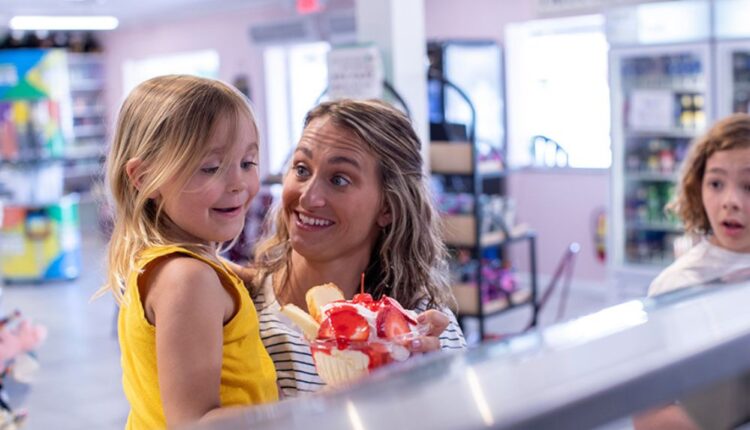 Grabbing a frozen treat with the family is an iconic part of summer and a great way to cool off. During your fun-filled day with the family, allow time to stop in at one of the many ice cream shops in Pigeon Forge to indulge in your favorite frozen treat.
Try bubble teas at Dulce Nitrogen Ice Cream. Get a tasty milkshake hand-crafted using liquid nitrogen at Buzzed Bull Creamery. Or grab delectable ice cream rolls made right in front of your eyes at Curl De La Crème. From milkshakes and sundaes to waffle cones, frozen yogurt and more, you're sure to find the perfect spot to make cooling off a fun part of your day!
Beat the heat at indoor attractions and shows
Take advantage of the air conditioning at popular attractions in Pigeon Forge. From escape games to mirror mazes to thrilling virtual rides and more, you'll find indoor fun for everyone!
Have fun and learn new things at Pigeon Forge museums. See one of the largest permanent collections of Titanic artifacts and memorabilia at TITANIC Museum Attraction. One of the interactive exhibits allows you to feel the actual temperature of the cold water on the night the ship sank. Other fun options include posing with your favorite celebrities at Hollywood Wax Museum or go on an upside-down adventure at WonderWorks.
Most of the shows in Pigeon Forge offer an afternoon matinee this time of year, which is a great way for the family to take a break from the sun. You'll enjoy the indoor temps even more with amazing singing, dancing and comedy. Or end the day with a hearty Southern meal and entertainment at one of our kid-friendly dinner shows that the whole family will love.
Shop for souvenirs to take home with you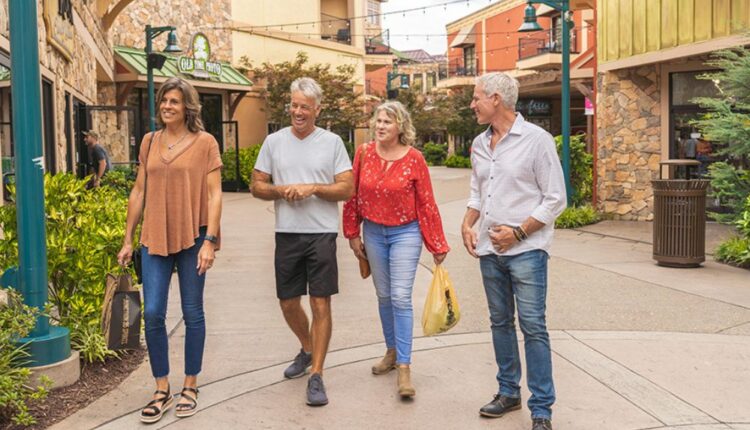 A fun way to spend a few hours cooling off in Pigeon Forge is with retail therapy. Finding the perfect souvenirs to take home with you is an important part of family vacations. And luckily, Pigeon Forge gift shops offer something for everyone. From handmade crafts and home décor to homemade treats and charming collectibles, you're sure to find the perfect souvenirs in Pigeon Forge to remember your trip for years to come!
From water park adventures to indoor snow tubing to the best ice cream shops, beat the heat with these great ways to cool off in Pigeon Forge this summer!
You May Also Like:
Family's Guide to a Summer Vacation in Pigeon Forge
Extreme Attractions for Your Summer Adventures in Pigeon Forge
Best Restaurants in Pigeon Forge with a View